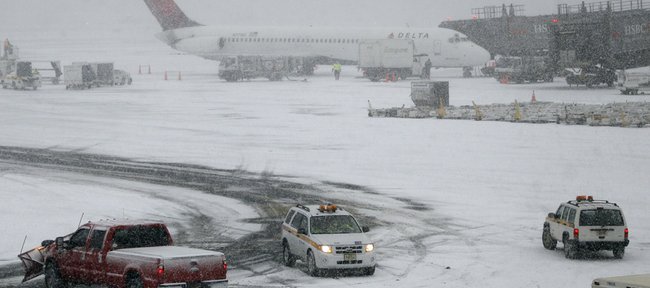 5:20 p.m. update
Tyshawn Taylor remained stranded in New Jersey for another day on Monday. Snow shut down the Newark, N.J., airport.
KU coach Bill Self said Taylor would be able to fly out at about 8 a.m. on Tuesday, in time for a pair of practices on Tuesday.
Original story
A massive snowstorm that slammed into the East Coast on Sunday has delayed one Kansas University basketball player's return from three-day Christmas vacation.
"Tyshawn could not get out today. All the flights were canceled," KU coach Bill Self said Sunday night, referring to Hoboken, N.J., junior guard Tyshawn Taylor.
"Hopefully he can get out tomorrow. It's snowing so hard they don't even know if they can drive to the airport," Self added of Taylor, stuck in Jersey because of a blizzard that's expected to dump up to 20 inches in New York/New Jersey by this morning.
Five other Jayhawks from the East were able to flee the wintry weather in time for Sunday night's practice in Allen Fieldhouse.
Twins Marcus and Markieff Morris flew out of Philadelphia early Sunday, as did Josh Selby from Baltimore and Thomas Robinson from Washington, D.C.
And freshman walk-on Niko Roberts, who hails from Huntington, N.Y., boarded a flight just before snow began piling up and the wind began gusting up to 50 mph.
"If Norm (Roberts, former KU assistant) had gotten Niko to the airport 35 to 40 minutes later, he (Niko) wouldn't have been able to take off," Self said. "Some of the guys were fortunate enough to have early-morning flights.
"The twins' flight was 8 a.m. They were able to get out, same with Josh and Thomas. Tyshawn's flight was a little later — at 10 or 11, I believe."
The snowstorm in Philly forced the NFL to move the Vikings at Eagles game from Sunday night until Tuesday.
Self, who celebrated Christmas in Oklahoma with his wife and two children, had no problems making the round-trip drive to the Sooner State.
The Midwesterner knows all about havoc that's caused by snow.
"It's circumstances you are unable to control. You can't control Mother Nature," Self said. "The biggest thing is (that) Tyshawn gets back safely."
As far as KU's first practice since the Cal game, Self said: "It's just what you'd think it would be. The attitude was great, but we definitely need to run off some turkey and dressing."
The Jayhawks, who headed to their hometowns after a 78-63 victory over California on Wednesday night in Berkeley, will meet Texas-Arlington at 8 p.m. Wednesday in Allen Fieldhouse.
Little practices: KU senior Mario Little practiced Sunday for the first time since his Dec. 16 arrest on charges of battery, criminal damage and criminal trespassing.
Self said that, at this time, Little remains suspended from playing in games.
"He's practicing with us. I had him take some time off. He did that, went home to Chicago to spend a few extra days with family," Self said, adding, "He's still part of the team. I don't have any game plan (as far as if/when Little will play in games) as of now."
What's next?: Wednesday's game marks the start of a three-game homestand for the No. 3-ranked Jayhawks (11-0). KU will play host to Miami of Ohio at 5 p.m. Sunday and UMKC at 7 p.m., Jan. 5.
UT-Arlington (5-5) fell to Texas Tech, 73-56, Wednesday in Lubbock. The Mavericks, who play in the Southland Conference, also have lost to Oregon State, North Texas, Samford and Louisiana Tech, with victories over Texas Lutheran, UT Tyler, Houston Baptist, Hardin-Simmons and St. Edward's.
Miami of Ohio of the Mid-American Conference is off to a 5-7 start entering Thursday's game at Belmont. The Redhawks have defeated Xavier, Towson, IUPUI, Saginaw Valley State and Troy and lost to Duke, Ohio State, Dayton, Cincinnati, Green Bay, San Diego State and Wright State.
UMKC of the Summit League is off to a 7-5 start entering home games this week against North Dakota State and South Dakota State. The Kangaroos have defeated Truman State, Central Arkansas, SE Missouri State, SIU-Edwardsville, Utah Valley, North Dakota and Houston Baptist and lost to Wichita State, Indiana-Purdue Fort Wayne, Oakland, Idaho State and most recently Kansas State, 80-64.
KU will conclude the nonconference schedule on Jan. 9 at (10-2) Michigan.