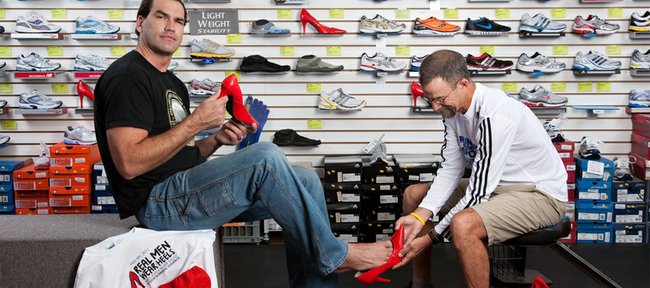 Photo Gallery
Real men wear heels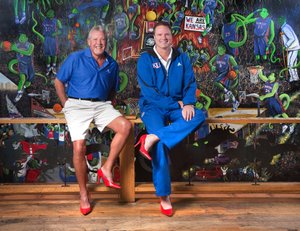 These Lawrence heroes sported red stilettos for a 2011 calendar that raises money for The Willow Domestic Violence Center.
Former NBA and Jayhawk basketball star Scot Pollard has landed on the cover of newspapers and magazines, but never a calendar — until now.
He's pictured trying on a pair of red stilettos at Garry Gribble's Running Sports store in downtown Lawrence.
"Once they told me what the cause was, I was like, 'Of course.' There was no question at all," he said.
He is featured on the 2011 Red Shoe calendar that went on sale Friday across Lawrence and in Baldwin City. It raises awareness about domestic violence and money for The Willow Domestic Violence Center in Lawrence.
NEW CALENDAR
The 2011 Red Shoe calendar is $20, and all of the proceeds go to The Willow Domestic Violence Center.
They are available:
• In Lawrence — Downtown Barber Shop, 824 Mass.; Lawrence Memorial Hospital gift shop, 325 Maine; KU Union Bookstore; Peoples Bank, 4831 W. Sixth St.; and KLWN studio, 3125 W. Sixth St.
• In Baldwin — Baldwin State Bank, 721 High St., and Baldwin City Chamber of Commerce, 720 High St.
They also will be available at the Lawrence Farmers Holiday market, which will be from 9 a.m. to 5 p.m. Dec. 11 at the Lawrence Holidome.
Or, individuals can mail a $20 check to: The Willow Domestic Violence Center, P.O. Box 633, Lawrence, KS 66044, and a calendar will be sent to the address provided.
The Willow center is using the calendars to promote its first "Walk a Mile in Her Shoes" event from 6 p.m. to 9 p.m. May 6 at Haskell Indian Nations University.
For more information, call 843-3333, e-mail Audra Fullerton at afullerton@willowdvcenter.org, or visit www.willowdvcenter.org.
Pollard is among more than two dozen Lawrence and Baldwin City men who sported high heels for a good cause. Among them: City Commissioner Mike Dever; Lawrence Memorial Hospital CEO Gene Meyer; Mark Bradford, Douglas County Fire and Medical chief; and Matt Brungardt, Lawrence High School principal.
Along with Pollard's picture is a message: "It takes a big person to stand up to domestic violence."
Pollard, who wears a size 18 shoe, said the stilettos didn't come close to fitting.
"They were far too small to even get my foot in. I barely got my toes in there," he said, with a laugh.
However, everyone else featured in the calendar is wearing high-heeled shoes, including Dan Chandler, owner of The Salty Iguana, and his friend, basketball coach Bill Self. They are featured in March.
"Bill and I are boys. As you can imagine, we were just ripping each other and having fun because that's what we do anyway," Chandler said.
"I love the concept of it and I hope it raises a bunch of money."
The Willow center provides safe shelter, peer counseling, advocacy and other services to survivors of domestic violence in Douglas, Franklin, and southern Jefferson counties. Each year, it serves more than 274 women and children.
"The idea is that you've got to walk a mile in someone else's shoes to understand the issues," said Sally Hare-Schriner, fundraising chair.