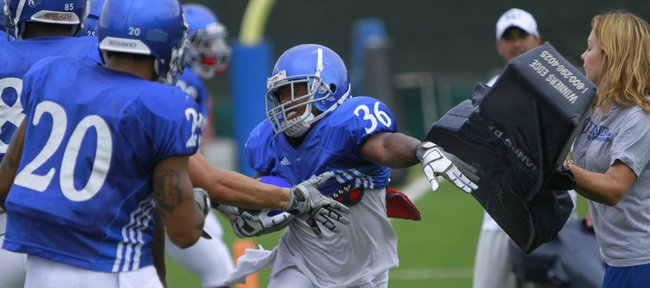 With Kansas University junior tailback Rell Lewis out for the season, sophomore Toben Opurum settled in at linebacker and sixth-year senior Angus Quigley the only back with game experience, only one logical conclusion can be made about this year's running-back corps.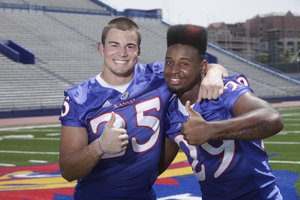 True freshmen Brandon Bourbon and James Sims can play. And they're going to.
"Those two guys are in the mix with Quigley and (red-shirt freshman Deshaun) Sands," KU coach Turner Gill said earlier this week. "They (were) in the mix whether Rell Lewis was there or not. We still have another week where I want to continue to evaluate guys, but all four of those guys have some potential."
Gill said two backs are ahead of the pack. However, he declined to provide names. Judging by the most recent depth chart, where Quigley sits at No. 1 and Sands is listed second, the two more experienced Jayhawks could be those guys.
Both Bourbon and Sims have drawn praise from teammates and coaches throughout camp, and both have made the most of their time on the field during practices and scrimmages.
"All of them have had a little taste of success," Gill said. "We will settle in here as we go along and decide who the top guys are and go from there."
For now, the only sure thing appears to be Quigley, who is expected to start the season opener against North Dakota State on Sept. 4 in Memorial Stadium.
Much-maligned throughout his time with former KU coach Mark Mangino, Quigley has shed a few pounds and found the new start invigorating.
"I'm excited for him," said sophomore Kale Pick, who just last week learned he would be the Jayhawks' starting quarterback.
"He's definitely waited his turn, and he's a hard worker. I think he'll have a good season, and I'm really excited he's getting an opportunity to start for us."
As far as which back will get the bulk of the carries or deliver the stats, most Jayhawks say it doesn't matter.
"If we do our job, they'll be able to do their job," left tackle Tanner Hawkinson said.
"It's easier for them if we do our job so that's what we try to focus on."
Defensive end becoming crowded?
One of the biggest questions this offseason centered on whether Jayhawks could find someone to play opposite Jake Laptad at defensive end. Several different D-linemen have played their way into good standing with the coaching staff at that spot, with another, junior Quintin Woods, adding his name to the mix last week.
"We've had a lot of (defensive ends) who have done some good things," Gill said. "We've said (Tyrone) Sellers, we've said (Kevin) Young and I think lately here Quintin Woods has improved his play, too. So he's definitely in the mix on the opposite side of Laptad."
In addition to those three, Gill recently announced that first-string fullback Steven Foster, a junior from Sedgwick, also would get reps at defensive end. True freshmen Pat Lewandowski, Keba Agostinho and JaQwaylin Arps also could challenge for playing time, though Gill has said only a handful of true freshmen would play this fall.
Sellers and Laptad are listed with the first team on KU's most recent depth chart.
OT Hawkinson cracks Rivals preseason list
Red-shirt sophomore Tanner Hawkinson, a tackle from McPherson, recently was named one of the top offensive linemen in the nation by Rivals.com in a preseason power-ranking feature broken down by position.
Hawkinson, 6-foot-6, 293 pounds, was one of three offensive linemen from the Big 12 to make the Top 20, joining Colorado's Nate Solder, who ranked fifth, and Texas' Kyle Hix, who was 18th.
Hawkinson, the site wrote: "... was a tight end when he arrived on campus, but the Jayhawks needed him to play tackle. All he did at his new position was earn second-team Rivals.com Freshman All-America honors, starting all season at left tackle."