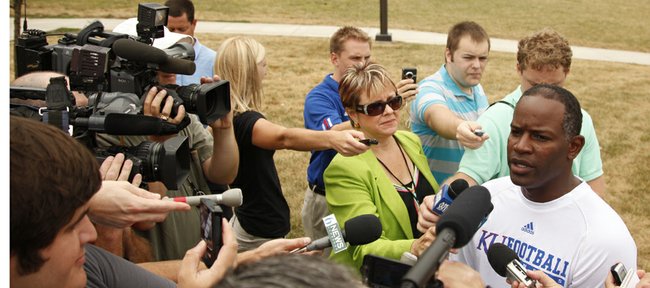 Audio clip
KU football coach Turner Gill: Aug. 17
The Kansas University football team welcomed the media to campus before Tuesday's practice and KU coach Turner Gill shared some news about his team before practice began.
Here are the highlights:
Red-shirt freshman linebacker Jacoby Thomas has been removed from the team for academic reasons. Thomas, whom Gill said was battling for legitimate playing time, becomes the second academic casualty this spring, as defensive end Travis Stephens was kicked off the squad at the start of fall camp, also for academic reasons. The loss of Thomas, 6-1, 243 from Texarkana, Texas, leaves an even bigger hole at linebacker for the Jayhawks, who recently lost sophomore Huldon Tharp to a season-ending foot injury.


Gill also announced Tuesday that true freshman Ed Fink, also a linebacker, would miss the 2010 season because of injury. That leaves the Jayhawks with Drew Dudley, Steven Johnson and Justin Springer as the only known commodities at linebacker. Gill said red-shirt freshman Steve Mestan has looked good during the last couple of weeks and likely has played himself into the top four or five in the linebacker rotation.


No news on the quarterback battle between sophomore Kale Pick and red-shirt freshman Jordan Webb. Gill said the staff was still in a heavy evaluation period at that position — as well as most others — and that a decision would likely be made sometime next week as the team begins preparation for its Sept. 4 season opener. However, Gill maintained his stance that the naming of a starting QB could go down to the day before the opener.


A pair of walk-ons got some great news this week, as offensive lineman Alex Smith and wide receiver Reece Petty both earned scholarships for the 2010 season, Gill announced Tuesday. Gill said a number of factors went into the decision to award Smith and Petty — both seniors — the scholarships. At the top of the list, however, were strong work ethic, outstanding academic standing and the fact that, as seniors, they've shown great loyalty to the KU program.
For more from Tuesday's practice, stay tuned in to KUsports.com or pick up a copy of Wednesday's Journal-World.