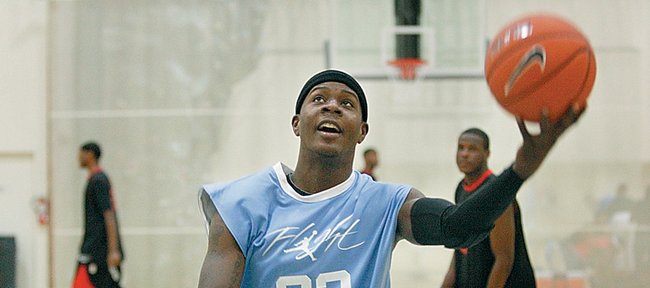 Reader poll
1

32%

988 votes

2

53%

1648 votes

3

9%

300 votes

4

4%

140 votes
3076 total votes.
Bill Self, who is a big fan of the national pastime, recently used a baseball analogy to describe his goals in recruiting for the spring signing period.
"We need to hit a home run," Kansas University basketball coach Self said after losing not only senior Sherron Collins, but junior Cole Aldrich and freshman Xavier Henry to the 2010 NBA Draft.
He felt as if he'd bashed a grand slam Sunday when the paperwork of No. 4-ranked Josh Selby arrived via the fax machine, making official Saturday's announcement that the 6-foot-2 Baltimore Lake Clifton High standout would be a Jayhawk.
"This is a big day for our basketball program," Self said Sunday. "We felt like losing the caliber players we lost off of last year's team, that we really needed to hit a home run from a talent standpoint in the spring signing, and we've done that with Josh.
"He's a point guard that can score. He's a playmaker. He can be a great facilitator and also a great finisher himself. We've been really fortunate to have really good guards here, but certainly Josh is the most highly recruited guard that we have signed since we have been at Kansas."
Selby averaged 32.0 points, 7.0 assists, 5.0 rebounds and 2.0 steals a game last season for Lake Clifton.
"We are so appreciative to Maeshon (Witherspoon), Josh's mother, for how they handled the recruiting process and how they have raised Josh," Self said. "We are excited to have the entire family come be a part of our family.
"Josh comes from Lake Clifton High School which has a solid reputation in producing great players," Self added. "He has been extremely well coached by Herman Harried, who has been great for Josh in his development as a player and as a young man."
Life now returns to normal for the Selbys. Witherspoon in a phone interview Sunday said the family is elated recruiting is over.
"I think the people who mattered most are happy. Josh is happy. Coach Self and the fans are happy," Witherspoon said.
She indicated it's possible she will relocate to Lawrence.
"Since he has made his commitment, I will start looking for a job in my profession. I will see how things pan out. I want him to get comfortable with Lawrence, but I'd have to see how the job market is first," said Witherspoon, who is in retail management. "If the salary is comparable, I may consider moving out there. A lot of other parents do live out there and like it."
Of course, it might just be one year in Lawrence. Selby is considered a likely "one and done" to the NBA player.
"We have not discussed the one-and-done situation," Maeshon said. "A lot of people have. Josh has the best way of saying it: God will let him know when it's time to leave. I think in his mind, he's saying he could be there (longer than a year). In his heart he is probably thinking he is one-and-done.
"I think for any kid, the opportunity to play in the NBA has presented itself faster. You've got to see how you perform. (But) those are grown men, and it's a different game. You have to see if you are ready for that."
Rivals.com's No. 13-rated player, Terrence Jones (6-8, Portand, Ore.), said he is planning an official visit to KU. He has KU, Kentucky, Oklahoma, Oregon, UCLA, Arizona and Washington on his list. The Jayhawks, who signed 6-3 Royce Woolridge in November, have one scholarship left to give in recruiting.
Regrets: KU senior Sherron Collins, who had a Barnstorming Tour basketball game in Garden City on Saturday, said he felt "sad" that he missed Monday's KU basketball banquet.
He was in Chicago signing with an agent that day.
"I was real disappointed," Collins told the Garden City Telegram. "But I think my coaches and my teammates and everybody who was at the banquet understand how much preparation it takes to get ready for the NBA Draft. Around this time is an important time because you've got to get your workouts in and everything.
"The fans at Kansas have been great. The University of Kansas has done so much for me. I would have loved to have been there. I'm going to try to make the (senior) scholar banquet and try to get to any other thing I can. It's just unfortunate that the draft and getting ready for it, you just have to be so many places, trying to be at three places at one time. I wish I could have been there. I was sad to miss it, but the guys know what I'm doing."
Collins is working out in Las Vegas with personal trainer Joe Abunassar of Impact Basketball, who also is training Iowa State's Craig Brackins, Oklahoma State's James Anderson, UConn's Stanley Robinson and Michigan's Manny Harris.
"We've got like an All-American team out there. So there's a lot of competition. It's real good to be working with those guys," Collins said. "It's been rough. It's a great city, but the workouts have been tough. But it's all good. It pushes you to the limit and gets you ready, something I need. So it's great."