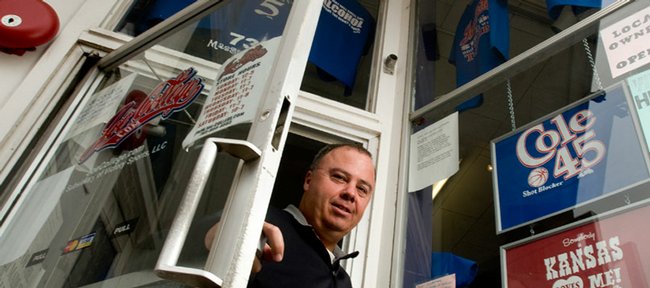 The owners of Joe-College.com must pay Kansas Athletics Inc. $667,507 in attorney fees and expenses generated during a court case over the content of loosely — and perhaps not-so-loosely — KU-themed T-shirts, a federal judge ruled Monday.
Larry Sinks, Clark Orth and Victory Sportswear LLC, collectively known as Joe-College.com, must cover Kansas Athletics' costs for the case they'd brought against the T-shirt business, which had conducted "trademark infringement" that "was willful and deliberate," U.S. District Judge Julie Robinson ruled.
"Accordingly, the case is 'exceptional' under the Lanham Act and plaintiffs are entitled to reasonable attorneys' fees," Robinson said in her ruling.
Sinks, contacted a few minutes after he'd learned of the ruling, said that he was "numb" and uncertain about what effect the decision would have on him or his business.
The original court case left him responsible for paying $127,000 in penalties, for selling shirts that jurors said could be confused with official KU-licensed merchandise. The order to cover fees and expenses adds another $667,507 to that.
"I got that part loud and clear," Sinks said. "I just don't know what it means for me. I don't know the appeals process. I simply don't know what it means. …
"I don't have it (the money), I can tell you that."
Kansas Athletics earns about $2 million a year in licensing revenues, received through the sale of products that contain Jayhawks, KU logos, Kansas team names and other related items, said Jim Marchiony, associate athletics director.
Businesses that sell licensed KU products "do it the right way," Marchiony said, while those that don't are engaging in unfair competition.
"I think the jury and the judge have sent a strong message that you cannot willfully infringe upon someone's marks without paying a steep price," Marchiony said.
Licensing revenue is used to finance student scholarships, "and the majority of those students are not athletes, by the way," Marchiony said.
KU continues to appeal the jury's original verdict, which found that 53 of the 206 Joe-College T-shirt designs in question had indeed infringed upon or diluted KU's trademarks.
"We did not want to go to court," Marchiony said about the original case. "This is not something that we wanted to do. We communicated several times with him about this before it went to trial, so he had many opportunities and many options to avoid the situation in which we find ourselves now."
Sinks has sought to reduce the penalties imposed by the original jury verdict in July 2008. Now he'll weigh how to deal with the ruling that he must pay his opponents' legal fees, too.
"I really don't know," Sinks said. "I just don't know."