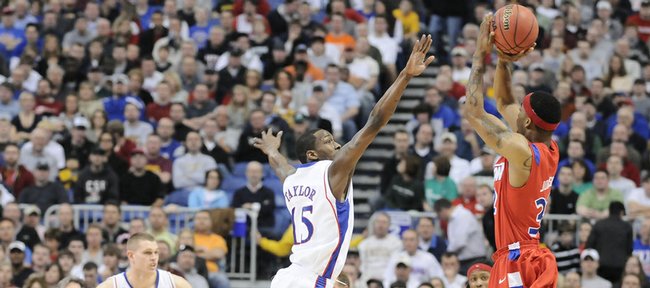 On the street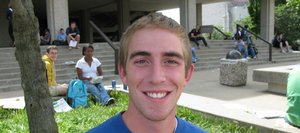 Videos
Altercation between KU athletes
A fight between KU football and basketball players broke out Tuesday night, and was reignited Wednesday morning.
An apparent feud between members of the Kansas University men's basketball and football teams spilled over into the day Wednesday, when a second altercation between the groups was reported on campus.
Several KU students said they witnessed a fight between about a dozen players shortly before 10 a.m., near Budig and Wescoe halls. Witnesses said the incident may have been caused after a player was shoved down a flight of concrete stairs in the area.
"I just heard a bunch of people yelling and saw a bunch of basketball players and football players," said Shannon Jobe, a KU sophomore from Shawnee, who witnessed the altercation.
"Basketball team kind of walked off," said Harrison Hems, a KU senior from California, who also witnessed the incident. "I don't think they wanted to get in another fight."
The altercation came fewer than 18 hours after an altercation that sent KU basketball player Tyshawn Taylor to the hospital with a dislocated left thumb, an injury that's expected to keep the sophomore guard out for three to four weeks. The basketball season begins with the Oct. 16 Late Night in the Phog.
New details about that incident, which occurred in front of the Burge Union, became available Wednesday morning.
According to KU police reports, the Tuesday night fight involved as many as 100 people.
A witness said "it appeared members of the KU football and basketball team had been 'baiting' each other, and it had escalated into taunting and shouting and then fighting," according to a police report.
Witnesses said the fight broke up when they heard approaching police sirens. Campus police officers were unable to ascertain who the victims were and who the perpetrators were in Tuesday night's fight.
"We're pretty sure an incident occurred, but so far we don't have anyone who's come forward to make a police report," said Capt. Schuyler Bailey, KU Public Safety Office spokesman. Bailey said another fight reported about 10:25 p.m. Tuesday at Jayhawker Towers was unrelated.
KU reaction
Wednesday morning, Athletic Director Lew Perkins also issued a statement about the Tuesday night incident.
"I am disappointed that some of our student-athletes put themselves in this position, and it's something that I am taking very seriously."
Perkins said head coaches Bill Self and Mark Mangino are working together to address the situation internally.
"I am confident that they will handle the situation appropriately," Perkins said.
Wednesday afternoon, Perkins met with the KU football and men's basketball teams. After that meeting, selected members of the teams released a statement.
KU Chancellor Bernadette Gray-Little released this statement at 5 p.m. Wednesday: "I have consulted with Lew Perkins and share his disappointment regarding the recent incidents involving a small number of our student athletes. They need to realize their profiles make them representatives of the university off the court and field, as well as on it, and that KU has high expectations for its students.
"I appreciate the quick response by the athletic director and university staff and the strong statement from the teams' leaders."
Police said more information could be released later about Wednesday morning's incident, which led to numerous basketball players being escorted from the KU campus by men's assistant basketball coach Joe Dooley.
However, early Wednesday afternoon, Bailey said there likely would be no police report issued on the morning incident.
"We don't write a lot of reports on things that aren't going on when we get there," Bailey said, indicating police saw no fighting between students when they arrived near Budig and Wescoe Halls.
"No one has come forward saying, 'I want to make a report. I was a victim of a crime.' Until that happens, we can't initiate an investigation."
He was asked if this is a KU athletic department matter right now, rather than a police matter.
"Right now, I believe it is (a KU matter). Unless someone comes forward and tells us they want to make a police report."
He was asked if he was "concerned" that the two incidents might escalate into more.
"We are hoping that they kind of get themselves together and act like adults like they are supposed to and this is done," Bailey said. "We are hoping this is done."
In-house fighting
One former KU football player, who did not wish to be identified, theorized that indeed the in-house fighting may be over.
"Now that the coaches are involved and Lew Perkins is involved and it's on ESPN … I think both parties are embarrassed. I think they realize it reflects on the kind of character they have," the former KU player said.
This player — who still has many friends on the football team — supported a report by the Journal-World's Tom Keegan, who wrote in Wednesday's Journal-World that Tuesday's scrap reportedly involved a dispute over a woman who used to date an athlete from one team and now dates one from another.
"It all starts with a female but dates back to last semester," the former football player said. "It's something that (originally) happened at a bar. One of the basketball players got into it with a football player (at the bar) and it came back to the Towers parking lot. It got broken up but it has been an ongoing feud. I know people who go to a junior college and it's the same way there between football and basketball. It's an ego thing. Hopefully this will be it, and the feud is over."