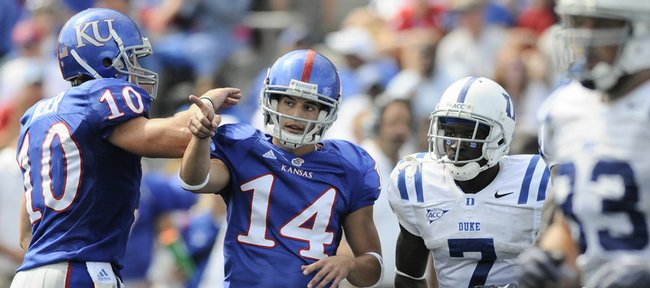 It was not terribly surprising when, following a 2008 season in which his team finished the year ranked 118th out of 119 FBS teams in kickoff-return average, Kansas University football coach Mark Mangino emphasized the importance of improving the unit heading into this fall.
While the Jayhawks indeed have improved upon last year's dismal numbers, however, they have been far from world-beaters heading into Saturday's 2:30 p.m. game against No. 25 Oklahoma, leaving Mangino none too pleased.
"Satisfied? No," the coach said following Wednesday's practice. "I think there's room for improvement in those areas, there's no question about that."
The No. 24 Jayhawks are ranked seventh in the Big 12 in kickoff returns, which doesn't sound especially alarming, except that their 21.2-yard average is less than a yard more than the conference's worst return team, Oklahoma, and seemingly talented return men Dezmon Briscoe, Bradley McDougald and Darrell Stuckey have had trouble finding room to maneuver.
"The returners are fine," Mangino said. "Schematically, if one guy misses a block or one guy lets his guy off early, you have a problem. ... And that's been the situation. It's kind of like trying to plug a hole in a dike. Every time you think you've got something figured out, another guy pops a leak."
Punt returns, meanwhile, haven't gone much better. Kansas enters Saturday's game ranked 10th in the Big 12 in punt-return average at 8.3 yards per return, and in last week's loss to Colorado failed to get any aspect of their return game going, returning two kicks for just 41 yards without recording a punt-return yard.
Emphasis now, Mangino says, is on limiting the breakdowns that have hampered the team.
"Hopefully," he said, "we've gotten that out of our system."
Woods, Quigley contributing: Based on his occasional news-conference evaluations, it was safe to assume Mangino was beginning to wonder whether Quintin Woods and Angus Quigley were going to pan out this season.
Woods, a defensive end transfer, and Quigley, a running back-turned linebacker with obvious athleticism, had earned a good deal of attention heading into the season, but had undergone slower-than-expected transitions and had been nonfactors through the team's first five games.
Following both players' defensive debuts Saturday against Colorado, however, that might be changing.
"Back in August, it was hard for him," Mangino said of Woods, who transferred to Kansas from Bakersfield (Calif.) College after signing with Michigan out of high school. "The transition from junior-college play to play in the Big 12 was really difficult. But I'll give him credit, he stayed with it and never gave up, and he really is starting to do some good things. And we've got trust in him now that we can put him on the field."
"It's kind of day-to-day with Angus," he added. "But he has some athletic ability; we'd be tickled if he could contribute from here on out."
Beshears to start at CB: A week after making his first appearance of the season, true freshman cornerback D.J. Beshears will start Saturday against Oklahoma, Mangino said Wednesday.
In replacing incumbent cornerback Daymond Patterson, Beshears, a 5-foot-9, 175-pound Denton, Texas, native, finished with five tackles against the Buffaloes and played with a tenacity that left the team's coaching staff impressed.
"He's really a type of personality that doesn't back down," Mangino said. "True freshman or not, that's not a factor with him. He wants to play, and he plays hard every snap."
Quarterback Club to meet today: The KU Quarterback Club will hold its weekly meeting at 5 p.m. today at Buffalo Wild Wings, 1012 Mass. Street.
The evening's guest speaker will be former Kansas and NFL offensive tackle and current actor Keith Loneker, who has appeared in, among other films, "Leatherheads" and "Lakeview Terrace." Hawk Talk with Mark Mangino, the coach's live radio show, will begin at 6 p.m.