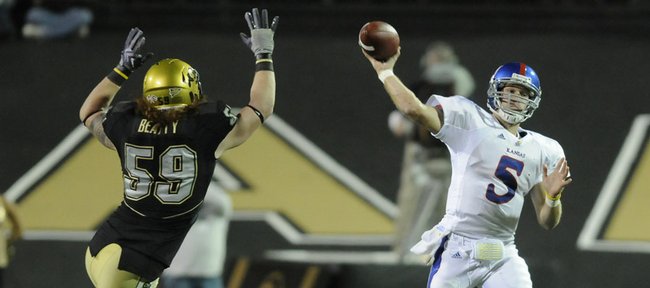 Finding something about which to nitpick the Kansas University football team's offense would be akin to winning the Batmobile in a raffle and griping about a scratch on the door, getting selected by Cindy Crawford in the Dating Game and obsessing on her mole, having Eli Manning under center and complaining his name's not Peyton.
So be it.
This is Oklahoma week, and really good won't be good enough to prevail in the Sooners' first game in Lawrence since 2001. Kansas must play a near-perfect game to beat OU for the first time since 1997.
KU's 503.3 yards per game in total offense ranks second nationally to Houston. The Jayhawks' 38.8 points per game ranks fifth (behind Texas, Texas Tech, Houston and Cincinnati).
Is it greedy to want improvement? Of course it is. It's also reasonable. Kansas has amassed those remarkable offensive numbers without always getting out of the blocks smoothly. Two games into the Big 12 portion of the schedule, KU has scored nine first-quarter points, compared to 21 points in the second quarter, 20 in the third and 21 in the fourth.
"It's obvious the last couple times we've been off to a slow start," Kansas coach Mark Mangino said. "What's really amazing about it is, once we get going, we just keep rolling. ... Some of our opponents have done some different things a little bit out of character from what we've seen of them on tape, so you have to adjust. Would we like to adjust sooner? Yes, but let's put it this way, the kids are not going to have early success against something they haven't seen before."
Alonso Rojas has punted 22 times, but just six times — an average of once a game — in the second half.
The combination of offensive coordinator Ed Warinner and Todd Reesing has been more than impressive at making in-game adjustments.
"It starts right with Todd," said senior Kerry Meier, whose nine receptions per game ranks second nationally to Bowling Green's Freddie Barnes (12.14). "Coach Warinner will speak with the coaches, and then coach Warinner will speak with Todd. From there it's a big relay system to the rest of the players. A lot of what goes into it is what coach Warinner sees. A lot of what comes out of it as well is what we see and what we have to say to the coaches."
Reesing tends to throw more accurately as the game progresses. Once he gets a hot hand, Kansas has shown it can score a ton of points without eating much clock.
"When we start rolling, we're a tough ballclub to handle," Meier said. "What's crucial is to get into the flow and get started early. That's what we're going to have to do this week. Straight from the get-go, we're going to have to put points on the board because who knows what this OU offense is going to be like. They don't have their Heisman guy but with their backup (Landry Jones), from what I've seen him play, he's a good one. I'm sure they're capable of putting up a lot of points. We're going to have to bring our A-plus game if we're going to beat these guys."
Kansas has broken through several barriers during Mangino's reign, including beating Nebraska twice and winning three bowl games in four seasons, but a Mangino team hasn't yet won a game against any of the three Big 12 South teams on this year's schedule, going 0-9 against Oklahoma, Texas and Texas Tech.
What would a victory Saturday mean?
"It would be another step to where coach Mangino is trying to get this program," Meier said. "He's trying to get this program to the top. We're definitely going to have to do some great things. If we should take care of business this week against OU, I think it's another of those big wins that puts Kansas in the running of getting to a top, elite program. With the Orange Bowl win and the big win last year against Missouri, it ranks right up there with them. Especially in my career, all the big wins we've had have been on the road. We haven't really had a big-time win in Memorial Stadium."
To get one, Kansas will need its best wire-to-wire execution and game plan of the season from its offense against an Oklahoma defense ranked third in the country, allowing 9.67 points a game versus a tough schedule that included close losses to ranked foes Brigham Young, Miami and Texas.
"It's going to be a stiff challenge," Meier said. "We're going to have to do some great things to win."
• A previous version of this story contained an error.