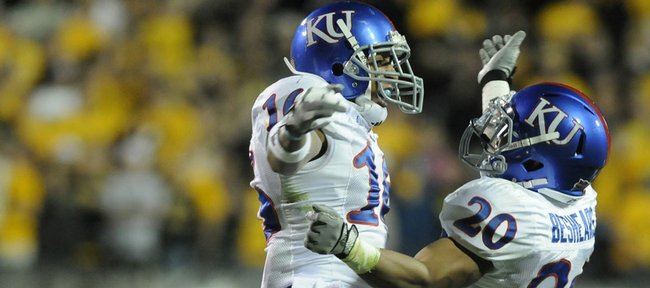 It's difficult — impossible? — to look at the Kansas University football team's recent defensive facelift and not notice the resemblance to last year's midseason overhaul.
Both came on the heels of especially troubling defensive outings (against Texas Tech in 2008 and against Iowa State this year), both seemed to focus primarily on the secondary (last year's finagling resulted in multiple demotions; this year's appears to be heading in that direction), and both involved the shifting of a prominent offensive player to defense (Daymond Patterson in 2008, Bradley McDougald in 2009).
But according to KU defensive coordinator Clint Bowen, there is a major difference between this season's reshuffling and last season's.
"Last year, I feel like we had to make those moves because guys truly weren't getting the job done, and we had to make those moves to (improve) things," Bowen said. "This year, it seems like we're making the moves more in a positive way."
In other words, while last year's shakeup was primarily the result of underachievement within the starting unit, this year's switches, at least according to Bowen, have been the result of a group of overachieving backups.
In last weekend's 34-30 loss to the Buffaloes, for instance, six players made their defensive debuts — including safety Lubbock Smith and defensive tackle John Williams, who earned starting roles — while some longtime starters were left on the bench for significant stretches.
The personnel shifts sent a message that Bowen hopes will light a fire under the team's defensive players: Playing time isn't going to be handed out at Kansas; it's going to be earned.
"It's a rough deal," Bowen said. "There's competition at all Big 12 schools, and we tell them all the time that the best guys are going to play, and the guys that give us the best chance to win are going to play. And there are some tough decisions to be made."
Saturday, several players felt the brunt of this reality.
Three-year starting safety Justin Thornton was replaced by Smith in all but third-and-long situations, and true freshman D.J. Beshears, who had his red shirt burned after impressing coaches as a member of the scout team, took snaps away from Patterson, while the debuts of defensive end Quintin Woods and linebacker Angus Quigley implies that both players — who entered the year with high expectations but were non-factors throughout the team's first five games — could be ready to contribute on a regular basis.
Arguably the most interesting personnel maneuver to come out of Saturday's game, however, came in the form of Williams, who was recruited to KU to play on the offensive line and was in the running for a starting role there this season.
Finding it unacceptable to have a 6-foot-4, 309-pounder with considerable quickness and agility idling on the sideline this season, coaches decided to shift him to defensive tackle the week of the Colorado game, hoping he would add depth to a defensive line that has quieted down following a hot start.
After only a week of practice, Williams earned a starting role and did enough in limited snaps against the Buffaloes to earn a vote of confidence from KU coach Mark Mangino — even if the player was a bit clueless about what to make of his first outing in a new position.
"I really didn't know how to evaluate it, because I've been playing defense for so little (time)," Williams said. "But I think I did all right. All the coaches did was encourage me. I don't think I've been yelled at yet — but that will come."
What's more, the neophyte defenders appeared to play less like awestruck newcomers than seasoned veterans.

Despite giving up 34 points to the Buffaloes on Saturday, Kansas' defense held CU to just 322 yards of total offense — the Jayhawks' third-lowest yardage total allowed this season — and can take solace in the fact that two of Colorado's touchdowns came as a result of KU turnovers that gave the Buffaloes the ball inside the Kansas five-yard line.
"I really felt like I had everything down," said Smith, who finished with eight tackles in his first career outing. "I had been watching film with my coaches, studying at home before I go to sleep, when I wake up, just really preparing myself so I wouldn't make any mistakes."
He did make mistakes, of course — it was hard to find a player, newcomer or not, who didn't.
But if common sense holds true — if the number of viable options at key positions is directly correlated to its likelihood for success — then this is, at the very least, encouraging news for a KU defense that has performed a Jekyll-and-Hyde routine throughout the first half of the season.
"You've just got to be careful and make sure that you don't mess the thing up too much and get too many things going on," Bowen said. "You've got to just keep making sure you get guys in positions that they can make plays and get the job done."