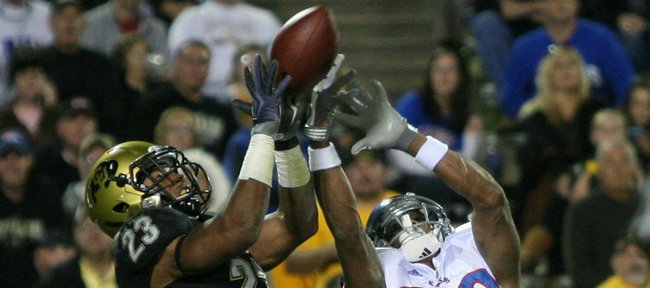 A victory over a one-win Colorado team Saturday would have put the Kansas University football team alone atop the Big 12 North standings and in prime position to battle for its first outright division crown.
Instead, following a weekend in which the two division favorites (Kansas and Nebraska) suffered upset losses and a surprising team (Kansas State) moved into the North's top spot, the Jayhawks find themselves in what is quickly becoming a wacky and unpredictable division race.
Currently, Kansas is in a three-team logjam — along with Nebraska (1-1 in Big 12 play) and Colorado (1-1) — behind the first-place Wildcats (2-1), while holding a slight edge over Iowa State (1-2) and Missouri (0-2).
"It looks like it's going to be a wild race," KU coach Mark Mangino said during Monday's Big 12 coaches teleconference. "... What I see is that a lot of teams in the North — everybody, probably — has still got an opportunity."
Which team has the best chance to secure a spot in December's Big 12 Championship in Arlington, Texas?
Here's a look at each of the division's six teams and the schedules they'll try to navigate heading into the second half of the season.
Kansas: On paper, the Jayhawks figure to be fighting an uphill battle, with arguably the most challenging remaining schedule of any of the North teams. Kansas' still faces the prospect of games against No. 25 Oklahoma (home), No. 21 Texas Tech (road) and No. 3 Texas (road), as well as matchups with previously ranked Nebraska (home) and Missouri (neutral). This in addition to a Nov. 7 matchup with current conference leader Kansas State in Manhattan.
Degree of difficulty (on a 10-point scale): 9
Kansas State: Much like Kansas, the Wildcats' most difficult games await them. They'll get their first test Saturday, when Colorado visits the Little Apple. A victory would ensure another week atop the Big 12 North standings, while a loss would make things immensely more difficult. K-State follows this weekend's game with a road matchup against Oklahoma, home games against both Kansas and Missouri, and a regular-season finale against Nebraska in Lincoln.
Degree of difficulty: 7
Nebraska: The Cornhuskers, a team picked in the preseason to narrowly edge Kansas for the North title, will host Oklahoma and play at Kansas, but otherwise won't face another ranked opponent for the remainder of the season, with games against Iowa State, Baylor, Kansas State and Colorado. Coming off a lopsided 31-10 loss to Texas Tech, the 'Huskers will have a chance to rebound with back-to-back games against Iowa State and Baylor, teams with a combined 7-6 record.
Degree of difficulty: 6
Colorado: Armed with a new quarterback, the Buffaloes will attempt to bounce back from a disastrous non-conference performance. And they have the schedule to do it. With the exception of No. 14 Oklahoma State, the team's schedule doesn't feature a single team currently ranked, while the Buffaloes have the luxury of taking on lowly Texas A&M; — a team coming off a 62-14 loss to Kansas State last weekend — as one of their South matchups.
Degree of difficulty: 4
Iowa State: Following last Saturday's victory over Baylor, the Cyclones doubled their win total from last season, though they'll be hard-pressed to hang around in the North this fall. They dropped a much-needed victory over K-State in their conference-opener and will likely be the underdog in games against Nebraska, Oklahoma State, Colorado and Missouri, and possibly on the road against Texas A&M.;
Degree of difficulty: 6
Missouri: Facing an 0-2 hole, the Tigers have the most work to do heading into the second half of the season, beginning with a game against the unbeaten Longhorns this weekend. Their next four games — at Colorado, Baylor, at Kansas State and Iowa State — appear winnable, with the regular season finale against Kansas to be held at a neutral site. Assuming Missouri falls to Texas, the Tigers would likely have to win out to be a factor in the race for the North title.
Degree of difficulty: 5