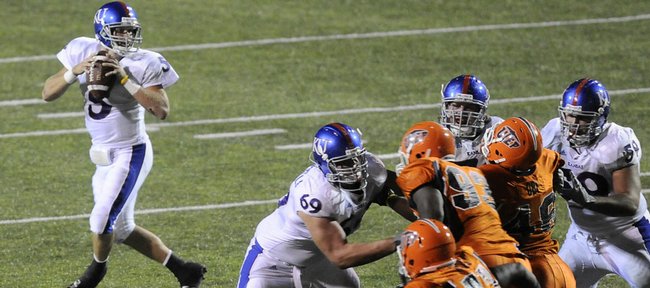 When a size-15 shoe and a size- 141⁄2 are asked to co-exist within 6 to 10 inches of space, precise movements, coherent communication and unwavering trust are required just to get the job done.
"There's not another unit on the field where five guys have to communicate as much as they do on every single play and trust that the guy next to him is going to do exactly what he's supposed to do," Kansas University offensive line coach John Reagan said.
So how do KU's offensive linemen — guys whose average size measures 6-foot-4, 296 pounds — work together so well in such limited space? For starters, it's not just in the trenches that these guys spend time together. Whether it's watching extra game film, going out to eat or hanging out at each other's apartments, this year's starting offensive linemen have a bond that extends to all areas of their daily lives.
"I think the fact that we all really like each other really pays off," left guard Brad Thorson said. "Every player has their own idiosyncrasies, and we all play off each other really well. We have great chemistry out there. It helps. If someone's struggling a little bit, he's got four guys who know what's going on, and we can all pick each other up and really get going."
So far this year, KU's offensive line has performed better than expected. At his weekly news conference Tuesday, KU coach Mark Mangino said the unit was farther along than he had envisioned, high praise for a group that's playing together for the first time and includes a left tackle — red-shirt freshman Tanner Hawkinson — who jumped over from the defensive side of the ball just this spring.
"Right now, after four games, I think (the offensive line is) a little ahead of schedule," Mangino said. "I thought we'd have a lot more breakdowns. A lot of it has to do with the intelligence of the group. We have a pretty smart bunch of guys. There are bigger challenges ahead for them, and they know that, but I like the track we're on."
Perhaps the most unique reason this unit is where it is today — running backs Jake Sharp and Toben Opurum have combined for 570 yards and nine TDs, and quarterback Todd Reesing has seen a minimal pass rush — is its offseason dabblings in the art of karate.
It's not unusual for offensive linemen to fine-tune their skills through other avenues. Some have tried yoga, others ballet, and the Jayhawks have gone for private lessons from the man they call "Karate Bob." Team officials declined to reveal Karate Bob's real identity, but the impact of his tutelage is no secret.
"When the defensive lineman's trying to come in, he teaches us to knock his hand off just like real karate," sophomore center Jeremiah Hatch said. "We knock his hand off and put our hands in there. It's not really karate karate, it's more hand placements and when to turn your hips and how to use a punch and stuff like that."
According to Reagan, the reasons for using the age-old practice go beyond the physical benefits.
"Martial arts require a lot of things from the individual, the first being focus," Reagan said. "And then the physical attributes go with it, with balance and punch and power and things like that. It's been done over the years a lot of different places for a long time."
During Mangino's time at KU, the practice dates back just two seasons and has paid serious dividends. Twice a week during the offseason, for 30 minutes at a time, KU's linemen worked on hand-to-hand combat and a little sparring. According to Hatch, Karate Bob's visits were one of the most popular and enjoyable parts of the offseason.
"Oh yeah. We look forward to it," Hatch said. "We have arm protectors and chest things for sparring. No face shots. Then we get to go out there and go against each other and really do karate. That's the best part."
Asked which of the five linemen most embraced the ancient art, Hatch didn't hesitate.
"Probably Brad Thorson," Hatch said. "He's just one of the guys that looks forward to it (and says), 'Hey, Karate Bob's coming today!' If he's not coming, he's, 'Aww, Karate Bob's NOT coming.' (Thorson's) probably the best with technique, though."
Better karate technique has led to better play. Better play has led to better protection. Better production has led to a 4-0 start. As a result, the entire line — which includes Jeff Spikes (size 17) and Sal Capra on the right side — has performed as one cohesive unit throughout the season, huge shoes and all.
"If you do your play right, you can look at it on tape and we're all moving the same direction at the same time," Hawkinson said. "It looks a certain way when you do it right."