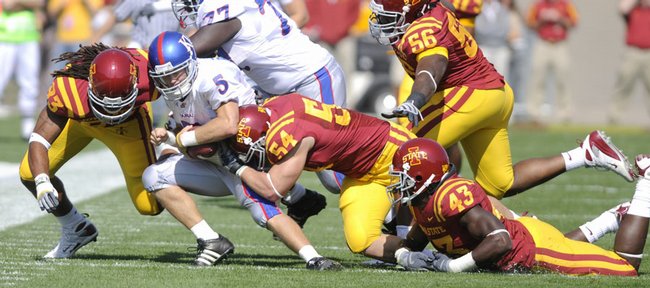 In the opinion of coach Mark Mangino, his Kansas University football team in the early stages of last season was akin to a petulant child in need of some good, old-fashioned disciplining.
And in their conference opener against a struggling Iowa State team, during which they trailed 20-0 at halftime before escaping with a narrow 35-33 victory, that's precisely what the Jayhawks got.
"That group last year — early in the year — took some things for granted because they were listening to all this talk about 2007," Mangino said Tuesday. "... So what you need is, you need to get spanked a few times. We went to South Florida and got spanked, and we were getting a spanking in Ames, and finally everyone looked around and said, 'This is 2008; we better get a move on.'"
Eventually they did, finishing the year 8-5 and winning consecutive bowls for the first time in school history. So far this season, meanwhile, the Jayhawks have managed to avoid any early-season corporal punishment, as well, jumping to a 4-0 start and No. 16 national ranking heading into Saturday's 11:30 a.m. conference opener against visiting Iowa State.
But after last year's scare against the Cyclones, the players assure they're not taking anything for granted while preparing for the Big 12 portion of the schedule.
"It's definitely something you learn from, for sure," senior defensive back Justin Thornton said of last year's ISU scare. "We'll be focused this year, and we'll be ready to go from the kickoff until the last seconds tick off the clock."
That wasn't the case a year ago, when the Jayhawks — fresh off a 12-1 season and Orange Bowl victory — arrived in Ames with an admitted sense of complacency.
And from the start, things didn't go well. In a scoreless first half, Kansas gained only 66 yards of total offense and stumbled into halftime facing what at the time was its largest deficit of the season.
"They came out like they were USC," said KU linebacker Justin Springer, in an especially appropriate statement given the Cyclones' uniforms, which were nearly identical to those worn by the traditionally dominant Trojans. "They were big. They pushed us around. They did everything to us that we couldn't do to them."
The silver lining, however, was the way the team battled back, scoring 28 straight points during one second-half stretch to avoid a potentially devastating loss at the hands of an Iowa State team that would go on to finish the season a dismal 2-10 and winless in the Big 12.
Kansas running back Jake Sharp enjoyed a coming-out party of sorts that day, opening the third quarter with a 67-yard touchdown catch and finishing the game with 186 total yards and two scores in his first standout performance of the season.
However, there's a decent chance last year's hero will be on the sideline Saturday.
Mangino said this week that he won't know before Thursday whether Sharp, struggling to recover from an undisclosed injury sustained three weeks ago, will play.
In the meantime, the coach is using last year's game as a teaching tool. Not so much from a revenge standpoint. Not so much as a motivating factor. Just a simple reality: In the Big 12, no opponent can go overlooked.
"We've presented it as, 'This is what happens when you show up and you're not ready to play, (when) you're not mentally sharp,'" Mangino said. "... If you don't show up ready to play, or you take your opponent for granted, you're going to get stung."
In the end, players don't seem too concerned about the possibility of a relapse.
"I think the players on the team that were here for that game can kind of take that into conference play," kicker Jacob Branstetter said. "... With the athletes and the skill-position guys we have on offense and defense, we have an opportunity to win the game whether we're up 20 or down 20. And if we can just keep our composure, our coaches are going to put us in the right positions to win football games."