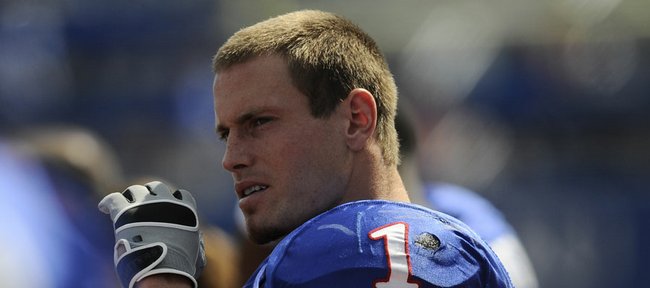 Born to run, forced to sit
KU's Jake Sharp and ISU's Alexander Robinson hope to play Saturday.
Sharp: 42 rushes; 240 yards; 5.7 yards/carry; 3 touchdowns; 80 yards/game
Robinson: 84 rushes; 502 yards; 6.0 yards/carry; 4 touchdowns; 100.4 yards/game
Heading into the weekend, two of the Big 12's top rushing attacks will be forced to deal with a level of uncertainty in their teams' respective ground games.
Kansas University starting tailback Jake Sharp and Iowa State's Alexander Robinson, both of whom have missed time recently due to injury, will be hoping to make their way back to the field Saturday when the teams meet at 11:30 a.m. in Lawrence, though it's unclear how big a role either will have.
On Monday, KU coach Mark Mangino didn't say whether Sharp, who suffered an undisclosed injury before the Duke game and missed most of the team's past two contests, would return for Iowa State, though he indicated the player benefited from the team's recent bye week.
"For Jake, we feel pretty good about his progress," Mangino said during the Big 12 coaches teleconference. "We will see him all-out, full-speed on the practice field this week, and if he's feeling good and (has) no effects, he will play against Iowa State."
Before his injury, Sharp had been arguably the team's top-performing offensive player, ranking first in the Big 12 in touchdowns and second in rushing. In his place, true freshman backup Toben Opurum rushed for 70 yards against Duke and recorded his first 100-yard game in a victory over Southern Mississippi.
Robinson, meanwhile, has played an equally prominent role for the 3-2 Cyclones, ranked third in the conference in rushing offense. The junior from Minneapolis rushed for 100 yards or more three times in the team's first four games this season, including a 127-yard, two-touchdown performance in a victory over Army and a 143-yard, one-touchdown day against Kent State.
He left last Saturday's 24-23 loss to Kansas State in the first quarter after re-aggravating a groin injury he suffered in the team's victory over Army the previous week.
"Alexander is well ahead of where he was a week ago," ISU coach Paul Rhoads said. "The blood of the injury has come to the surface, which is a good sign. And ... he's already started lifting weights, which he couldn't do a week ago because of where the injury was."
"He'll be ready to play on Saturday," the coach added. "How long he'll be able to stick around before it gets tight, who knows?"
Last year's ISU game fresh in Mangino's mind
Kansas' near-upset at the hands of Iowa State last season is fresh in the minds of Kansas' players and coaches heading into this weekend's matchup, Mangino assured reporters Monday.
Entering halftime of last year's contest, the Jayhawks found themselves in a 20-point hole before scoring 28 straight points in the second half to escape Ames with a 35-33 victory.
"The message to our players is this: You can't take anybody lightly," Mangino said. "You can't just show up when you're playing in the Big 12. Any team can beat anybody, and I think we learned a valuable lesson in Ames. And I don't think we're going to have this kind of mindset this Saturday, that's for sure."
Mangino mum on Big 12 North race
With three Big 12 North teams currently ranked in the top 25 of the Associated Press poll (in addition to 16th-ranked Kansas, Nebraska is 21st and Missouri is 24th), the Jayhawks road to a first-ever outright North championship appears to be dotted with speed bumps.
And Mangino admitted as much, though he declined to elaborate after being asked how he thought the race might play out.
"I think its going to be a competitive race, I'll tell you that," he said. "A lot of good teams. But to tell you where people are and where they're going to be a week, three weeks, a month from now, I'm not able to do that."