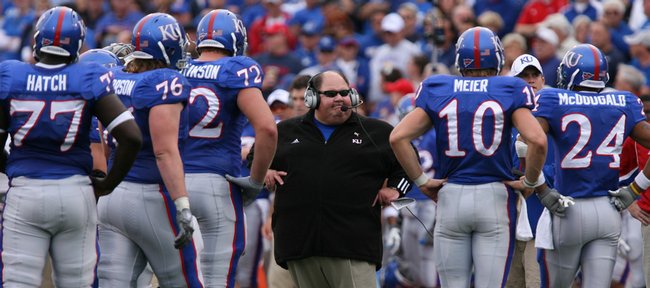 Embattled Kansas University football coach Mark Mangino said before Saturday's Border War matchup with Missouri that he was optimistic he'd return to coach the team next season.
"I'm optimistic; it's full speed ahead," Mangino said during a pregame interview with ESPN. "We've worked hard to prepare for this game. We'll get on the road and recruit. I'm very optimistic."
Mangino, whose contract runs through 2012, is currently the source of an internal university investigation into his treatment of players, and his future with the program has been the source of much speculation in recent days.
The investigation was launched after an incident in which Mangino allegedly poked senior linebacker Arist Wright in the chest. Since then, multiple former players have come forward with similar allegations against the coach.