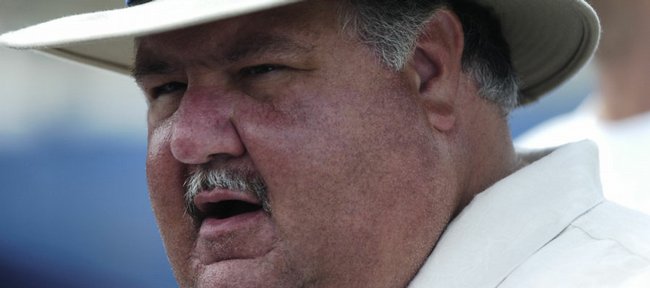 News this week that Kansas University administrators have launched an investigation into the actions of football coach Mark Mangino might have come as a bizarre development to some, but those familiar with the wording of the coach's contract might not be surprised.
According to the contract — which is a public record but that was provided again to the Journal-World on Friday by a member of the university's administration who requested anonymity — the school appears to have taken the first step in a potential "termination for cause" of the coach's tenure in Lawrence.
"In the event (Mangino) is suspected of engaging in serious criminal conduct, fraud, misappropriation or embezzlement, or discreditable conduct," the contract reads, "the (athletic director) shall conduct or direct that an informal investigation be conducted into the circumstances."
On Tuesday morning, the Journal-World first reported that KU athletic director Lew Perkins had launched an internal probe into the actions of the eighth-year coach, sparked by an incident in which senior linebacker Arist Wright was allegedly poked in the chest by Mangino during a midseason practice or game.
Since then, several former players have come forward with additional allegations against the coach, some of which have included near-daily oral abuse, threats and the pressuring of players to play through injuries.
According to the contract, which was signed in 2006 but extended before the start of the 2008 season and runs through 2012, termination for cause can be brought about by "discreditable conduct that is inconsistent with the professional standards expected of a head coach of a collegiate sports team and that is seriously prejudicial to the best interest of the University or Athletics" — as determined by KU's Chancellor in consultation with the athletics director — as well as by "public or private comments that disparage KU, its personnel, programs, policies and/or departments, or that cause damage to KU's reputation."
On his Thursday night radio show, Mangino rejected the allegations of some former players, calling their comments "flat-out embellished and just not true."
He also reiterated his stance that he is comfortable with the manner in which he has run his program.
"I'm at peace with myself," he said during the hourlong live broadcast. "I've got nothing to worry about because I know how we take care of our program and how we take care of our players."
If the investigation — which is ongoing and has no known timetable for completion — were to find "clear and convincing evidence" to support a termination for cause, Mangino would have 21 calendar days to submit a written appeal to either Chancellor Bernadette Gray-Little or Perkins. The appeal would then be considered by a three-member panel made up of university faculty or professional staff employees — one of whom would be selected by the Chancellor, one by the coach and a third who is mutually agreed upon — who would have the option to uphold the original findings.
In that case, Mangino would be entitled to none of the remaining compensation called for in his contract.
If the committee determines the termination should be voided, however, the university would be required either to reinstate Mangino as the team's head coach or convert the termination to a termination without cause, in which case the university would be required to pay Mangino his annual salary for the remainder of the term agreement as well as a prorated portion of the $1.5 million retention bonus he would have received had he remained until Dec. 31, 2012. All told, that would be nearly $6.6 million.
Mangino, who is two victories shy of tying A.R. Kennedy's school record of 52, is set to make $2 million per season over the next three years.
The coach, who was expected to be on the sidelines tonight against Texas, was unavailable for comment Friday, though Gray-Little released a statement supporting Perkins and the ongoing investigation.
"The review of the football program is consistent with the process outlined in Coach Mark Mangino's contract," Gray-Little said. "I encourage everyone to wait until this process is completed before drawing any conclusions."