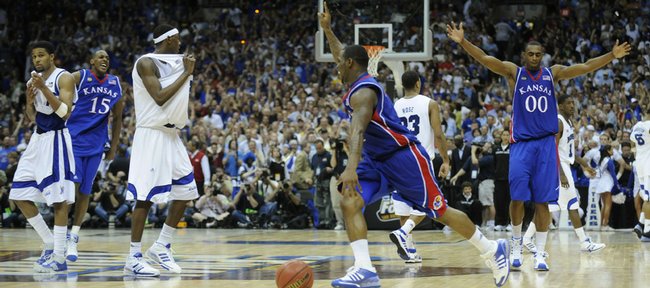 St. Louis — There are reminders of Kansas University's 2008 national title victory over Memphis all over Allen Fieldhouse.
There's a national title banner hanging in the north rafters, an NCAA championship trophy in the Booth Family Hall of Athletics, pictures of Mario Chalmers' game-tying three-pointer both up in the new donor atrium and outside the fabled northwest tunnel.
Meanwhile in Memphis — well, there's not a lot of talk about that April 7, 2008, game — one in which KU erased a nine-point deficit in the final 2:12 only to roll in overtime en route to a one-for-the-ages 75-68 victory.
"I try not to think about it. It was a heartbreaker. You can't forget a game like that," said Memphis senior guard Willie Kemp, one of three current Tigers to play KU in the Alamodome in San Antonio.
He's expected to start during today's 9 p.m. rematch at Scottrade Center in St. Louis.
"We gave it all we had. So did they (in '08). It's behind us now," Kemp said.
KU coach Bill Self and several Jayhawk players have said they've been reminded of KU's milestone victory every day for the past 19 months.
"I can't imagine how some of them that were on the team two years ago felt," KU junior Cole Aldrich said, sympathizing with 2009-10 Memphis players Kemp, Doneal Mack and Pierre Henderson-Niles. "Just because you go from the highest of highs (leading by nine) to the lowest of lows.
"This is a whole new year, a whole new spot, a whole new coach. We're going to come in and play our game and they will too," added Aldrich who joins Sherron Collins as the only two current Jayhawks to have played in the title game.
John Calipari, coach of the 2008 Tigers, last spring moved on to Kentucky. Memphis is led by 32-year-old, first-year coach Josh Pastner, whose team is rebuilding this year and reloading in recruiting for 2010-11.
"It's totally different teams and a new coach, (but) I think because we beat them there will be a little animosity," KU senior guard Collins said. "It'll be a tough game. It'll be fun."
"I'm sure they (Tigers) are going to want to go out and prove themselves," noted KU junior Tyrel Reed. "We're going to have to be that much more prepared."
Collins said his mind may drift to 2008 during warm-up drills tonight.
"There will be a little bit of a rewind," he said. "I'll be thinking, 'The last time we saw them, I was dancing after we won the championship.' Not chills, but I'll feel something."
So will Reed. It's pretty tough not to be reminded of a game that's arguably the most exciting in KU history.
"Probably," Reed said, asked if it's the best game he's ever seen. "That was an amazing feat to be down nine or eight or whatever it was with two minutes to go. That was a lot of guys playing really well at the end to bring home a win."
And make possible a parade, one the city of Memphis was counting on before the game and with a couple minutes remaining in regulation. Tonight, the Tigers, who were favored in '08, enter as 10-point underdogs.
"It's good to be the underdog. It's different for me (after being part of 104 wins against 10 losses last three years)," Kemp said.
The Tigers do possess talent. Starters include 6-foot-8, 270-pound Henderson-Niles, as well as former Duke point guard Elliot Williams and sophomore guard/forward Wesley Witherspoon. Highly touted juco power forward Will Coleman also is on board.
"You've got Wesley Witherspoon, their 4-man/point guard," Self said of the 6-9 Atlanta native, who was recruited by KU. "Even though he has good size, you are asking one of our big guys to have to guard a guy who will initiate a lot of offense for them. Their interchangeable parts on the perimeter can cause problems."
Of course, KU also presents problems for Memphis.
"I'd say they are very deep," Kemp said. "They have great inside players, outside players. We do too. I think it'll be an up and down game. Kansas is ranked No. 1 in the country. We'll leave it all on the floor."
Memphis is 0-8 versus top-rated squads, the last meeting against Ohio State in the 2007 Elite Eight.
"It's going to be a lot of fun because it's Memphis," KU's Reed said. "Anytime you can play a big-name school with great players it's going to be exciting and a big challenge for us."
Exciting, sure ... but not with the stakes of 2008.
"You can't look at it that way," Reed said. "We're just looking at this as a new team and year. We're looking to get better against great competition."