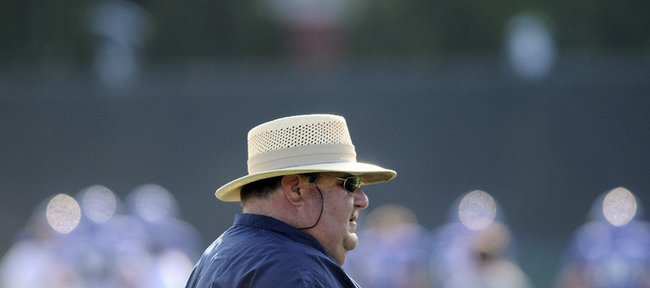 The summer before Kansas football would embark on its most successful season in history, the team's coach would be accused of verbally berating a KU student who had issued him the latest of nearly two dozen tickets for illegally parking in a loading zone near his office.
At that time, Kansas Athletics Inc. encouraged KU Parking & Transit to take whatever action it normally would take in such a situation, then turned its attention to discussing the issue with coach Mark Mangino.
Mangino hasn't had a KU parking ticket since.
"We addressed it and it's over," said Jim Marchiony, a spokesman for Kansas Athletics Inc., on Tuesday.
The acknowledgement comes as Mangino faces scrutiny from within and around his own team. Athletic Director Lew Perkins issued a statement early Tuesday, saying that an "internal review" was under way regarding a "personnel issue." Perkins also said that he had conducted a meeting Monday night with football players, a meeting that did not include Mangino.
Mangino, during his regular weekly media conference Tuesday, declined to discuss specifics regarding Perkins' meeting with players, but did emphasize that he continued to hold the students' attention.
"I haven't lost the team one bit," Mangino said. "I may have lost some people around here, but it's not players. Take that for what it's worth. You decipher it."
Attempts to contact Mangino on Tuesday evening to discuss the 2007 parking incident were unsuccessful.
Documents on incident
The Journal-World received documentation regarding the incident through an open records request filed earlier this year. The request yielded information about Mangino's parking tickets and other documentation regarding the incident with a Parking and Transit employee.
Marchiony acknowledged the existence of the information, but declined to discuss the contents in detail.
"The documents speak for themselves," he said.
As outlined in the documents provided by Kansas University, the incident occurred in June 2007, when Mangino received a ticket from KU Parking and Transit for parking his vehicle in the loading zone south of Parrott Athletic Center — the 23rd time he had been ticketed for parking in the space.
Donna Hultine, director of KU Parking and Transit, reported that the particular ticket had spurred Mangino to track down the student employee who had written the ticket and launch a 10-minute, expletive-filled "tirade" so loud that it drew several employees out of nearby Allen Fieldhouse to watch.
"He screamed, yelled and cussed for a while and then got out of his car and screamed, yelled and cussed 6 inches from the student's face," Hultine said, in an e-mail to her boss at Strong Hall, Vice Provost Jim Long.
Contacted Tuesday, Hultine said she was pleased with the athletics department's quick response to her complaints. Indeed, she said, Mangino hasn't been ticketed since the incident and even has gone out of his way this season to be cordial to Parking and Transit employees when he sees them.
"It tells me that he's willing to play by the rules and if he's at least changed his behavior towards us, that's great," she said.
But two years ago, Hultine said, she was concerned for the very safety of her employees.
"I didn't want to put any of my folks in his path," Hultine said Tuesday. "Based on that incident, I knew what he was capable of. I had to stop it. I needed it to be addressed.
"They (athletics) took it very seriously and addressed it pretty quickly."
Back in June 2007, Hultine had said that the "extreme" nature of the incident had led her to describe the altercation in a subsequent letter to Long.
"I understand that some level of anger and harassment come with the territory," Hultine said, in her letter. "I am documenting this incident because it is an extreme that even this department doesn't often see, especially from a person of Mark Mangino's position and influence at this university and in this community.
"This is a man who should be setting examples and representing the University of Kansas in a professional manner."
In an earlier e-mail regarding the incident, Hultine noted that she'd sent a note to Sean Lester, who is an associate athletic director at Kansas Athletics Inc., to complain about Mangino's behavior.
Hultine said that Lester then sent the note to Perkins, who in turn talked to Mangino.
"Mangino called me the next day and completely denied this behavior — he says it was a 'conversation,' " Hultine said, in her e-mail. "Sean Lester and Lew Perkins have been very supportive of us in this incident — they're not saying it out loud but I know that they've dealt with Coach Mangino's anger issues in the past and they're encouraging me to take whatever action I'd normally take in instances like this."
Hultine already had instructed her employees to "key" the microphone on their radios should they ever get into a similar situation with Mangino, so that such a "conversation" would be heard — and recorded — by police dispatchers.
The background story
Mangino now has a parking space at his program's own building, the Anderson Family Football Complex at Kivisto Field, which opened in July 2008. Mangino's space — just outside the chain-link fence below the Memorial Stadium scoreboard — is available only to him, as holder of the lone permit issued for the reserved space.
In 2004, Mangino had received a ticket for parking in a restricted area of a lot described as south of the fieldhouse, where a "No parking next to loading dock" sign had been posted. Administrators agreed to void the ticket, and a similar ticket was voided in March 2005.
Several subsequent tickets were paid, at $20 apiece, before one in May 2006 — involving a loading zone north of the fieldhouse — was voided at the request of Brad Nachtigal, an assistant athletic director. Mangino then received another ticket for the same spot a week later.
A third ticket by the end of the month led to a comment on the citation report: "Mangino's favorite spot."
In January 2007, student employee Brad Walters wrote his first ticket on Mangino's black Lincoln Navigator for parking in the loading zone outside Parrott, formally described on department documents as Anschutz Sports Pavilion.
That was Jan. 3. Then another Jan. 8. And another Jan. 29, followed by others Feb. 19, April 19, May 1 and May 9.
Then, on June 11, Walters wrote his eighth — and last — ticket on Mangino for parking in the loading zone.
In his written report, Walters said that Mangino had told him that he'd been unloading notebooks and had asked how he could unload without getting a ticket.
Walters responded that he should get a loading permit from one of the parking booths on campus or to contact the office.
"He got out of the car, slammed the door and came within about a half-foot of my face and started yelling at me, saying that I couldn't answer any of his questions and that he works 16-hour days and has no time to get a pass," Walters wrote, in his report.
Mangino, Walters said, had insisted that he'd only parked in the zone a few times and that he'd paid all five or six of those tickets.
"This job gives you power, does it?" Mangino said, according to Walters. "You feel real f---ing powerful walking around like a big shot, huh? … Why in the hell else would you be bothering me with this?"
No, Walters said, the office had told him to issue tickets for cars parked in the loading zone.
"So offices tell you what to do?" Mangino said, according to Walters. "F---ing offices walk around telling you what to do all day?"
Mangino eventually got back into his car, Walters said, before continuing: "You just don't like talking to me because I'm ethnic, just because I talk with my hands."
Walters continued: "He then went on to tell me how important he is to this university and how he doesn't have time to spend dealing with all this crap."