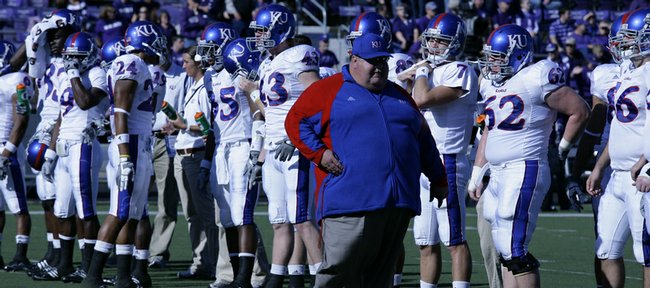 It's not exactly an earth-shattering breakthrough, but the coach of a team mired in a five-game losing streak takes positive developments where he can get them.
Kansas University coach Mark Mangino indicated Sunday that he has found an offensive-line alignment he's happy with —Tanner Hawkinson at left tackle, Sal Capra at left guard, Jeremiah Hatch at center, Jeff Spikes at right guard and Brad Thorson at right tackle — after plenty of mid-season tinkering.

"It's the most comfortable I've been all year," Mangino said. "I think (offensive line coach) John Reagan's comfortable with that, and I think the kids are comfortable, collectively, with that set-up."
In the weeks leading up to Saturday's 31-17 loss to Nebraska, the team's offensive-line play had been a glaring weakness for an offense that had hit its first extended rough patch in three years. The unit, which doesn't include a senior starter, had given up 16 sacks in the previous four games, while failing to facilitate a single 100-yard rushing performance.
Against a Huskers defensive front widely regarded as one of the nation's best, however, the line turned in its best performance in a month.
Kansas quarterback Todd Reesing was sacked just once, and while the running game still wasn't overly effective, the Jayhawks' 99 rushing yards were their most since a 109-yard outing Oct. 10 against Iowa State.

Mangino seemed pleased with Saturday's switches — Spikes, who has played both tackle positions over the past two years, made his first career start at right guard Saturday, while Thorson, who has also played multiple positions, started at right tackle — and the way the current group meshed.
"I like the idea of having Jeff Spikes at guard — he looks a lot more comfortable there — and Brad Thorson played very well outside at tackle," he said. "... Across the board, it was a pretty good performance, top to bottom, by all five guys. I thought they did a very, very good job against an excellent defensive line, prevented the defensive tackles, their inside players, from being a major factor in the game. And that's not easy to do."
The coach also spoke highly of the promise of a unit that will return all five starters next season.
"I think when you look to the future, I think this is going to be — which I thought awhile back — a pretty good offensive line here for the future," he said. "In fact, it's going to be really good."
Opurum steadily improving: For the first time in four games, true freshman running back Toben Opurum led the Jayhawks in carries Saturday, rushing 15 times for 43 yards — 22-yard of which came on a second-quarter drive that paved the way for the team's first touchdown of the game.
"I think he's starting to see the lanes, the leverage of the blocks, and (he's) reading those blocks better now than he has at any time," Mangino said of Opurum, who's averaging 4.1 yards-per-carry and has rushed for a team-high 541 yards and nine touchdowns this season. "... He always runs hard and he runs with his pads down, he can get tough yardage. But I think his vision of finding creases has improved, and that comes with experience."
KU-Texas set for 7 p.m. kickoff: The Kansas University football team's road game against No. 3 Texas on Saturday has been slated for a 7 p.m. kickoff and will be part of a split national feed along with the Oregon-Arizona game, the Big 12 Conference announced Sunday.
The game will be broadcast on ABC, which will also air the Jayhawks' Nov. 28 Border War matchup with Missouri.
In all, Kansas (5-5, 1-5 in the Big 12) will have appeared on ABC in five of the final six weeks of the season.