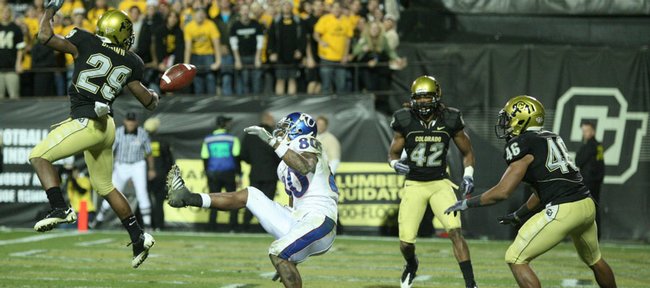 Angus Quigley is no stranger to adversity.
In his final two seasons at Cleburne (Texas) High, his teams went a total of 1-19. During his second season as a member of the Kansas University football team, he was relegated to a wheelchair due to a freak hip injury. And despite leading the Jayhawks in yards per carry as a running back last season, he underwent an offseason switch from running back to linebacker, a position at which he is just now beginning to feel comfortable.
But there's something about the past month — an inexplicable stretch in which Kansas has suffered four straight losses and seen a once-promising season derailed — that makes the previous issues seem rather dull by comparison.
"Some of those other stretches, like where we didn't go to the bowl game (in 2006), I really wasn't involved," Quigley said. "I played a little bit, but it was more like, 'Next year; I have next year.' But now that it's the end of your career, it's like, next year is not promised. And, man, it just hurts."
This is the reality Quigley and the team's seniors are coming to grips with at the moment.
A few months ago, the team's current predicament would have been hard to imagine. The Jayhawks — loaded with their most talented roster during coach Mark Mangino's tenure, according to the pundits — were predictably ripping through opponents. They were 5-0. The offense was humming. Quarterback Todd Reesing had begun to generate the slightest of Heisman buzz.
But then came Colorado and an upset loss in Boulder. Then came a loss at home to Oklahoma. And another to Texas Tech. And finally, Saturday's 17-10 loss to rival Kansas State, a game that effectively ended the team's preseason hopes of a Big 12 North title.
Make no mistake, it has been tough on players. A week or two ago, Kansas University linebackers coach Bill Miller posted a quote in the linebackers' meeting room: "Nothing's sadder than what could have been."
Quigley has been thinking about that quote a lot lately.
"That was our goal all season," Quigley said of a North crown. "That's what we prepared for during winter, spring, summer, camp. That's what we felt like we were capable of doing, and I thought we were capable of doing that.
"But things don't always work out like you want them to."
Players are trying to stay positive. Following the loss to Texas Tech, Reesing organized a players-only meeting in which he and fellow captains Darrell Stuckey, Kerry Meier and Jake Sharp addressed the team. Players spoke candidly about various things, and the prevailing theme to emerge was that there was still plenty to play for.
"When you see guys like Kerry Meier — guys that will give everything for the program and work their butts off — that are crying after the game, that he's hurt that we lost, that's what drives me," Quigley said. "And I can't let them down."
Heading into Saturday's 2:30 p.m. meeting with Nebraska, a game that was supposed to help decide the North champion, but now serves as a cruel reminder of what could have been, the team will attempt to gain bowl-eligibility in what will be the last game at Memorial Stadium for the program's seniors.
And while he admits the past four weeks have been difficult — thanks in no small part to what he considers a loss of respect from the fan base and local media — Quigley also insists there is still business to be taken care of during the next three weeks.
"The biggest things we've seen is that (when) you start losing, people leave," Quigley said. "And we just have to put that aside and play like a family. Because when it's all said and done, it's about us on that field that's playing the game."
Marshall to begin treatment next week: Kansas defensive end D.J. Marshall, who was recently diagnosed with Hodgkin lymphoma, is scheduled to begin treatment at the Cancer Treatment Center in Tulsa, Okla., next week, Mangino said Wednesday.

"I had a long conversation with his dad on the phone today," Mangino said. "He says (D.J.'s) very happy to be with his family. He missed his teammates, but they're going to get him up here for the game (Saturday), which he wants to do and his dad wants him to do, because they think it's important for him to be around his teammates and coaches."
Marshall, a red-shirt freshman from Mesquite, Texas, informed coaches of his diagnosis Thursday, and Mangino said Wednesday he would provide periodic updates on Marshall's treatment and recovery.
"His spirits are good, but obviously he's pensive and concerned," Mangino said. "But everything looks good. We're praying, and we're hopeful that it'll be a full recovery, and everything that we're hearing is that he's got a tremendous chance to have a really good outcome."