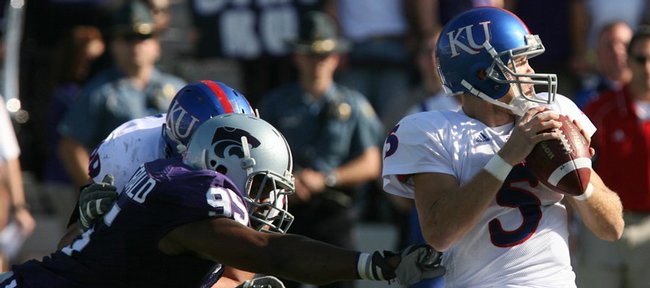 It started, like these things typically do, slowly and discretely.
Teams called for a few fewer passing plays per game. A fourth receiver was pulled in favor of an extra tight end. An I-back here, a few bunch formations there. All minor things, maybe not even detectable to the average fan.
But before long, the Big 12 Conference — the unofficial capital of the spread offense — had begun to look less and less spread-like. And while it might be too early to engrave the tombstone, there clearly has been, at least in Kansas University coach Mark Mangino's eyes, a conscious shift away from the spread packages that so thoroughly have dominated the conference in recent years.
"This is just an observation. I can't tell you that I have any facts behind it," Mangino said Tuesday during his weekly meeting with the media. "But more and more teams in our conference are slowly but surely fading out of the spread offense."
A glance at some of the box scores throughout the conference this season certainly would support the theory. The Big 12's top six scoring offenses in 2008 — Oklahoma, Missouri, Texas Tech, Texas, Oklahoma State and Nebraska — are all averaging fewer points per game than they did a season ago.
Last week, an Oklahoma team that scored 60 or more points in five consecutive games in 2008 managed a single field goal in a 10-3 loss to Nebraska, while the number of Big 12 teams ranked among the top 15 passing offenses in the nation a season ago (six) has been cut in half this fall.

Some of this, of course, can be attributed to personnel issues. Three of the aforementioned teams are breaking in new starting quarterbacks this season, while others, like Oklahoma, have been forced to deal with injuries to prominent offensive players.
Even so, it's hard to watch Big 12 football this season and not notice the changes, minor as they may be.
This was evident enough in the Jayhawks' 17-10 loss to Kansas State last week, when the Big 12 North-leading Wildcats, who possessed the nation's 19th-best passing attack a year ago, threw for just 66 yards, completed just one pass for one yard in the second half and still won by a touchdown thanks to an opportunistic defense and a running game that racked up 266 yards to keep the chains (and the clock) moving.
That offenses apparently have begun to evolve comes as no surprise to Mangino, who, in the past two years, regularly has insisted that college football is cyclical and that it was only a matter of time before the spread — like all the popular packages before it — would fall victim to the schemes of always-tinkering defensive coordinators.

The swiftness with which things have begun to change, however, has come as a shock to more than a few of the conference's coaches.
"I never saw it coming (so soon), I'll tell you that," said KU cornerbacks coach Je'Ney Jackson. "... I never would have guessed that. No one would have guessed it. A lot of people are just trying to run it and pound it and keep the ball in their hands as long as possible. Looking at the trend from the last couple years, everyone was just going to throw it 50 times a game."
Explanations for the shift are numerous: Coaches desire to control the clock with a sufficient run game; a high-powered and quick-scoring offenses force a team's defense to spend more time on the field.
And maybe, in the opinion of KU offensive coordinator Ed Warinner, defenses finally are beginning to crack the spread's code.
Using the NFL as a point of reference, Warinner says, colleges coaches have adapted to the spread's success by incorporating a more aggressive style. More blitzes, for one, and perhaps most notably, more use of man-to-man coverage — a strategy that makes defenses susceptible to the run but has also proven to make life less enjoyable for quarterbacks.
"It's more effective against pass offenses, because you have less space to throw," Warinner said of man coverage. "You can get guys open, but instead of being open by three yards, you're open by one feet or two feet. So the accuracy of the throw and the pass rush and the quarterback having to find a little window to throw make it a little more difficult."
All of this is not to say, of course, that the days of spread-heavy offenses are numbered.
Nearly every Big 12 team currently contains some aspect of the spread — most rely on it heavily — and while passing production may have dipped a bit, the Big 12, statistically speaking, still holds the distinction of the nation's most pass-happy conference.
"I know I worry about it every week," Jackson said. "And I know I'm not the only one in this league that does."
Kansas, for its part, is still throwing the ball plenty — 41 times per game, to be exact, including 54 against Colorado. Coaches have looked at their personnel — at quarterback Todd Reesing and receivers Dezmon Briscoe and Kerry Meier — and decided that the spread, for the time being, is the most effective way to score points.
But as they said Tuesday, that could change.
"We're sticking with what we're doing right now, but I think that football is an ever-changing deal," Warinner said. "And you have to stay one step ahead."
Having coached nearly 25 years of college football, Mangino likes to say that there aren't many things that surprise him. Football goes in cycles. Things ebb and flow. Offenses evolve and devolve. The same things that were tossed in the junk pile years ago — like the now (nearly) defunct wishbone of the 1970s and 80s — could come roaring back at any moment.
"It's like old clothes," he said. "Hold on to them; they'll come back in style."