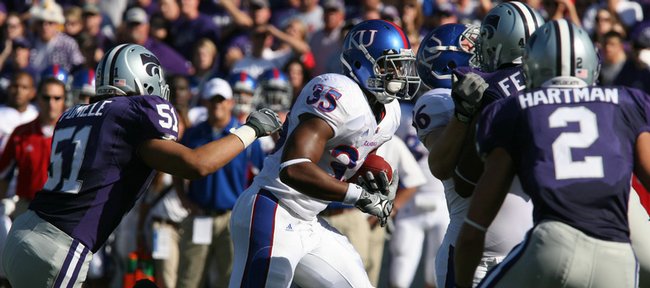 When Kansas University running back Jake Sharp missed nearly three games with an undisclosed leg injury earlier this season, backup Toben Opurum was handed the keys to the team's ground attack.
And by most accounts, the true freshman from Plano, Texas, handled the responsibility quite well.
In early-season victories over Duke, Southern Mississippi and Iowa State, Opurum averaged 92 rushing yards per game, scoring five touchdowns in that period and helping to maintain a ground game some figured would suffer when Sharp went down.

Since Sharp has returned, however, Opurum's carries have steadily declined. He has averaged just 5.8 rushing attempts per game in the team's past four games — carrying the ball twice for seven yards in last Saturday's loss to Kansas State — as KU coach Mark Mangino has opted to use Sharp as the team's primary ground option.
"Jake Sharp's health is getting better and better, and he's a key guy for us, a veteran guy that knows the offense in and out," Mangino said during Monday's Big 12 coaches teleconference. "And as we progress and the competition level has changed, it becomes more sophisticated and more difficult. And Toben is a guy that's going to be a heck of a player for us, but right now, he has a lot of learning to do."
While he does it, Sharp appears poised to garner the majority of the team's carries, even if he hasn't fully recovered from an injury that limited his speed and explosiveness.
Since returning against Colorado, the Salina native has rushed 41 times but managed just 128 yards while failing to record more than 50 yards on the ground in a game. In that same period, Kansas has averaged just 51 rushing yards per game during what has become a four-game losing streak.

But the dip in production extends past Sharp.
Playing from behind in recent weeks, the Jayhawks often have been forced to abandon the run late in games, and Mangino has made clear his dissatisfaction with an offensive line that, after a promising start to the season in which Kansas ranked first in the Big 12 in rush offense, has failed to facilitate an adequate ground game in recent weeks.
"It's hard to get anything going if you're not going to be able to get a little bit of a run game moving," Mangino said. "Last week, we were able to run the ball a little bit here or there, but still not consistently."
Mangino spoke highly of both running backs on Monday.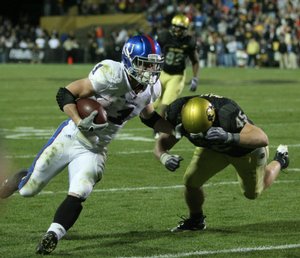 While he didn't indicate whether or not Opurum's workload might increase this season, he said the freshman likely would figure prominently into the team's future plans.
"He's feeling his way, but we're high on him," Mangino said. "We think he's going to be a really good player for us."
Mangino doesn't regret decision to pull Reesing
A week and a half after opting to pull quarterback Todd Reesing from the Jayhawks' 42-21 loss to Texas Tech, Mangino is still fielding questions about the move.

Asked Monday whether he thought the benching, which occurred with more than seven minutes remaining in a two-possession game, might have shaken Reesing's confidence, Mangino said he didn't feel it was a factor in the quarterback's recent struggles.
"Number one, using the term 'benching' is quite strong," said the coach. "I have my reasons why I took him out of the game, and a lot of it had to do with protecting his own health. He threw the ball very well at times against Kansas State and did some really positive things. So it's not a matter of his confidence. He's a confident guy. He can handle all that."
Davis performs ably in return to lineup
After a lengthy layoff, Kansas sophomore cornerback Anthony Davis returned to the field Saturday against Kansas State.
In his first significant action since being pulled from the team's season-opener after being flagged for three pass-interference calls, Davis finished with a tackle and a pass breakup while coming off the bench to spell starter D.J. Beshears.
"Grading the tape, I don't think he had any missed assignments," Mangino said of Davis. "We're kind of easing him back into things, and that's a positive, because he is a talented guy. He's just got to get his confidence back and (start) feeling good about making plays, and I think he is."
ABC to air KU's remaining games
KU's final three regular-season games will be televised on ABC, the Big 12 announced Monday.
The Jayhawks' Nov. 21 game at Texas will start at either 2:30 or 7 p.m., and the regular-season finale against Missouri on Nov. 28 at Arrowhead Stadium in Kansas City, Mo., will be at 2:30 p.m.
Saturday's 2:30 game against visiting Nebraska, meanwhile, also will be televised by the network.

The time for the KU-UT game is expected to be announced before the end of the week.