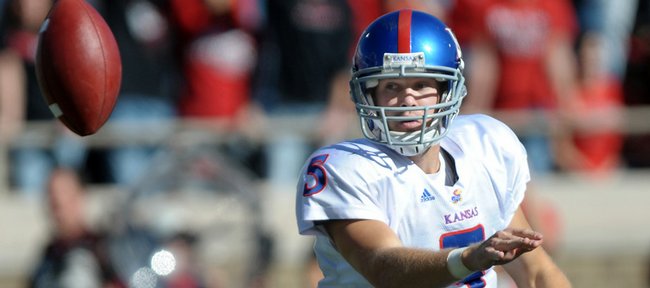 Back in April, Kansas University football coach Mark Mangino looked at his defensive unit and saw a disaster-in-waiting.
With a number of relatively inexperienced players in prominent positions — as well as a lack of overall maturity — the coach figured that drastic times called for drastic measures. And so, breaking from his normal routine, in which he gave equal attention to both the offensive and defensive units, Mangino began devoting 95 percent of his time to the defense, working with defensive coordinator Clint Bowen to get the unit up to snuff.

"(I'd) go down for five minutes just so the kids know I'm alive on offense, and then I trot back down to the defensive side of the field," Mangino said. "I'd spend the majority of my time watching defensive tape because I felt it was necessary to get the defense up and running."
Thanks to a recent stretch in which the defense has played with a consistent level of success — in the past three games, the Jayhawks have recorded eight takeaways and held high-powered Oklahoma and Texas Tech to a respectable 505 combined passing yards — the coach is comfortable enough now to shift his focus away from the defense, content in the knowledge that it's able to perform competitively on a weekly basis.
"I think the biggest thing is some of the young guys that hadn't gotten a lot of reps, their awareness is a lot different now," defensive coordinator Clint Bowen said. "It's not just, 'Oh my, what do I gotta do right now?' as opposed to 'OK, this is what's going on right now' and reacting to situations better."
So with Mangino content — if not ecstatic — with his defensive unit, the coach now shifts his focus to getting the offense back on track.
In the past three games, all Kansas losses, the offensive unit has undergone its worst string of play in recent memory, a stretch that has included a regression in offensive line play, a nearly non-existent run game and the benching of starting quarterback Todd Reesing.
"It's not because I have any magic wand or am a great coach or anything," Mangino said. "But sometimes I wonder if the kids are like your own children — if you spend too much time with one, then the other doesn't think that you think it's important."
As of Wednesday, Mangino seemed pleased with the new arrangement, calling the team's practice that day "exceptional" and speaking jovially about his reunion with the offense.
"They're overcoming my coaching, there's no question about that," Mangino joked of his work with the offense. "I've thrown my two cents in, I've kind of enjoyed it. I've hung out with the linemen a little bit, which is fun for me. It's kind of a throw back to the old days, I kind of remember me teaching techniques and fundamentals that I taught 10 years ago that still apply."
At the same time, Mangino insists he won't be the reason for the offense's improvement. The improvement, he said, will come from the players' ability to develop and pick up on things as the season progresses.
Assuming they can do that, and assuming the defense can maintain its recent level of play, the hope is that, for the first time in a long time, the team can finally enjoy a complete performance.
"That's the greatest hope that we have right now," senior safety Darrell Stuckey said. "Knowing that if (the offense and defense) can show up on the same day, we'll be one of those teams that's almost able to win it all."
Stuckey a Thorpe Award semifinalist
Stuckey this week was named one of 12 semifinalists for the Jim Thorpe Award, given annually to the nation's top defensive back.
Stuckey, from Kansas City, Kan., is currently second on the team with 56 tackles and has been the anchor of the team's defense this season.
He is also on the watch lists for the Nagurski, Bednarik and Lott awards, as well as the Lowe's Senior CLASS Award.
McAnderson to speak at KU Quarterback Club meeting
The KU Quarterback Club will hold its weekly meeting today at 5 p.m. at Buffalo Wild Wings, 1012 Massachusetts St.
Former Kansas running back Brandon McAnderson will be the guest speaker. He'll be followed by "Hawk Talk with Mark Mangino," the coach's live radio show, at 6 p.m.