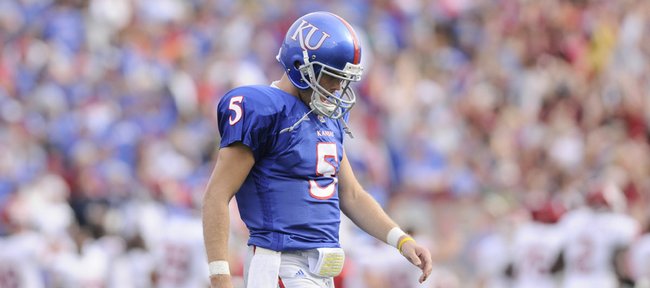 There are not a lot of college football players who appear to enjoy the game more than Todd Reesing.
This is obvious to anyone who has seen the senior quarterback bouncing across Big 12 football fields in the fall, first-pumping and hip-thrusting and generally carrying on like an over-caffeinated 5-year-old at Chuck E Cheese's.

"Having fun is part of his deal," KU offensive coordinator Ed Warinner said. "... He wears his emotions on his sleeve. That's part of who he is, and that's been good for us."
For the past three weeks, however, Reesing hasn't looked like a guy having all that much fun. Not during a recent stretch in which the Jayhawks, who started the season 5-0, have dropped three straight games. Not while the quarterback has committed an uncharacteristic seven turnovers in those games, five of which directly resulted in opponents touchdowns.
And certainly not during a second-half Kansas collapse in Saturday's 42-21 loss to Texas Tech, which resulted in the team's coaching staff — with just over seven minutes remaining in a two-possession game — informing Reesing that he was being benched in favor of red-shirt freshman Kale Pick.
"They just said 'Kale's in,' and that was it," Reesing said Tuesday. "And so it just kind of happened really fast, and next thing I knew, I wasn't playing."
In the days since the benching — which, given the level of success Reesing has had during a superb four-year career, predictably set off a media frenzy — Kansas coach Mark Mangino has contended that the decision to pull Reesing from the game wasn't a big deal. It was performance-based move, he said. With a struggling offensive line and a stagnant offense, it was time for a new look.
And Tuesday, he reiterated that sentiment.
"I think (the media) make it a big deal," Mangino said. "It's not a big deal. When you look at the circumstances and what has taken place over a period of time, it was the appropriate thing to do."
Reesing, however, views the situation differently.
"It was a big deal to me," the quarterback said. "It is what it is. It's above my pay grade. It's his decision. (But) I'm still the starting quarterback here, there's no doubt about that. This job is not up for grabs. I'm going to move forward."
As of Tuesday, Reesing said he hadn't received an explanation from Mangino as to why he was benched and, at this point, doesn't see the need for one.
"I guess you can take it for what it is," he said. "I don't know if he was trying to send a message, or if he just wanted to let Kale play a little bit. I don't have an explanation. It happened, it's over, we're moving forward."
In an effort to do so, Reesing organized a players-only meeting for Tuesday afternoon in which he planned to address the team.
With just four guaranteed games left in a career that will go down as perhaps the most decorated in school history, time is running short, and ensuring the team's players make the most of their remaining time together was something Reesing aimed to accomplish during the meeting.
"The times we've performed best, everyone was relaxed and having fun and just playing football — the game they love," Reesing said. "If we can get back to doing that, in addition to working hard and preparing hard, then I have all the confidence in the world that we'll get this thing going like it should be."
While Reesing declined to label Saturday's 11:30 a.m. road matchup with Kansas State a season-defining game, it's safe to assume that a Kansas loss in Manhattan effectively would end the team's hyped preseason goal of a Big 12 North title.
At 1-3 in the Big 12, Kansas will have little margin for error from here on out, and if the team hopes to battle for what appears to be an up-for-grabs spot in December's conference championship — which likely will take at least three victories in their next four games to secure — an effective Reesing will be key.
The quarterback said Tuesday that he has received encouraging words this week from former teammates Derek Fine, James Holt and Mike Rivera, and various teammates and coaches — including Mangino — repeatedly have insisted they haven't lost confidence in the quarterback.
"He realizes that all of us need critiqued," Mangino said. "When I coach lousy like I did last week, then I say I coached lousy. I told the players I did a terrible job of coaching. He's just like a coach in the sense that he has a lot of pride, so just like I'm finding a way to get the kids on track, he's finding a way to get himself back going the way he was. And he will."
And despite the forgettable recent stretch, Reesing appears far from ready to throw in the towel.

"The point when this game isn't fun for you anymore, it's time to hang it up," Reesing said. "I still love playing this game. It's still fun as heck for me ... and I just want everyone to realize that and make it be fun. Because when you're having fun and you're performing well, nothing's better."