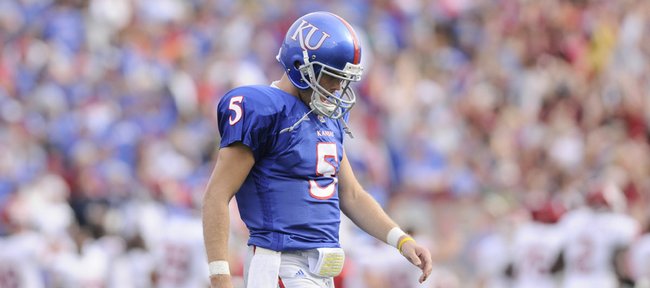 A day after Kansas University quarterback Todd Reesing indicated he's been playing with a groin injury sustained during the Jayhawks' Oct. 17 loss to Colorado, KU coach Mark Mangino downplayed the injury and its effect on the struggling signal-caller.
"He's been cleared to play," Mangino said. "He told us he's fine to play, so I don't know if it's a factor or not. I don't think so."
For the third straight game, however, Reesing looked far from his old self. He completed 20-of-35 passes for 181 yards and a touchdown in Saturday's 42-21 loss to Texas Tech, but routinely threw balls into the turf and turned the ball over twice on fumbles, one of which came on a 4th-and-1 situation with Kansas in the midst of a potentially game-tying fourth-quarter drive.
As a result, Mangino benched Reesing — who three weeks ago he hyped as an early-season Heisman Trophy candidate — with 7:05 remaining fourth quarter in favor of red-shirt freshman Kale Pick. Kansas trailed by two touchdowns at the time.
Following the game, Mangino said the benching had come as a result of poor performance, though Reesing responded to a question about his health by saying he hadn't been 100 percent since suffering an injury against the Buffaloes.
"I'm not one to make excuses," Reesing said. "It's been a hard time practicing during the week because of it. I've got to do what I can to get ready and then play through it on Saturday. But I'm not going to say that that has anything to do with the last three weeks, because it hasn't. It's just something that you deal with as a part of football."
Mangino said Sunday, meanwhile, that he hadn't spoken with Reesing about the player's benching and had no intentions of doing so.
"He fully understands what his role is," Mangino said. "He's been in meetings with his position coaches and the offensive unit, and I don't really have anything to say to him, because I think he understands clearly what's going on. He'll be fine. We're encouraging him, and I think he'll be fine."