Feature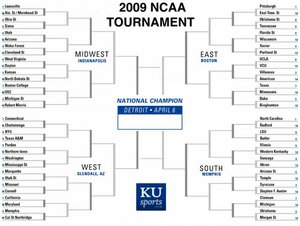 Get yer bracket on! Browse all brackets, check out out KUsports.com staff brackets, and check to see how your bracket's holding up after each match up is complete.
Kansas University sophomore center Cole Aldrich on Sunday was named to the NCAA Tournament All-Midwest Regional team.
Michigan State's Goran Suton, Kalin Lucas and Travis Walton and Louisville's Earl Clark also were voted to the squad by media members covering the tournament.
Suton, who scored 19 points and grabbed 10 rebounds in Sunday's 64-52 Elite Eight victory over Louisville, was the regional's most outstanding player.
Aldrich, a 6-foot-11, 245-pounder from Bloomington, Minn., averaged 17.7 points, 15.7 rebounds, and 5.3 blocks in Midwest Regional victories over North Dakota State and Dayton and a loss to Michigan State.
He had 13 points, 20 rebounds and 10 blocked shots in Kansas' 60-43 second-round victory over Dayton. His was the sixth triple-double in NCAA Tournament history and the first official triple-double in KU history.
Aldrich had 23 points and 13 rebounds in KU's 84-74 first-round victory over North Dakota State and 17 points, 14 rebounds and four blocks in the Jayhawks' 67-62 season-ending loss to MSU in the Sweet 16.
Aldrich finished the 2008-09 season with 94 blocked shots, three shy of the school record of 97 set by Greg Ostertag in 1993-94.
Aldrich became the first Jayhawk since Wayne Simien in 2004-05 to average a double-double.
Simien averaged 20.3 points and 11 rebounds his senior season, while Aldrich averaged 14.9 points and 11.1 rebounds in 2008-09.