Feature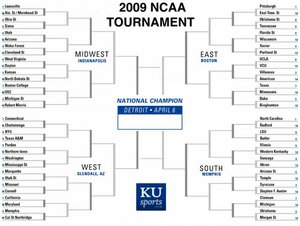 Get yer bracket on! Browse all brackets, check out out KUsports.com staff brackets, and check to see how your bracket's holding up after each match up is complete.
Dynasties can't exist in college basketball, not anymore.
You have Florida, with its back-to-back titles in 2006 and 2007, now working on a two-year streak of NIT trips.
You have UCLA, with three straight Final Four appearances snapped this year, but no titles.
You have Kentucky (no Final Fours since 1998), you have Duke (no Final Fours since 2005), and you have a mishmash of everyone else.
So this Final Four includes the two schools with maybe the best shot at being called a dynasty in the last decade of college basketball, a wild time in which we've seen the best players from high school forced to actually go to college, and sometimes even stay there beyond a one-and-done year.
We've seen recruiting change. We've seen far fewer of the best kids always going to the handful of schools listed above. We've seen teams with seniors and No. 1 seeds start to dominate, thanks to brutal schedules.
And now, in Detroit on Saturday, we'll see a couple of schools with the best chance to be called teams of the decade, if we can stretch that decade back a year to 1999.
That's when it began for Connecticut, with Rip Hamilton and Khalid El-Amin and Jim Calhoun leading the charge. The Huskies broke through that year, then again in 2004, with the next great recruiting class that had Emeka Okafor and Ben Gordon and Rashad Anderson.
Calhoun is back, five years later, with the juniors and seniors of the next class. A.J. Price and Jeff Adrien and Hasheem Thabeet, plus a glimpse of things to come in freshman Kemba Walker, who seemed to emerge fully formed as the next great Big East point guard in the Huskies' victory over Missouri on Saturday in Arizona.
So there is UConn on one side and North Carolina on the other. Eighteen Final Fours. This is Roy Williams' third trip in his six seasons there, going for a title to bookend 2005.
The Tar Heels are loaded, as usual. Tyler Hansbrough and Ty Lawson and Wayne Ellington and Danny Green and Bobby Frasor, juniors and seniors everywhere, at every position, and they've made four NCAA Tournament opponents look inferior.
So UConn and UNC are the big dogs. And Villanova, we can all agree, is the little guy. A No. 3 seed that comes in as by far the smallest school of the four, with the most darling pedigree.
If Jay Wright's Wildcats pull it off in Detroit, it won't be like 1985. He has eight players who might all be significantly better than they were even just a couple of weeks ago, when they were bounced in the semifinals of the Big East Tournament.
We have two teams going for some sort of dynasty, and one team going for another shot at glory.
Then there's Michigan State, which kind of fits into both categories. The Spartans don't get much ink or love around here, but Tom Izzo's team would fit right into the Big East, knocking down threes and not backing down from anyone. This is Izzo's fifth Final Four in 11 seasons, starting in 1999, when UConn started its run.
Now Michigan State gets essentially a home game at Ford Field. Kalin Lucas, the star guard, grew up 10 minutes from the stadium.
"I enjoy finishing practice and the sun's still shining," Izzo said. "That means you're playing at the right time of year."