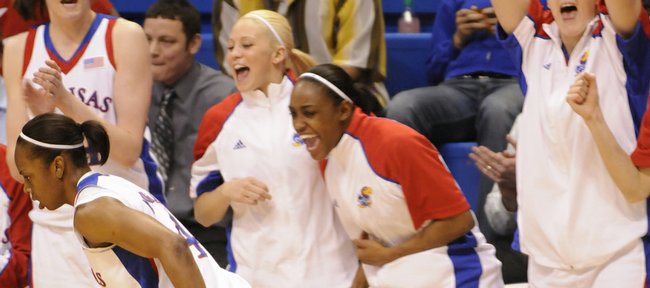 Past Event
Monday, March 30, 2009, 8 p.m.
,
Not available
When it comes to WNIT basketball, money talks, and everything else more or less walks.
WNIT officials select sites they believe possess the greatest potential to draw a large crowd. Thus, sending Kansas University to New Mexico for an Elite Eight game Monday night was a no-brainer.
In WNIT Sweet 16 games, for example, New Mexico drew more fans than every other site, including Kansas.
"They've even outdrawn some NCAA sites," KU coach Bonnie Henrickson said.
And the Lobos aren't even playing in their home arena.
New Mexico opened WNIT play with a 72-44 thrashing of Southern University at The Pit, the school's on-campus facility in Albuquerque. The announced crowd was a little more than 3,000.
However, with The Pit committed to a rodeo event last week, the Lobos' second-round game against Nebraska was shifted to the Santa Ana Star Center in suburban Rio Rancho.
And, as it turned out, the Lobos lured more fans to that supposedly neutral arena than they did to The Pit. Nearly 4,500 showed up to watch New Mexico trip the Cornhuskers, 54-43.
Then with The Pit still in a rodeo configuration Friday night, the Lobos returned to the Santa Ana Star Center for a Sweet 16 clash with Oregon State.
This time, 4,759 fans showed up to watch New Mexico squeeze the Beavers, 61-56, and NMU coach Don Flanagan was quick to praise the rowdy throng.
"I think noise-wise, it was Pit level," Flanagan said. "The Pit is one of the noisiest places you can play, and that was a great simulation of The Pit."
Although The Pit is available this week, the Lobos have opted — not surprisingly — to play Kansas in their new home instead.
"I really think we'll get more fans for the next game," Flanagan said. "It's a lot of fun to play here."
Whether Kansas will have a lot of fun playing in the Santa Ana Star Center remains to be seen. The Jayhawks have compiled a glossy 15-3 record in Allen Fieldhouse while their road mark is just 4-9.
"It is what it is," Henrickson said of the decision to send Kansas to New Mexico. "We'll go out there and compete. We'll play our tails off."
Monday's winner will meet the winner of today's Indiana-Illinois State game on Wednesday night in a WNIT semifinal.
Although Kansas drew fewer than 2,000 fans each night for its WNIT victories over Creighton and Arkansas, the Jayhawks (20-13) likely would earn another home game if they knock off the Lobos (25-10).