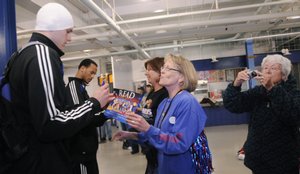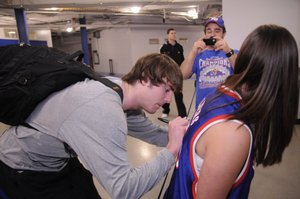 Sunflower School teachers Gerry Bukaty and Martha Wenzel stood just past the blue rope with Sharpies and posters in hand cheering as the Kansas men's basketball team arrived home Saturday afternoon.
"Thank you for beating K-State and Missouri, we're so proud of you guys, we loved every moment of the season," Bukaty told Coach Bill Self and the players as they walked into Allen Fieldhouse after a long journey from Indianapolis.
The team arrived in Lawrence around 2 p.m. The trip home was delayed after bad weather caused the flight to be rerouted from Topeka to Omaha, Neb. The flight was redirected a second time to Kansas City International Airport.
KU's Sweet 16 loss to Michigan State University on Friday night meant the team came home sooner from the NCAA Tournament than many of their fans had hoped. Still, a crowd of about 30 gathered to greet them at Allen Fieldhouse.
It wasn't nearly enough people, according to John Tanner, who with his 14-year-old daughter Jordan had braved Saturday's sleet and snow to make the hour or so drive from Liberty, Mo.
"We like to come and support them when they lose, to come here and cheer them up," John Tanner said.
"It's a good way to get out of Missouri," Jordan Tanner added.
With Jordan Tanner in a Mario Chalmers jersey and dad in a National Championship T-shirt, memories of last year's success lingered. The two, who started off the season with Late Night at the Phog, said the past five months had been better than anticipated.
"It was fantastic, above my expectations," John Tanner said of the season.
Back at the front of the line were Bukaty and Wenzel, who were gathering signatures from the basketball team. Before each game, the two KU alumnae would have their students sing 'I am a Jayhawk,' the school's alma mater and the Rock Chalk chant.
Wenzel's poster will be laminated so it can hang in her fourth grade classroom's "Wall of Fame." During basketball season, the wall is decorated by the news stories and photos generated about the team.
Soon this year's clippings will come down. They are divided up among the students and taken home. It's a prospect as grim as taking down the Christmas tree after the holidays.
As for the poster Wenzel was getting signed Saturday, that would stay on her wall forever, she said.