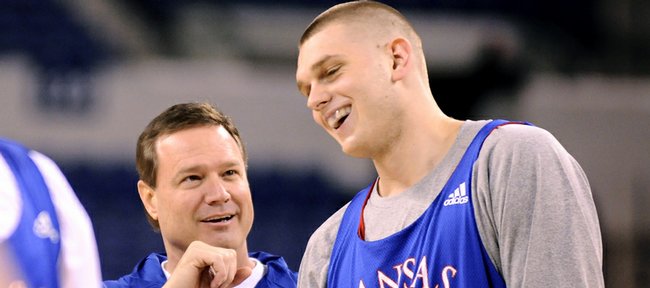 Indianapolis — Kansas University basketball big-man coach Danny Manning met with walk-on center Matt Kleinmann prior to Tuesday's practice in Allen Fieldhouse.
'"(Tick) him off. Just (tick) him off," Kleinmann said of his working orders on how best to prepare Cole Aldrich for what he's to face in the Sweet 16 today against ultra-physical Michigan State (8:37 p.m., Lucas Oil Stadium).
"Coach Manning said, 'Lean on him. Be physical with him. Push him as hard as you can.'
"I told Cole, 'I'm going to annoy you.' That was my one warning to him. That I was going to push him, knee him, kick him, elbow him as much as I could all week."
Kleinmann's work culminated in a Thursday morning practice at the Indiana Pacers' training facility in which the Jayhawks, according to coach Bill Self, "went as hard as we have all year."
"I feel like I've been in a wrestling ring with him (Aldrich)," said Kleinmann, 6-foot-10, 250 pounds.
Aldrich realizes the pushing, shoving and clawing at practice has been with his best interests in mind.
In all, six Spartans guarded the 6-foot-11, 245-pound Aldrich in KU's 75-62 loss to the Spartans on Jan. 10 at Breslin Center in East Lansing, Mich.
"They threw everybody at me," Aldrich said of a game in which he scored 14 points off 4-of-9 shooting (six of eight from the line) and grabbed 11 rebounds in 36 minutes.
"Let's see … there was Delvon Roe, (Idong) Ibok, (Goran) Suton, (Marquise) Gray," he said of specific Spartans who took turns on him.
"I'm missing two. I can't think of them all, there were so many," added Aldrich, who also was harassed by Draymond Green and Raymar Morgan.
"They are big, strong, physical, will bang on you down low, try to wear you out. They love to run. They crash the boards, get their hands on everything. Playing against big, strong teams like (Tom) Izzo's ... it's fun."
Coincidentally, the defensive plan Aldrich will face tonight is one the Jayhawks used to perfection last year in the Final Four.
"Against Tyler Hansbrough, we threw as many big bodies as we could at him," Kleinmann said of North Carolina's big man, who had his hands full with Sasha Kaun, Darrell Arthur, Darnell Jackson and Aldrich in the Jayhawks' semifinal victory.
"You saw how that turned out," Kleinmann added. "It's pretty good strategy. You've got guys with fresh legs. You tell them, 'You are only going to be in the game for 10 minutes, so push him (Aldrich), make him tired.' It's an effective strategy."
Aldrich — he's coming off last Sunday's triple-double against Dayton — insists he and his teammates will be ready for tonight's challenge.
"I think we can take a lot from the first time we played them," Aldrich said. "Our offense really struggled until the 12-minute mark. We had problems in transition. They really get back on defense. We feel we've improved a lot since then, and I'm sure they have, too. I just see it as a fun game."
KU coach Self says the No. 3-seeded Jayhawks (27-7) need to play as hard as they have all season to stand a chance of downing the No. 2 seed Spartans (28-6).
That's the reason for this week's intense practices, ones that have included the hard knocks inside on Aldrich.
"One thing we've tried to accomplish at practice is to get the guys to realize how tough and strong Michigan State is, how tough they are on the glass," Self said. "They whipped us on the glass that first game."
Michigan State, which is the nation's top rebounding team (10.1 margin to KU's 7.2) outboarded the Jayhawks, 42-31.
"Boxing out is 25 to 50 percent of it," Self said of the key to rebounding tonight. "The other part is having guys that are relentless on the glass, (with) want-to, not allowing yourself to get blocked out and hitting somebody, going after every ball with two hands.
"Tom (Izzo) over time has done the best job in America of coaching rebounding, and their stats back it up. Against them, you have to go attack the ball. You have to hit and go as opposed to hit and wait."
Of course, Self believes his big man will respond to the challenge. Aldrich had 20 boards Sunday against Dayton.
"I haven't had anybody like Cole that's come this fast," Self said of the sophomore who averages 14.8 points and 11.0 rebounds. "The thing about Cole is, he's not even strong yet. He still needs a ton of lower-body strength. He's just developing, his offensive repertoire, his game. He hasn't come close to reaching his ceiling. It's exciting.
"I've only been around one true big guy that could impact the college game like him, and that was 'Big Country' (Bryant Reeves) at Oklahoma State. Cole has a chance to be the best big guy I've been around that is a true center."
Of course, it's not only about Aldrich tonight.
Sherron Collins, who scored 57 points and had 10 assists against just two turnovers in first- and second-round victories over North Dakota State and Dayton last week in Minneapolis, is the other half of KU's dynamic duo.
Collins had 25 points, eight assists against eight turnovers versus MSU in East Lansing.
"It's going to be a tough game. I like games with contact, to hit and get hit," Collins said.
Self doesn't know how well Collins will play in the MSU rematch, but he does know the junior will show up with fire.
"The day before we played Memphis last year, I asked Sherron, 'Who can guard (Derrick) Rose?' He said, 'I can.' I said, 'No, you're too little. He'll post you,''' Self related.
"He said, 'No, I can guard him.' I said, 'We're going to have to probably put somebody a little bigger, stronger, tougher on him.' He said, 'Watch, just put me on him.' That's how he operates.
"He defended him pretty well. He didn't shut him out, but certainly for 30 minutes defended him very, very well."
As far as guys not named Collins and Aldrich, Self, who had one-on-one chats with Tyshawn Taylor and the Morris twins this week, thinks KU's supporting cast will be ready.
"Our team is young, naive, green," Self said. "It's been fun to see them go through this. The focus has been great. Hopefully we play relaxed and play well."