Feature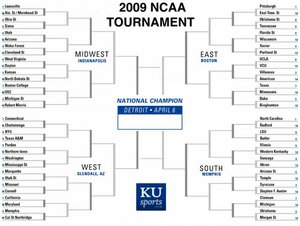 Get yer bracket on! Browse all brackets, check out out KUsports.com staff brackets, and check to see how your bracket's holding up after each match up is complete.
Indianapolis — Rick Pitino enjoyed watching Friday night's game almost as much as his Louisville players enjoyed celebrating.
Fun-loving forward Terrence Williams danced on the sideline. Guard Edgar Sosa posed for the television camera. Even backup Kyle Kuric dunked. For the top-seeded team in the NCAA tournament, this was more fun than a team scrimmage or a pickup game.
Earl Clark scored 19 points and had nine rebounds and the Cardinals delivered one of the most crushing blowouts in regional history with a 103-64 victory over Arizona.
"We played great tonight because we really passed the ball beautifully," Pitino said. "It's fun as a coach to watch the guys be so unselfish."
Should they follow the same script Sunday, against second-seeded Michigan State in the Midwest final, the Cardinals (31-5) will return to the Final Four for the first time since 2005. The Spartans beat Kansas, the defending champs, 67-62 in the second semifinal game.
But if they play like this, they could fulfill another goal: Winning their third national championship.
The Big East now has four teams playing in this weekend's regional finals, including its regular-season and tournament champ, Louisville. Pitino improved to 9-0 all-time in the regional semifinals.
Louisville was incredibly efficient in the highest-scoring game in its NCAA tournament history, shooting 57.6 percent from the field and dishing out 29 assists on 38 baskets. It shot 48 percent on 3-pointers and grabbed nearly as many offensive rebounds (11) as Arizona had on defense (17).
Defensively, the Cardinals were even better.
They rattled the Wildcats with constant pressure, forcing nine turnovers in the first half and 15 in the game. Arizona was so out of sync, it threw away an inbound pass in the first half and twice had ball-handlers get crossed up just dribbling up the floor.
The combination put Louisville within one point of cracking the top five for most lopsided victories in a regional round. UCLA set the record with a 49-point rout over Wyoming in 1967, and the next four all occurred before 1972.
It was by far the Cardinals' biggest rout in their long NCAA tournament, and easily the Wildcats' most-lopsided loss.
And the Louisville players savored every precious moment.
"We came out with more intensity, and that's what you've got to do when you're up big because it's hard to play with a lead ," Clark said.
It sure didn't look hard in the semifinals.
The Cardinals built a 21-point halftime lead, then quickly put it away by opening the second half on an 18-5 run that set off the revelry.
For Arizona (21-14), the lowest seed to reach the semis at No. 12, it was an embarrassing end to a turbulent season. There was a coaching change in October, a 2-5 start in Pac-10 play and the Wildcats lost five of their last six regular-season game, putting the nation's longest active streak of consecutive tourney appearances in jeopardy.
Yet the committee still took them, for the 25th straight year, as one of the final at-large teams in the 65-team field. For two games, it looked like the committee made the right call as Arizona beat Utah and Cleveland State in Miami.
On Friday, though, Louisville demonstrated just how wide the disparity between a 1 seed and a 12 seed can be.
Chase Budinger led Arizona with 22 points, and Jordan Hill had 14 points and 11 rebounds. But Arizona shot 38 percent from the field, and never had a chance after the opening minutes.
"They shot the ball well, they moved the ball well and, unfortunately for us, we didn't have an answer," interim coach Russ Pennell said. "I think there was a reason Louisville was seeded No. 1 in the tournament and they showed that tonight."
Did they ever.
Pitino said Thursday he had never seen two teams with such similar defenses on tape. In person, it wasn't even close.
Arizona struggled, at times, just to get the ball across midcourt and when it did, the Wildcats had trouble getting into their halfcourt offense. They couldn't stop Louisville's, bigger, stronger, quicker post players, and when the Cardinals didn't go inside, their 3-point shooters were money.
Williams hit four 3s and finished with 14 points. Jerry Smith hit four more 3s and finished with 16. Clark and Sosa each added two more threes.
What impressed Pitino, though, was the Cardinals crisp passing. They continually found open shooters, leaving Pitino with a tough task before Sunday's regional title game: Finding flaws.
"We know that we're not going to play like this again because of the type of defense that we're going to run into now," Pitino said. "I'll find something to be very upset about tonight at snack. I think a lack of humility is the greatest killer of potential. So we're not going to fall in love with ourselves because we had a good game tonight."
Louisville broke to a 17-9 lead, then pulled away with a 14-4 run that made it 34-19 with 6 minutes left in the first half. At halftime, it was 49-28.
Then the fun began.
During the decisive second-half run, Williams grabbed a rebound, whisked it around his back and made a perfect outlet pass to set up Clark for a 3. Later, Sosa drove in for a layup and drew a foul in front of the camera, prompting him to touch his lips and strike a pose as the Cardinals rolled to their 13th consecutive win with an exclamation point.
"It's going to be tough to duplicate playing as well as we did tonight," Smith said. "I think this is the best we played all season."