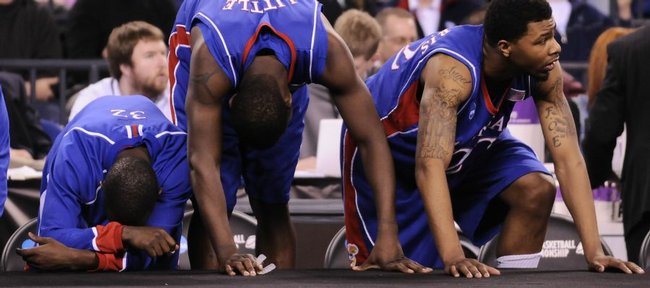 KU scoring
Collins 20 (9-for-13 shooting), Aldrich 17 (14 rebounds), Taylor 8, Morningstar 6, Marcus Morris 4, Reed 3, Markieff Morris 2, Little 2.
KU was 24-for-53 from the floor (45.3 percent), 3-for-12 from three (25 percent) and 11-for-13 from the free-throw line (84.6 percent).
MSU was 23-for-59 from the field (39 percent), 5-for-15 from three (33.3 percent) and 16-for-17 from the free-throw line (94.1 percent).
KU out-rebounded MSU, 37-31. KU had 19 turnovers to MSU's 13.
FINAL: MSU defeats KU, 67-62
KU gets a break, as the officials call a trip on MSU's Morgan. I don't think there was any contact there. Taylor makes both ends of the one-and-one.
Lucas hits both ends of his one-and-one, but on the other end, he gets bumped by Lucas with 19 seconds left. Collins, though, misses the front end, and MSU comes away with the rebound.
Lucas is fouled and makes both free throws, and Collins misses a three on the other end.
Time runs out on the Jayhawks. MSU comes away with the 67-62 victory.
MSU 63/KU 60 — 34 seconds left in game
Collins turns it over trying to throw a pass to Aldrich.
With the shot clock winding down, Lucas spins, gets Collins in the air, then swishes a short shot with a foul. Just a great individual effort there. He makes the free throw.
Self uses another timeout to set up a play.
KU 60/MSU 60 — 1:31 left in game
Collins once again picks up his team offensively. With the shot clock winding down, he makes something out of nothing, driving in before throwing a one-handed shot over a defender.
Summers follows with a tip-in for MSU. The Spartans picked up about four offensive boards before finally getting one to go down.
MSU misses its first free throw, but MSU is able to save the rebound. Raymar Morgan follows with a slam to tie it.
With possession, Self calls timeout.
KU 58/MSU 55 — 3:51 left in game
"Mr. Big Shot" Tyrel Reed comes through with a huge three for KU. Collins drove and managed to get the ball out to him, and Reed swished the shot to put KU up three.
Before the play, it looked like Collins motioned to Self the play that he wanted.
Suton misses a jumper, and Collins drives and lays one off the glass for two. Suton follows with a layup for MSU. This should be an exciting last four minutes.
Marcus Morris hobbles off the court, and it appears he might have sprained an ankle. We'll see if he returns.
MSU 51/KU 49 — 6:54 left in game
MSU catches a break there, as Chris Allen gets the benefit of a foul call when Reed didn't make much contact at all. Allen made both free throws, and the Spartans are a perfect 9-for-9 from the line.
MSU's Idong Ibok tries to throw the ball inbounds after Allen made the second free throw. Don't know what that was about. KU fans make sure to let him know about his mistake.
Lucas hits a wide-open three, and Izzo throws a wild first-pump in right in front of me. The Spartans have drawn even again.
Travis Walton throws in a floater in the lane for his first points, and Self calls timeout. The Spartans take their first lead since the first half.
The Jayhawks have hit a serious drought. They're also taking bad shots. KU didn't score a field goal during that TV timeout to TV timeout stretch. Self is able to steal Collins' last rest of the game, though, resting him for a minute after taking the timeout.
KU 48/MSU 42 — 11:47 left in game
KU picks up its defense at just the right time.
The Jayhawks' man defense once again in causing the Spartans fits. As a bonus, without Suton in, MSU isn't getting any offensive rebounds, either.
Collins gets a finger roll in transition, and Aldrich finishes off a no-look pass from Collins with a layup. The Jayhawks have opened a small but of breathing room.
KU 44/MSU 42 — 14:45 left in game
Suton is left open up top, and he swishes a three to tie the score at 42. The Jayhawks have to do a better job of recognizing the Spartan's only hot shooter.
Aldrich follows with a mid-range jumper, and KU continues regains its small advantage.
Suton picks up his third foul by pushing Aldrich on an offensive rebound try. The MSU center looks tired. Obviously, a fourth foul on Suton would be huge if KU could draw it.
KU 40/MSU 38 — 17:02 left in game
Lucas misses an open three after Taylor is slow to get to him. Izzo swings around and just rolls his eyes.
Suton hits another jumper. The Jayhawks are leaving him open and paying for it. Summers follows with a three, and KU's defense is making a habit of getting out late to shooters on the perimeter.
Green puts in a layup with a foul, and MSU has scored on four straight possessions. The Jayhawks look a step slow out of the halftime break. Self calls timeout, as the lead is down to two.
KU scoring
Collins 12 (5-for-6 shooing, 4 turnovers), Aldrich 10 (3-for-9 shooting, 8 rebounds), Morningstar 6, Taylor 2, Marcus Morris 2, Markieff Morris 2, Little 2.
KU was 15-for-30 from the floor (50 percent), 2-for-6 from three (33.3 percent) and 4-for-4 from the free-throw line (100 percent).
MSU was 10-for-28 from the floor (35.7 percent), 2-for-8 from three (25 percent) and 7-for-7 from the free-throw line (100 percent).
Suton had 13 points on 5-for-9 shooting. He averages 9.8 points per game.
KU out-rebounded MSU, 18-15. The Spartans had 10 turnovers to the Jayhawks' nine.
Halftime thoughts
• The Jayhawks are winning the battle of the boards, and that might be the biggest key. Though Aldrich has been up and down offensively, he's ripping away all the tough rebounds that he didn't come away with in East Lansing, Mich.
• Nice half for Collins, who hit two huge shots for the Jayhawks. Two of his "tough" buckets came during KU scoring droughts and helped his team get going again. Watch his turnover count, though, as he already has four. He had just two in two games of the NCAA Tournament coming into today.
•We shouldn't question Brady Morningstar's defense by now, but this was even a good half for him. The two steals and breakaway dunks gave KU both momentum and easy points.
•Watch the turnover count in the second half. Giveaways are the only reason KU is not up double digits. The Jayhawks had nine first-half turnovers against a team that doesn't force many of them. In the first round, Robert Morris had just six turnovers all game against the Spartans. That tells you most of the Jayhawks' errors have been unforced, and they need to secure the ball to help their offense and also to avoid giving up easy points in transition.
•MSU made just 25 percent of its threes in the first half. Remember, that's the magic number for KU.
KU 36/MSU 29 — Halftime
Self has to be happy on that possession, as with Collins out, his team out-scrapped scrappy Michigan State. After a scramble for the ball, Aldrich ended up with it before putting home a power slam. Credit goes to Markieff Morris for keeping the ball alive.
MSU makes a run before the end of the half. Suton makes two free throws after KU bailed him out with one second left on the shot clock. The next possession, Taylor tried to split two defenders and had the ball swiped away. Lucas finished with an easy layup on the other end.
Another turnover for KU, and Lucas gets two free throws. Collins tries to lob a pass to Aldrich that's stolen, and that's three straight giveaways for the Jayhawks.
Collins breaks the drought again with a guarded 20-footer, and Aldrich beats the shot clock with a 19-footer of his own.
Suton beats the buzzer with a shot. After video review, the officials rule he released the shot just in time. That could be a crucial play late.
KU takes a seven-point lead into the break.
KU 30/MSU 19 — 3:47 left in 1st half
Nice move by Markieff Morris, who composes himself, clears some space with his elbows, then puts in a layup.
The Jayhawks take advantage of a substitution miscue by MSU coach Tom Izzo. The coach was trying to steal a minute by sitting four of his starters — Lucas, Walton, Goran Suton and Raymar Morgan — at the same time. KU gets a tip-in from Collins, then a steal and dunk from Morningstar.
Izzo takes timeout to get his starters back in, but with the run, the Jayhawks have taken a 10-point lead.
Out of the timeout, the Jayhawks go to a zone. After at least four offensive rebounds, MSU cashes in, as Suton gets a two and foul. Don't know why KU switched up from a man defense that was working pretty well.
KU sticks to the zone, and Reed gets a steal. A pass ahead gets Collins a lay-in, and the Jayhawks have their largest lead at 30-19.
KU 20/MSU 16 — 7:57 left in 1st half
Mario Little checks out of the game just a couple minutes after he gets in there. He wasn't playing well defensively and also had a turnover on an illegal screen. KU can't afford those kinds of mental lapses in this game.
The Jayhawks are doing a great job of getting Aldrich the ball, but he's shying away from contact. Aldrich needs to take it into the defender instead of fading away. Aldrich starts the game 0-for-5 from the floor.
Collins gets KU out of a funk. Hitting a stepback three. Seconds later, Aldrich hads a steal land in his hands, and his long pass to Taylor results in a dunk.
KU catches a break, as it looked like Collins reached in on an MSU player. That would have been his second foul. Instead, the official called a travel.
After a foul on MSU, Draymond Green yelled some words at Collins. Not one to back down, Collins said something back to Green while walking toward him. The two were separated by officials before anything escalated.
KU 15/MSU 10 — 11:58 left in 1st half
A nice move by Collins under the basket gives KU a 9-2 lead. The advantage evaporates quickly, though.
After a three from Chris Allen, Collins tries to force the issue in traffic and loses the ball. A few quick passes later, Durrell Summers swishes a three, and MSU has an 8-0 run.
KU answers with six straight, including a highlight from Morningstar. Following a steal, he threw in a one-handed jam on the fast break. I don't remember him dunking all year (or all of his KU career).
KU 5/MSU 2 — 15:38 left in 1st half
Both teams look jittery early. That surprises me, as I figured the Jayhawks would come out more loose than they did.
Collins gets KU's first points, draining a three from the side.
The Jayhawks are playing good defense early. An interesting matchup to watch will be Morningstar on Raymar Morgan. The KU sophomore has done a good job of fronting the post player so far.
Aldrich misses a bunny after a good lob pass from Morningstar. KU misses a chance to go up 7-0.
Both teams' shooting seems to be affected by the spacious building. Aldrich and Markieff Morris miss two more easy ones for KU.
8:33 p.m. CST
Warning: This isn't going to be a stunning or surprising statement.
Sherron Collins is the key to this game.
He might be frustrated early, as MSU's Travis Walton — the Big Ten's defensive player of the year — will try to take him out of his game.
Last time, the Spartans focused on stopping Collins and let the rest take care of itself. That strategy worked out pretty well.
Collins will have to keep his head and, no matter how many shots are missed early, keep faith in his teammates.
This should be a great test for the junior.
8:21 p.m. CST
Here are a few things to watch for in tonight's game:
• Michigan State only gets 26 percent of its points from three-pointers, ranking 313th nationally. Still, the Spartans are undefeated (22-0) when they shoot better than 25 percent from beyond the arc. MSU is just 6-6 when it shoots 25 percent or worse from three.
•The Spartans get a whopping 56 percent of their points from two-pointers, which ranks 72nd nationally. That's actually not a bad stat for KU, as the Jayhawks are fifth nationally in two-point percentage defense (40.8 percent).
•MSU isn't great at forcing turnovers. Its turnover-percentage defense is 192nd overall, as the Spartans force turnovers on 19.9 percent of their defensive possessions. KU had 14 turnovers the first game against MSU, so taking care of the ball should be a main focus for KU, especially early.
•The Spartans have not been out-rebounded since Dec. 20. 2008, against Texas. MSU is 2-1 when it is out-rebounded. The Spartans out-rebounded the Jayhawks, 42-31, in the first meeting.
FINAL: UL defeats Arizona, 103-64
Not much more to say about that one. The Cardinals put up the most dominating performance so far in the round of 16.
We'll get to KU pregame notes shortly.
UL 92/Arizona 58 — 3:25 left in game
Arizona finally went to a man defense, but I can see why coach Russ Rennell was so hesitant. After an open three and a dunk from Louisville, it's obvious that the Wildcats are struggling to play any sort of defense tonight.
UL 82/Arizona 49 — 7:27 left in game
Not much to add here. Have I said this is one of the worst zone defenses I've ever seen in this round of the NCAA Tournament? I guess I have now.
UL 72/Arizona 40 — 11:32 left in game
If the Jayhawks do get past Michigan State tonight, they probably will need to send out a thank-you card to the Missouri Tigers.
In many other years, Louisville's pressing defense would be a style that KU had not seen all year.
This year, that's not the case. Missouri plays similar to the Cardinals, though it's obvious that Louisville executes its system with more athletic and gifted players than MU has.
Still, it won't hurt KU to have at least have had a taste of this frantic, speed-you-up style.
UL 60/Arizona 33 — 15:19 left in game
Louisville came in with the reputation of being a great defensive team, but it's showing the entire offensive arsenal tonight. Earl Clark and Terrence Williams combine for three straight three-pointers against Arizona's shoddy zone defense, and Louisville has extended its advantage all the way to 27.
More than half of the Cardinals shots (20 of 37) have come from beyond the three-point line. This season, Louisville has gotten 33 percent of its points from beyond the arc, which ranks 54th in Division I.
UL 49/Arizona 28 — Halftime
Arizona's Nic Wise finally gets his first field goal — a three — and he looks up to the sky as if to say, "Finally."
UL's Jerry Smith is left wide-open for two consecutive threes, and he drains both. Time for Arizona to get out of its zone, as the Cardinals were 6-for-15 (40 percent) from three in the first half.
Louisville looks like the tournament's No. 1 overall seed in taking a 21-point halftime lead.
UL 40/Arizona 21 — 3:29 left in 1st half
Terrence Williams goes flying to the sidelines for a rebound, and he's fortunate a Louisville assistant coach was right there to push him back toward the court. Without the boost, Williams was getting ready to land flat on his back off the raised-court floor.
Samardo Samuels puts in yet another layup with a foul, and Arizona's zone hasn't prevented Louisville from getting any shot it wants.
UL 34/Arizona 19 — 6:00 left in 1st half
Arizona is overmatched, and it's really showing now. Louisiville is getting dunks nearly at will, while the Wildcats are being sped up by the Cardinals' press.
UA coach Russ Pennell calls timeout, but it might already be too late. Louisville has made 56 percent of its shots and looks like, at least now, like it will be the fourth Big East team to qualify for the Elite Eight.
UL 26/Arizona 17 — 7:39 left in 1st half
Arizona has held its own on the boards so far. The Wildcats are out-rebounding the Cardinals, 11-9.
Another factor that should come into play in the first half is the team-foul situation. The Cardinals have seven team fouls to the Wildcats' one, and most of the whistles have come from Louisville's over-aggressiveness with its full-court press. Arizona, which already has seven turnovers, could use some free point opportunities on the line.
UL 10/Arizona 7 — 15:26 left in first half
Chase Budinger is trying his best to keep Arizona in it. He has all seven points for the Wildcats, who have trailed the entire game.
There are a ton of Louisville fans here. The Cardinals definitely have the home-court advantage in this one.
6:06 p.m. CST
Welcome back to the Newell Post Live, coming to you from Lucas Oil Stadium in Indianapolis where the third-seeded Kansas Jayhawks will take on the second-seeded Michigan State Spartans later tonight.
In the meantime, we'll be running a live-game blog over the earlier game between top-seeded Louisville and 12th-seeded Arizona. Be sure to add your comments of the game below.
For more on the NCAA Tournament, check out NCAA.com.