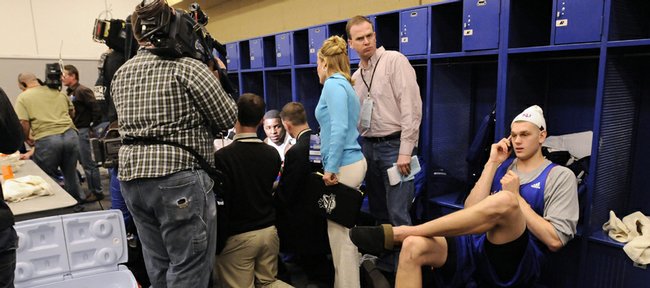 Shooting woes
Kansas University guard Brady Morningstar enters having hit nine of his last 35 shots over seven games, including six of 25 threes.
"Every shooter misses shots. I've missed some the last couple games," Morningstar said. "I look for my shot. It'll start falling. I've got to knock down open shots to help take the pressure off Cole (Aldrich) and Sherron (Collins)."
One key matchup
Morningstar, who stands 6-foot-3 and weighs 187 pounds, will guard Raymar Morgan, who is 6-8, 225.
"He's good, strong, physical. He plays hard," said Morningstar, who scored five points and had three rebounds in KU's 75-62 loss to the Spartans on Jan. 10 in East Lansing, Mich. Morgan had 13 points and eight boards.
"I'm sure people will think he'll dominate," Morningstar added. "I guarded a lot of players his size this year, like Budinger (Chase, Arizona). I will not back down, neither will he."
Rush in the house
Former KU guard Brandon Rush attended KU's practice Thursday morning at the Indiana Pacers' practice facility.
The Jayhawks were in the stands for the Pacers' victory over former KU guard Mario Chalmers' Miami Heat on Wednesday. They had seats halfcourt, about 20 rows up.
"I loved it. It's the first time I've seen those two in the NBA," Morningstar said. "Brandon watched practice today. He was going to lift (weights). Coach Self asked him if he had any advice for us. He said, 'Go out there and play.' He's always been a man of few words," Morningstar added, laughing.
Collins laughed when asked about Rush's talk to the team.
"He said this is our time. He told us to 'Do our thing,''' Collins said.
1986 revisited
MSU coach Tom Izzo worked as a grad assistant on the Spartan squad that fell to KU, 98-86, in overtime in the 1986 Sweet 16.
That's the game in which the Kemper Arena clock malfunctioned and stopped for about 10 seconds. That became critical when KU, which was down by six with 1:39 left, sent that game into OT on a bucket with about 10 seconds left.
"I can't say I thought about that game, although I did when I was talking to Jud (Heathcote, former MSU coach) in between games the other night," Izzo said.
"One of my jobs at the end was to watch the clock. When it wasn't moving and I told Jud, he more or less told me where to go because I don't think he believed me. When he found out it really wasn't moving, he went down and very quietly informed the scorekeeper that the clock wasn't moving," Izzo added, smiling.
"I always talk to Larry Brown (former KU coach) when he was with the (Detroit) Pistons about that. We kind of laughed. I told Danny Manning when he was at our place (on Jan. 10) that we got ripped off. I was really just kidding.
"I learned a good lesson that game. ... every play of every game does matter, does have a purpose, whether it's a missed free throw, rebound, all the things that happen. Because we were this far from moving on and didn't. As I look back, Jud never got farther than that the rest of the years I was an assistant."
KU coach Bill Self also was a grad assistant — for Brown at KU — in '86.
"I was probably sitting 20 rows up worrying about the concession stand or whatever," Self said. "I do remember the clock malfunction, whatever it was. I remember coach Heathcote not being very pleased during that stretch. The thing about Michigan State I remember is they had a guy (Scott) Skiles that was unbelievable, hard to guard. We were very fortunate to win that game. They were really good."
Rematches
Self has compiled a 16-4 record (at KU and Illinois) in games his teams played after suffering a loss earlier in the season.
"I've never thought about that," Self said. "Usually if you lost to a team that you are going to play twice, it's happened because you played in their building and the return game is in your building, so you should have an advantage."
On Billy G
Self on rumors that his buddy, Billy Gillispie, may be fired after two seasons at Kentucky.
"I don't think it's fair. Nobody cares what I think," Self said. "You've had a lot of coaches out there over time that struggled in their first few years on a job. One of them lives and resides in Durham, N.C.," Self added of Duke's Mike Krzyzewski.
"Ten Final Fours later and three national championships later they're probably glad they didn't move on that (firing him). I think Billy is the same way. Given time, Billy will have Kentucky competing for championships again.
"Obviously in today's time, patience is not one of society's virtues," Self added. "It's win and win now. It's a quick fix on everything. Sometimes I think you have to step back and think big picture, what would be best over time? There's no doubt in my mind they've got the right guy at the helm. But he's going to need a little bit of time."
Taylor will be OK
KU guard Collins said he hasn't had many one-on-one chat sessions with freshman guard Tyshawn Taylor this week.
Taylor struggled a bit in wins over North Dakota State and Dayton last weekend.
"I haven't talked to him as much this week as last week," Collins said. "He understands what is expected, to calm down, don't think as much. He's getting a feel for it (tournament play)."
Collins said he could tell early on how Taylor would fare in a game.
"Probably the first three minutes, five minutes," Collins said. "The biggest thing with him is being consistent."
"I want to help the team the best way I can, by playing hard," Taylor said. "That's what I'm going to do."
Stephenson appears to be KU-bound
The recruiting world believes Lance Stephenson, a 6-foot-5 senior guard from Lincoln High in Brooklyn, N.Y., will play college basketball at Kansas University next season.
"He really wants to play for Bill Self," a source told Zach Smart of the NBE Basketball Report. "He had a great visit (to KU), and they essentially sent Danny Manning as the Mariano Rivera in this situation to close the deal.
"Lance understood the magnitude of this decision," NBE Basketball's source added. "He flirted with the idea of revitalizing the St. John's program and sort of sprouting into a New York City icon by putting SJU and New York City back on the map. But realistically, he wants to win at a big-time program, and Kansas is a perfect fit for him."