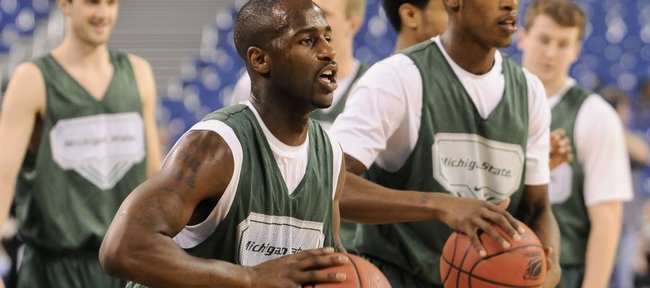 Feature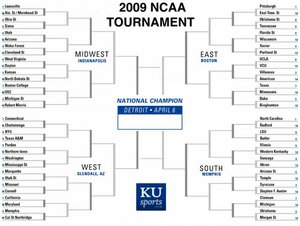 Get yer bracket on! Browse all brackets, check out out KUsports.com staff brackets, and check to see how your bracket's holding up after each match up is complete.
Indianapolis — For a typical game, Travis Walton watches three full game tapes of the player he's defending. This week, he's says he's going to make it to five.
The Michigan State senior guessed he has spent 20 hours watching film of Kansas guard Sherron Collins — so much so that it's starting to become unhealthy.
"I went to sleep, and I think I had a little dream about him. About ball screens," Walton said with a laugh. "I don't know if it was just Sherron Collins. I think it was just Kansas and playing basketball and ball screens."
Though Walton might be making headlines for his career-high, 18-point performance against USC on Sunday, he's going into today's game without even giving a thought to his offense.
He has been too busy studying Collins.
"You can't let him have 15 (points) and 10 (assists), because then he's still giving you 20 points off of assists," Walton said. "So you've got to try to contain him and try to take away one of his strengths."
Walton certainly has done his homework. After he was asked about Collins' stat line in KU's game against MSU on Jan. 10, Walton immediately started listing off numbers.
Twenty-five, eight and eight. Six-for-14. Eleven-for-14.
Off the top of his head, Walton had listed Collins' points, assists, turnovers, field-goal shooting and free-throw shooting from a game played more than two months ago.
"That's my job. I'm a defensive guy," Walton said. "That's who I've got to guard. That's who my assignment is.
"He's a great player, so when you're playing against great players and playing against players that are pretty good, you want to know everything about them so you can help your team's chances of guarding him and not get embarrassed."
Tuesday, Walton entered the Breslin Center so late to watch tape that he only saw one person there — a television reporter that was finishing up a story after the MSU women's 63-49 NCAA Tournament victory over top-seeded Duke.
So what tendencies has the guard seen from Collins?
"He's just tough. He can push the ball at any time. He's going to attack you," Walton said. "If there's three players back, and he's the only one coming, he's going to attack. You don't really get that too much out of players."
The Spartans did a respectable job against Collins the first time. Using a "six eyes on Collins" strategy — meaning the player defending the ball and two other defenders were told to watch Collins at all times — MSU forced the guard into six first-half turnovers while taking a 37-18 lead.
"One thing we've got to do is to try to just contain him," MSU guard Kalin Lucas said. "I think if we contain Collins, we'll be OK."
Walton, through his study, has noticed a change in Collins recently.
"He's been trying to attack a lot more," Walton said. "You look at his last five games' stats, he's averaging over 20 shots a game. He's got to attack more.
"I know probably in his mind, he's thinking, 'In order for my team to win, I've got to shoot the ball. I've got to not worry about how many turnovers I have, how many shot attempts I have, what's my percentage. I've got to make big plays and big shots.' As a big-time player, you've got to think like that, and you've got to be like that."
Walton admitted he's not a guy that sleeps a lot.
He figured Thursday night wouldn't be any different.
"I've watched all the film I can watch," Walton said, "and I'm watching even more."