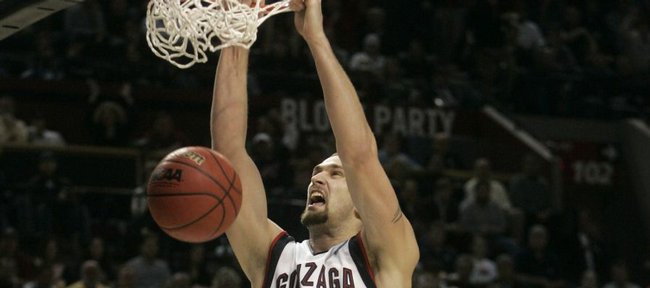 Gonzaga vs. Akron
Feature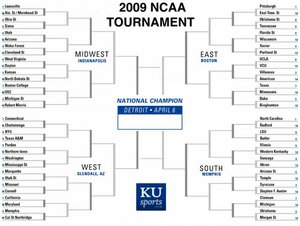 Get yer bracket on! Browse all brackets, check out out KUsports.com staff brackets, and check to see how your bracket's holding up after each match up is complete.
Portland — Staring at a third straight first-round flop, Gonzaga responded like the talented and NCAA tournament-tested team it is.
Josh Heytvelt scored 22 points — seven during a decisive late run — and the Bulldogs rallied to get past rugged, determined but ultimately overwhelmed Akron 77-64 on Thursday night in the South Regional.
The Zags are in their 11th consecutive NCAA tournament but had lost in the first round of the last two.
"Oh, it was a weight off the chest," Heytvelt said moments after fourth-seeded Gonzaga (27-5) won for the 19th time in 20 games.
Getting zapped in the first round by the 13th-seeded Zips seemed possible for a while. Akron (23-13) was up six in the second half.
"They came out throwing blows and had us rattled," Heytvelt said.
Nate Linhart scored 13 points in the first half, but had no field goals after halftime for the Zips, who won the Mid-American Conference tournament to get in to its first NCAA tournament in 23 years.
Gonzaga faces the winner of the Western Kentucky-Illinois game on Saturday.
"Well, hey, it feels good to win and move on. That's what this tournament is about," Gonzaga coach Mark Few said. "That was a grinder."
A 3-pointer from Akron's Chris McKnight — who with his teammate and brother Brett grew up playing prison ball at his father's workplace in Lancaster, Ohio — then a dunk by Mike Bardo and another 3 from Anthony Hitchens with 14:59 left gave the Zips a 49-43 lead.
They seemed poised for the tournament's first huge upset — and the Zips' first NCAA tournament win since it moved to Division I in 1980.
Gonzaga, loaded with what it feels is its best team in years, seemed set up for another collapse.
"Are we really in the tournament," Heytvelt said he asked himself. "We snapped out of it."
And how. Gonzaga scored the next seven points, a dunk by Heytvelt, a layup by the rushed Matt Bouldin and a 3-pointer from Steven Gray.
Suddenly, the Zags had their first lead of the half, 50-49, and Gonzaga's previously stoic players were exhorting the crowd with arms raised skyward.
Those rabid fans in red from Spokane, Wash., were loudest as Gonzaga's decisive 19-2 run kept rolling. Bouldin's no-look pass found Heytvelt for a two-handed dunk and Downs scored on an easy layup. Then Heytvelt stepped back for a deep 3-pointer, which he punctuated with a pirouette and three fingers raised in each hand at center court. Then Downs drained another 3.
Downs pounded he's chest to celebrate Gonzaga leading 67-53 with five minutes left, and the Zags were on their way to the second round.
Akron came in 19th in the nation in scoring defense, yielding less than 60 points per game. Coach Keith Dambrot had said that rugged play must intensify to stay with Gonzaga.
It did.
Bulldogs flew into cheerleaders and banged off the floor, as a freewheeling Gonzaga team that had topped has topped 80 points 22 times this season was reduced to grinding through a relative wrestling match of half-court sets.
At one point in the second half, Gonzaga freshman Demetri Goodson and Akron's Brett McKnight swung each other around after a held-ball whistle, each refusing to let go of the ball as teammates and officials intervened.
A 3-pointer by Linhart three steps behind the arc equaled Akron's biggest lead late in the first half, before Jeremy Pargo's driving layup made it 38-35 Zips at the break.
Gonzaga shot and rebounded better than Akron in the first half yet still trailed, an anomaly that gave the feeling that the tournament's first huge upset was brewing.
That feeling — emphasized by Akron's kangaroo mascot "Zippy" stomping around in a shirt that demanded "Fear the 'Roo!" — lingered for the first 10 minutes of the second half.
Ultimately, though, form for the opening day of the NCAA tournament's held true.
"We persevered," Pargo said.