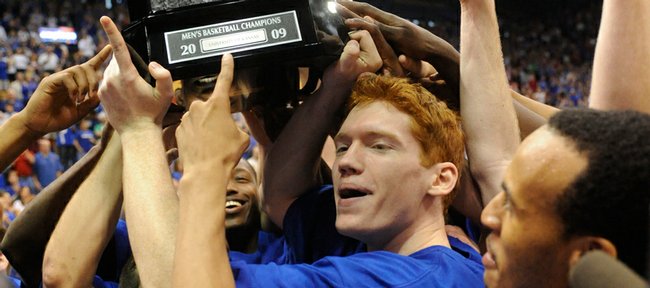 Matt Kleinmann started to work on a second draft of his Senior Day speech Saturday afternoon in Allen Fieldhouse.
"It was going to go from, 'Thank you all,' to, 'Man I wish we would have won that game,''' Kleinmann, Kansas University's fifth-year senior center, said after the Jayhawks' thrilling 83-73, come-from-behind victory over Texas.
Kleinmann and fellow senior Brennan Bechard, who started and played the opening minute, watched in horror as the Longhorns (20-10, 9-7) built a 44-30 lead with 1:40 to play in the first half.
"Being down 14 was a scary moment, but it made the end of the game that much better," Kleinmann added.
The Jayhawks (25-6, 14-2), who sliced seven points off the deficit by halftime courtesy of buckets by Marcus Morris and Travis Releford and a three by Tyrel Reed, embarked on a 26-12 run that tied the score at 56 with 11:41 remaining.
KU kept up the offensive intensity. Sparked by 10 points from Sherron Collins and Cole Aldrich (who was 1-of-6 shooting the first half, 3-for-3 the second) and nine from Tyshawn Taylor, KU outscored the Longhorns, 46-29, the second half.
Kansas also turned up its defense, holding UT leading scorer A.J. Abrams to 10 points on 2-of 11 shooting for the night and limiting Damion James to just six of his game-high 26 points after intermission.
A combination of the two assured a festive postgame celebration after KU's 26th straight victory in a regular-season home finale.
First, Big 12 Commissioner Dan Beebe presented the Jayhawks their fifth straight league championship trophy.
Then the KU players, wearing their new league-title T-shirts, sat on the court as Bechard and Kleinmann gave short speeches in which they thanked teammates, coaches, family members and friends and members of KU's athletic department for support during their careers.
"It is always a tough game against Texas for some reason," said Collins.
He scored 21 points off 7-of-19 shooting with seven assists. Two assists came off pinpoint passes to Brady Morningstar and Taylor, who hit a three and slam dunk respectively to up a 73-71 lead to 78-71 at 3:05.
"There's no better way to win it. We got the seniors out of here with an outright championship. We don't have to share it with anybody," Collins added after KU's 41st straight victory in Allen.
"The heart we showed to come back down 14 and extend our lead at the end of the game was pretty special. The young guys and Brady (who shadowed Abrams) did a great job tonight."
Collins was sixth-man deluxe on the team that last year won the league regular-season and postseason tournament titles and went on to win the national crown. He took great pride in Saturday's conference-clinching win.
He wore the net as a necklace to the interview room.
"The managers brought it to me and Cole," Collins said, noting that the KU players simply forgot to clip the nets themselves after the senior speeches.
"I think I'll give it to the seniors. They deserve it. Maybe I'll cut it in half," Collins added.
The regular-season league title was Bill Self's fifth straight at KU — the Jayhawks placed second in 2003-04 — and his ninth in his last 11 years overall as a head coach.
"The other times I've been here, I expected it'd be a poor year if we didn't win the league," Self said. "This one I wouldn't have thought that. I do think not only to win the league outright, but to match our team of a couple years ago with a 14-2 record, speaks volumes of these guys' maturity, how far they've come and given themselves a chance.
"Our league is good. You just saw a 9-7 team that can beat anybody any night. This certainly will rank right up there in my eyes."
Collins said this is the most special of his three league crowns.
"It means a lot to me," he said. "I think I did a good job leading a group of young guys. I'm just pleased they listened to me and followed me. I told them they should listen to coach and me. I've been through it. Coach has been through it.
"The young guys deserve credit. They knew they didn't know anything. They were eager to learn. I'm proud of them and myself, too, to make an accomplishment like this."
Aldrich, the other Jayhawk expected to be named to the first-team Associated Press all-league today, actually was the player to give KU the lead for good Saturday.
He hit two free throws with 7:09 left to bust a 65-65 tie, two more at 6:19 for a four-point advantage. He also hit a jumper from the free-throw line at 4:31 to extend a 71-69 lead to four points.
After two Abrams free throws, Collins found Morningstar for the three and Taylor for the dunk.
"Cole has had a great year. I'm really, really proud of him," Collins said of the 6-11 sophomore who finished with 12 points and 10 boards.
There were plenty of heroes Saturday — Self called Morningstar the player of the game for his work on Abrams — as nine Jayhawks scored.
Kleinmann and Bechard didn't tally a point in their one-minute stints (they played 51 seconds the first half and re-entered in the closing minute so they could receive curtain calls), but left the tradition-rich building with big smiles on their faces.
"We're going to need you on this little run we're about to go on," Bechard told the fans as he concluded his speech.
He was referring to performing well in next week's Big 12 tournament in Oklahoma City and the ensuing NCAAs.
"I told the guys after the game, 'You've had a good year. You can't take a good year away from this team. In order for it to be a great year, or special year, now we have to play really well from this point forward,''' Self said.