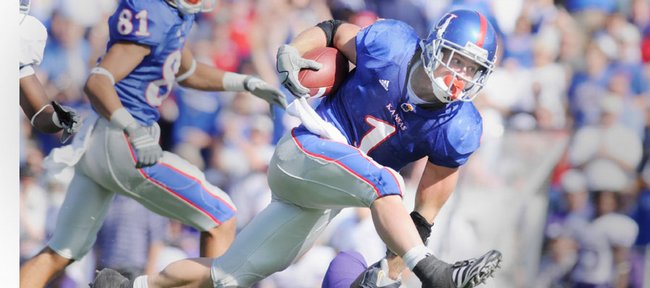 Jake Sharp had just started playing football as a fifth-grader when he brought the newspaper article to his father.
In the photo, Salina Central running back Parker Wallace was hurdling a Liberal defender in the state championship game.
"Dad," Jake said, "do you think I could do that?"
Rick Sharp didn't hesitate.
"I don't think there'd be any problem with that, if you just set your mind to it and go do it."
Jake couldn't hold back his excitement.
"That's the coolest thing in the world," the young Jake said. "That's what I want to do."
Understanding Jake Sharp
So who exactly is Jake Sharp, the person, when he's not Jake Sharp, the Kansas University senior running back?
Well, for starters, his nickname in high school was "Looking Sharp." His freshman year, he kept telling his friends that one day a big story was going to be written about him in the paper, and the headline would read, "Looking Sharp."
Sure enough, on the preview story for the state title game his senior year — as Jake's Salina Central squad prepared to take on Blue Valley in the Class 5A championship game — his prediction came true: The headline was exactly as he foretold.
But his best friend from high school, David Diener, admits that getting a true read on Sharp is harder than it seems. Jake is a people person — someone who always has liked being the center of attention.
But, then again, he's a loner.
"Unless you knew Jake," David says, "you'd think he was a little weird."
There were times in high school when David was with friends, and someone would wonder where Jake was. They'd call him, and Jake would tell them thanks for the invitation, but on that day, he just wanted to hang out at his place.
Jake claims it's an inherited trait from his father. He likes being around people, but doesn't necessarily like big crowds. He's more than happy being on his own.
He also likes to set aside some of the day for "my time," a term his girlfriend has grown to hate.
But David says there's something else you need to know about Jake: He was always trying to show that he was tops in everything he did. That could be backyards hoops, sprints, go-karts or paintball.
"He definitely wants to prove to everybody that he's the best athlete around," David Diener says. "It's been that way since I've ever known him."
KU wide receiver Kerry Meier might deal with Jake's competitiveness the most. The two have the same major (sports management) and nearly identical schedules, and Jake constantly bugs him: "How'd you do on the test?"
"If I'm not the best, it drives me insane," Jake says. "That's always been the way I am."
His high school friends knew it for sure.
Whenever the back started to get a big head, someone would yell out four words — "Six carries, three yards" — Jake's rushing total during a sub-state game his sophomore year.
Jake being Jake, the words always got to him.
"It's a joke," Jake says, "but it drove me nuts."
Chip on his shoulder?
Maybe that's where the stigma came from. Perhaps it is his constant drive to be the best that has somehow warped into the perception that he is a "mad-at-the-world running back."
Jake Sharp doesn't seem angry.
He sits in a chair a few feet away, wearing a white T-shirt, with his long, blond hair making him look more like a happy-go-lucky college kid than a football player with a Kansas-sized chip on his shoulder.
But isn't he the latter?
Everyone seems to say it: "Jake Sharp runs angry."
Is it true? Does he run hard just to stick it to his doubters?
"Who told you that?" he says with a warm smile, leaning forward in his chair while rubbing his hands together.
Turns out, this answer isn't so easy, either.
He admits he has been fortunate. He came from a good family. He spent lots of time fishing and weight lifting with his dad growing up. His mom babied the tar out of him.
But there's something else there. The 5-foot-10, 190-pounder hasn't reached this point by listening to those who have praised him.
He got here by listening to those voices who told him he couldn't.
Early doubters
The doubters didn't start just before Jake Sharp headed off to KU. They started before his freshman year at Salina Central High.
Jake grew up in the country between Salina and the small town of Bennington. His family's house was in both districts, so he could choose between going to 5A Salina Central and 2A Bennington.
He chose Salina Central. And he never forgot the negative words — words, he says, stick with him to this day.
"Yeah," he says with a grin, "I guess I have a chip."
Sometimes, he says, his anger affects his running.
He was most guilty in high school when facing crosstown rival Salina South.
"T'd off at the world, I guess," Jake says. "I'd run terrible. I'd put my head down, and I'd just bulldoze into people."
Jake Sharp's high school coach, Marvin Diener, noticed. Jake says he had to sit in on film sessions where the coach compared his running against Salina South to other games earlier in the season.
Against South, Jake's whole body was rigid when he ran.
In short, he was running like a fullback.
It's a problem Sharp admits he still sometimes fights today.
"You're just thinking about picking a guy out and trying to give him a blow," he says. "That's something I always have to work on. I just have to work on calming down, being calm and enjoying the game instead of just pressing the game."
Leaving his mark
Marvin Diener is on the telephone, and he has a ton of stories to tell about Jake Sharp.
The first time he saw Jake at his son, David's, fifth-grade football tryouts, the then-Salina Central football coach was pulled aside by his pastor: "Coach, man, you've got to come see this kid."
It was Marvin's first look at Jake. And, already, Jake was one of the fastest he'd seen at that level.
"Even then, just the way he moved, how hard he played," Marvin says, "you knew right away that this kid was really something special."
During Jake's freshman year, Marvin remembers the first day he watched Jake practice.
When the lightning-quick back went in for reps, he remembers everyone stopped what they were doing just to see him run.
"He wanted to score every time he touched the ball," Marvin says, "and he tried very hard to do it."
But there was always more to Jake. He was likeable. Others wanted him to succeed.
And he worked as hard as anyone.
He loved the gym so much in high school that he spent the night of his senior prom working out.
And he has earned quite a reputation for his workout prowess at KU. He was honored earlier this year as one of Bruce Feldman's "Workout Warriors" in an ESPN the Magazine article.
"If you're doing extra stuff after the workouts here, like me and Kerry Meier do every day, that's saying something," Jake says. "You really want it."
Though the work is serious, Jake makes sure to keep the mood light with his teammates around. Sometimes, in the weight room, he throws chalk up in the air like LeBron James. Other times, he jams out on his air guitar to rock music.
"Honestly, I would almost say I enjoy lifting weights and fitness and sculpting the body more than I like sports," Jake says. "That's hilarious, but it's true."
'Is he that good ... ?'
During the Salina Central senior scrimmage, Jake Sharp was nearly untackleable, breaking off long run after long run.
A dejected David Diener came to the sideline and found his father. He had to ask him a serious question.
"Is he that good," the linebacker said, "or are we that bad?"
Marvin still remembers his response.
"Dave," the coach said to his son, "that kid's pretty good."
Marvin laughs at the memory.
But he saves his best Jake Sharp story for last.
Saving his best
Jake Sharp took the handoff, fourth-and-one, everyone in the stadium knowing he was getting the ball.
The Salina Central tailback already had scored four times and had run for more than 250 yards in the 2005 5A state championship game at Welch Stadium in Emporia.
He had helped the Mustangs to the brink of a state title, as Central led Blue Valley, 29-21, with five minutes left.
But two plays earlier, Sharp had hobbled back to the huddle favoring his right knee, and now, facing fourth down on Central's 14-yard line, Sharp had the ball in his hands again.
He had been known to go over the top of piles for the first down, and this would have been a perfect time, perhaps for his own Parker Wallace moment.
Blue Valley's linebackers planned on a leap, though, coming over the top of the line in hopes of meeting Jake for a collision.
Jake wasn't fooled, abandoning any thoughts of a jump before jerking himself to the right.
"He was on one leg," Marvin says, "and makes a great cut at the line of scrimmage."
Though there wasn't much there, Jake wiggled through a small seam and fell forward. He gained two yards.
No measurement was needed. Salina Central had its first down.
The next play called for Jake to block an oncoming defender. He tried, but immediately his knee buckled under him.
Though he didn't want to leave the game, Jake was helped off the field and didn't return.
Five minutes later, after a punt and a defensive stand, Salina Central won its sixth state championship.
Jake finished with 265 rushing yards, but Marvin Diener will tell you those two yards were the most memorable.
Jake had been hurting. His coach could see that much.
But Marvin wouldn't know just how much pain his running back was in until after the game.
"I knew Jake could get one yard," Marvin says, "but he did it on a torn MCL."
And immediately it's obvious why the memory stands out in Marvin's mind.
This play, more than any other, encapsulated Jake Sharp, the running back.
And also Jake Sharp, the person.
"We've had a lot of great, competitive players," Marvin says, "but there are none that are more competitive."