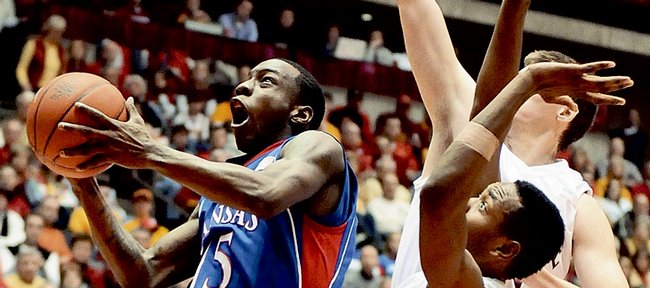 Audio clips
2009 KU-ISU Jan. 24
Reader poll
Iowa State

37%

762 votes

Nebraska

9%

204 votes

Kansas State

4%

101 votes

Colorado

1%

26 votes

Missouri

46%

960 votes
2053 total votes.
Ames, Iowa — Sherron Collins was having the half of his life and wanted his big brother to share in it.
"He hit a couple threes, looked at me and shouted, 'Woo woo.' He was in a zone," said Chicago native Steve Collins, who watched Sherron explode for 18 points in the first 12 minutes of Kansas University's 82-67 basketball victory over Iowa State on Saturday in Hilton Coliseum.
"It's the best I've seen him ... at Kansas," Steve added after KU's junior point guard tied a career high with 26 points and became the 51st player in KU history to join the 1,000-point scoring club.
Sherron, who was outscored by ISU sophomore standout Craig Brackins, 22-18, the first half on a day Brackins torched the Jayhawks for 42 points, had no trouble making eye contact with 22-year-old Steve in the stands.
He was sitting a couple of rows behind the KU bench, wearing a Cubs hat on his head and a wide smile on his face.
"I knew where he was. I looked at him. I was letting him know it was our time," Collins said.
The 5-foot-11 floor general scored 18 of KU's first 27 points, lifting the Jayhawks to a 27-19 lead just 11 minutes, 50 seconds into the game.
Included was a game-opening three that pushed Collins — who entered with 999 career points — over the 1,000 mark.
"It would have been better to do it at home. I was glad to get it out of the way. I'm glad to get it over with so people stop talking about it," Collins said. "People have been texting me that I only need one more point. Now that can stop."
KU coach Bill Self spent most of his postgame interview session discussing a pair of standout performances — from Collins as well as Brackins.
"I told Sherron as soon as we went in the locker room, 'Good news, bad news,''' Self said. '"The good news is you played great. The bad news is you've got no chance to be Big 12 player of the week.'''
That award will go to Brackins, whose career-high 42 points were:
• two off the Big 12 single-game total of 44 set by Michael Beasley against Baylor last season;
• seventh-most scored against KU and most since Oklahoma State's Randy Rutherford's 45 on March 5, 1995.
• most by a Big 12 player versus KU, surpassing Michael Beasley's 39 set last season.
• most by an Iowa State player versus KU, five more than Chuck Duncan's 37 in 1955.
His 42 points ranked fourth in ISU history behind Lafester Rhodes (54 versus Iowa in 1987), Barry Stevens (47 versus Morgan State in 1985 and Herkle Ivy (43 versus Colorado in 1975). He became the first Cyclone to tally 40 since Fred Hoiberg's 41 against Colorado in 1995.
"He was as good as any player in America today," Self said after Brackins made 11 of 19 floor shots (three of five threes) and 17 of 21 free throws. He also had 14 rebounds.
"He put on a show. I wish I could tell you that our game plan was to stop everybody else and make him make all the plays. That was not the case."
The Morris twins, Mario Little, Quintrell Thomas and Cole Aldrich each took turns guarding the 6-foot-10 Brackins.
"I thought we did the best job late when Cole switched on him," Self said. "We could have put Cole on him, but we wanted to save him (from foul trouble)."
Self made a point of congratulating Brackins in the handshake line after the game.
"I said, 'I've been doing this awhile. I don't think anybody has ever had a game like that against us. I don't think anybody's busted us for 42.' It was as good a performance we've had against us," Self said.
Brackins scored seven points in a 13-2 run that helped whittle KU's game-high lead of 17 points to 66-60 with 6:33 left.
KU kept its poise and immediately embarked on a 12-2 surge that put the game away at 78-62.
Aldrich (16 points, 12 rebounds) rammed home a rebound off a Collins miss, Tyrel Reed knocked in a three and Collins a 12-footer to open that Brackins-breaking run.
"Sherron played well down the stretch," Self said of Collins, who knocked down 10 of 19 shots, including three of six threes and three of three free throws. He also five assists, four rebounds and three turnovers in 39 minutes. "I can't think of too many guards in the country playing better than he is right now."
Collins gave his props to Brackins, indicating it was a team game, not an individual battle.
"I try not to get into those one-on-one duels anymore," Collins said. "He was great."
Somebody asked if Brackins was as talented as former K-State player Beasley, who went No. 2 in the 2008 NBA Draft.
"I mean, he's not as skilled as Beasley," Collins said. "Beasley is able to do things ... he has a whole different type game. But he's not far from it."
Collins left the arena with something Brackins didn't have: a victory. KU's leader waved at an angry student section — that screamed insults at him the entire game — as the final seconds ticked off the clock.
"I like places like this. They were keying on me," he said of the fans.
He saved hugs for one special fan, posing for a picture with his brother in an empty arena 30 minutes after the game.
"It's always fun to see him play. He had a crazy first half," Steve said.
KU (15-4, 4-0) will meet Nebraska at 6:30 p.m. Wednesday, in Lincoln.