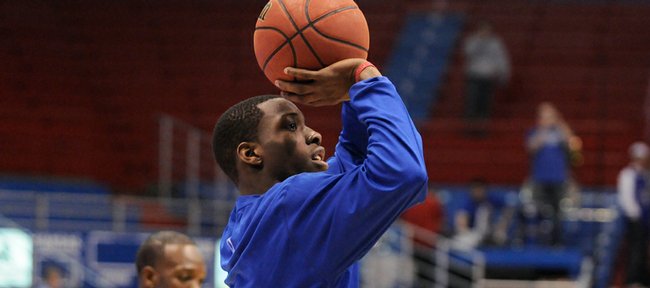 Feature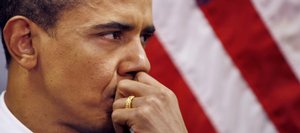 Barack Obama will become the 44th President of the United States on January 20, 2009 — the first African-American elected to the position. Many locals will make the trip to Washington, D.C., to watch the historic event. Others will watch from here in Kansas.
Purchase images from the historic 2008 election and inauguration.
Purchase commemorative copies of the Journal-World.
Tyshawn Taylor, who turned 18 last April, was eligible to vote in his first presidential election on Nov. 4.
His candidate won.
"This is awesome. It's great. It's history. We've never seen this before," Taylor, Kansas University's freshman basketball point guard, said of Barack Obama's inauguration Tuesday as the 44th President of the United States.
Obama became the first African American to ascend to the top spot in U.S. government.
"I'm glad I'm here to see it and actually had a vote in it. I'm glad I helped make a difference," Taylor added.
Taylor said he believes Obama will be a popular, effective leader.
"I think this means something for the whole world," Taylor said. "It's a great thing. It's change coming. I think everybody is going to be happy with him."
KU assistant coach Kurtis Townsend said it was fitting Obama's inauguration came a day after the Martin Luther King, Jr., Day holiday.
"I think if it wasn't for him, this probably couldn't be possible," Townsend said of the civil-rights leader King. "For him to have a dream like that come true ... I'm so proud of the country. I think he (Obama) will do a terrific job. I wish my mom was alive to see it."
Townsend, a 1982 Western Kentucky University graduate who is in his fifth year on Bill Self's KU staff, said, "I never thought I'd see the day, never (that U.S. would elect an African American to the White House).
"I didn't know if the country was ready for it. You know what? I am sure the next thing is going to be a women's president, and I'm going to be glad to see that day, too, but I'm just happy I got to see this. I think it's a great, great day for all of America."
Self taped the inauguration ceremony and will play it for those KU players who missed it while attending class.
"Today was a good day, a day that Americans should remember for a long time," Self said Tuesday night on his weekly Hawk Talk radio show. "It is exciting, regardless of what political affiliation (people may be). It is a new time that hopefully will bring many positive things for our country."
Self knows Obama's brother-in-law — Oregon State basketball coach Craig Robinson.
"I know him too well," Self said with a laugh. "Craig was an assistant at Northwestern when I was at Illinois. Craig played at Princeton. He beat us in the NCAA Tournament when I played at Oklahoma State. It's the only reason I hesitated on (voting for) the president. His brother-in-law beat us in 1983. I saw coach (Robinson) there today (on TV). He was all decked out, but he had his orange and black scarf on (OSU colors). It should be a great recruiting tool for them to benefit from in Corvallis."
Self, Townsend and Taylor have yet to meet President Obama, who happens to be a huge sports fan.
"I'd love to one day," Townsend said. "Hopefully we could do what we did last year and get to the White House and meet him."
The Jayhawks last spring had a Rose Garden ceremony with then-President Bush, who recognized the 2008 national champs.
lMore on recruiting flap: Self on his radio show again addressed a Springfield News-Leader sports column that alleged KU's coach had inappropriate recruiting contact with prospect John Wall after the senior guard exited the winning locker room after Saturday's title game of the Tournament of Champions in Springfield, Mo.
"What was said in the paper is close to 100 percent being accurate," Self said of his shaking the player's hand and saying, "Johnny, great win, man. You really played well. ... I'm not supposed to be talking to you, and you know that, but I just wanted to tell you it was a great win."
"If it (what he did) is wrong, I'll be told it's wrong. I've never, ever had somebody come up and shake my hand and me not say, 'Good to see you.' If those seconds created a problem, we'll deal with it.
"You are allowed to have a 'cordial greeting' (with a recruit) if somebody approaches you," Self added. "Whether or not what I said exceeded 'cordial greeting,' I guess somebody else will determine that."
According to USA Today, this is a no-contact, evaluation-only period in which NCAA recruiting rules prohibit "any face-to-face encounter that is prearranged (e.g., staff member positions himself or herself in a location where contact is possible) or that takes place … at the site of organized competition or practice … regardless of whether any conversation occurs."
Rules also bar "any dialogue … in excess of an exchange of a greeting."
KU officials are looking into the matter. Wall is Rivals.com's No. 1 prospect in the Class of 2009 who is considering KU, Baylor, Duke, North Carolina State and others.
lMore on big win: Self on KU's 73-53 victory over Texas A&M; on Monday, a game that vaulted the Jayhawks to 3-0 in the Big 12.
"We may have played as well last night as we did against K-State," Self said on his radio show. The Jayhawks blazed to a 16-4 lead versus A&M; and an 18-0 lead in an 87-71 win over KSU. "We were sound. We rebounded pretty well (32-32 tie), considering they are a good rebounding team. I think our guys are getting better. We got a big spark off the bench from Mario (Little, 15 points) that really helped."