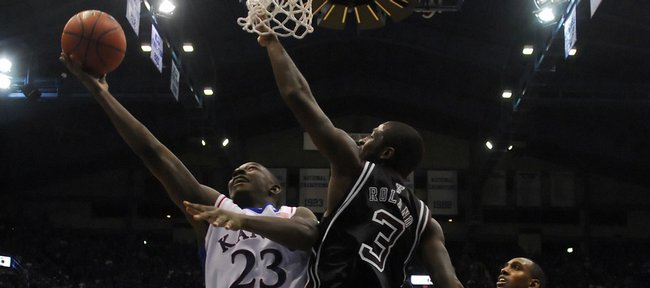 KU scoring
Collins 16, Aldrich 16 (8-for-13 shooting), Little 15 (6-for-6 officially, 6-for-7 if you count his missed layup at the end of the first half), Marcus Morris 10, Taylor 8, Morningstar 3, Markieff Morris 2, Reed 2, Releford 1.
KU was 28-for-55 from the floor (50.9 percent), 5-for-13 from three (38.5 percent) and 12-for-18 from the free-throw line (66.7 percent).
TAMU made 16 of 49 field goals (32.7 percent), 4 of 18 threes (22.2 percent) and 17 of 22 free throws (77.3 percent).
Both teams had 32 rebounds. A&M; finished with 20 turnovers, compared to 12 for KU.
FINAL: KU wins 73-53
KU has looked a little sloppy for two straight possessions, but one-third of the alumni section is gone, so maybe it doesn't count.
A block by Matt Kleinmann highlights the walk-on portion of the game. KU comes away with a 20-point victory.
KU 68/TAMU 43 — 3:50 left in game
Brady Morningstar won't get the headlines tomorrow, but he's having a heck of a game. He just penetrated then scooped a pass inside to Aldrich for an easy two.
Morningstar's line: 31 minutes, three points, six rebounds, four assists, two steals, no turnovers and great defense on Josh Carter, who is just 2-for-6.
KU 62/TAMU 38 — 7:46 left in game
Sweet turnaround baseline jumper for Little. I think we've seen tonight exactly what he can give this team offensively.
Unfortunately for Little, he's given up two consecutive threes to Derrick Roland on the defensive end.
Tyshawn Taylor takes a spill after slapping the ball away on an A&M; fast break. It doesn't look to be serious, but Morningstar checks in for him.
Two more from Little on a layup inside, and Collins gives him a playful shove as he comes back down the court.
KU 56/TAMU 32 — 11:43 left in game
Collins turns down an open three, penetrating to get Aldrich an open two. The big man drains the short jumper.
KU 54/TAMU 30 — 14:34 left in game
Taylor throws a turnover into the crowd. Self almost throws Tyrel Reed to the scorer's table. Taylor will have a few minutes to think about his high pass.
Marcus Morris rattles in a three. If he can hit those kinds of shots, things should open up inside for Aldrich.
Next possession, same spot, same result for Marcus Morris. He pumps his fist a couple times as he backpedals down the court. Timeout TAMU. Collins waves his arms in the air, asking for the crowd to get loud during the break.
KU 48/TAMU 27 — 15:59 left in game
Morningstar is doing an excellent job defensively chasing down Josh Carter through his maze of screens. Carter's having trouble getting touches. It's hard to get shots when you can't even get open enough to receive the ball.
Aldrich gets a turnaround to roll in, and Collins gets two off a steal. It will be interesting to see if KU can maintain its intensity and keep this 20-plus point lead.
KU scoring
Mario Little 11 (4-for-5 shooting), Sherron Collins 10 (4-for-6 shooting), Tyshawn Taylor 8 (4-for-4 shooting), Cole Aldrich 6, Brady Morningstar 3, Marcus Morris 2.
KU was 16-for-27 from the floor (59.3 percent), 3-for-6 from three (50 percent) and 5-for-8 from the free-throw line (62.5 percent).
TAMU made 7 of 18 field goals (38.9 percent), 1 of 5 three-pointers (20 percent) and 8 of 10 free throws (80 percent).
The Aggies out-rebounded the Jayhawks, 15-12, in the first half. KU had just four turnovers compared to TAMU's 14.
Some thoughts:
• Good defensive half for the Jayhawks, though some of the turnovers were simply mistakes by the Aggies. KU has four steals from TAMU's 14 turnovers, indicating some of those miscues were unforced errors.
• Guess who's leading the Jayhawks in rebounding? It's Morningstar, who's tied with Aldrich for the team lead with four boards.
• Markieff Morris has two fouls in five minutes. That would be 16 fouls per 40 minutes. The average is heading up.
KU 40/TAMU 23 — Halftime
A drive by Morningstar gets KU two easy points, as he shovels off to Aldrich for a one-handed slam.
Texas A&M; ends the half, appropriately, with a turnover. That makes 14, and the Aggies are already above their season average at halftime.
KU 35/TAMU 15 — 3:52 left in 1st half
Little puts in his ninth straight point for the Jayhawks, going up-and-under a defender before swishing the tough, 8-foot leaner.
Already, the Aggies have nine turnovers. That's uncharacteristic for them, as they average just 12.2 turnovers per game.
Another good stat for KU: TAMU is just 4-for-6 from the free-throw line. The Aggies average 17.6 made free throws per game.
Quick move to the basket for two by Taylor. The Jayhawks are getting free off ball screens up top. Collins and Taylor both have had success getting all the way to the rim.
KU 29/Texas A&M; 10 — 7:41 left in 1st half
Good effort by Mario Little, who out-hustles his man to a rebound before putting it in for two. A minute later, he confidently steps up to drain a high-arcing 14-footer. Collins smiles big on the sidelines, standing and cheering while waiting to check in at the scorer's table.
Elonu picks up his second foul on a 12-whistle foul called by Hightower. Turgeon is forced to take him out.
Little's showing the repertoire now, as he swishes his first three-pointer as a Jayhawk from the left wing. On the bench, Self can't hide his smile. Timeout TAMU, as KU's running away with this one, 29-10.
KU 20/Texas A&M; 6 — 11:41 left in 1st half
KU's offense looks great early. Aldrich hits a jumper. Collins drives baseline for a quick layup. Taylor floats on the baseline for two. That's an 8-0 run for the Jayhawks.
I know he's excited, but Collins shows a bit too much flash on consecutive turnovers. The second one, he pulled out every dribble he's ever learned before charging into his defender. Self pointed both index fingers to his temples, telling Collins to be smarter.
Taylor goes around a screen and takes one all the way to the basket before banking it in. He looks like he's over his mid-season slump for good.
KU 12/Texas A&M; 4 — 15:51 left in 1st half
Three Texas A&M; players fist-pump the Aggies' radio announcers on press row before the game. So much for being unbiased media members, I guess.
Sherron Collins has been the hot hand early, as he drains three-pointers on KU's first two possessions.
Bryan Davis shows a nifty post move inside, leaning to the basket for a two underneath Marcus Morris. He has A&M;'s first four points.
Brady Morningstar continues his recent stretch of hitting the boards hard, tipping in an Aldrich miss with a foul.
Turgeon to his players after fouling Marcus Morris: "Come on, black, we've got to play smarter."
Royals Brian Bannister, Kyle Davies and George Brett are shown on the videoboard, with Brett (obviously) getting the most applause.
8:06 p.m.
You might see some students spelling out "Ain't no seats" on the north end of the student section. I asked the guys the meaning of the phrase, and one of them told me a story.
Evidently, one of the guys had a class with Sherron Collins during his freshman year, and Collins arrived late to class, slipping into the last row. There were three seats empty in the first row, so the professor asked Sherron why he didn't sit toward the front.
"Ain't no seats" is what he said.
Evidently, it was one of the few things he said all year.
Great ovation for Texas A&M; coach Mark Turgeon. Some students even threw their newspapers up in the air after he was announced. Nice gesture by the KU fans to recognize one of their own.
7:42 p.m.
One word: Hightower.
Seriously, that's great news for Texas A&M;, which has scored a lot of its points via free throws. The high number of whistles that are sure to come should help the Aggies.
What should we put the over/under at for A&M; free throws? I'll set the line at 35.
And say over.
7:25 p.m.
Here are some quick notes about Texas A&M;, which comes in with a 15-3 record.
• Senior Josh Carter leads the Aggies in scoring, averaging 13.4 points per game. More than anything, he's known as a shooter. His sophomore year, he made exactly 50 percent of his threes, draining 86 of his 172 long-range attempts. This year, he's making 38.3 percent of his threes (36-for-94). He's also tops in the Big 12 in free-throw shooting, putting in 88.1 percent of his foul shots.
• Six-foot-nine Bryan Davis is second on the team in scoring with a 10.6-point average. Tom Keegan correctly noted in today's Cram Session that is seems like Davis has been at A&M; for at least 10 years. And he's only a junior.
• Look out for Chinemelu Elonu, who has come on strong late. He had a streak of six straight games scoring in double figures snapped in his last game against Oklahoma when he scored just seven points. In his first two Big 12 games against Oklahoma State and Baylor, he averaged 18.5 points and 14 rebounds. He's third in the Big 12 in blocks (1.6 per game) and seventh in rebounds (7.6).
• Texas A&M; has scored 24.5 percent of its points from the free-throw line (that's 21st in the nation). The Aggies have made 317 free throws, while their opponents have only shot 289. Texas A&M; is shooting 70.9 percent from the charity stripe. KU, meanwhile, has had trouble with fouls lately, allowing an average of 26.7 free throws in its last three games.
• The Aggies only have the ball stolen on 7.3 percent of their offensive possessions, which is good for fifth in the country. With that in mind, KU might not have many fast-break opportunities available tonight.
• Texas A&M;'s opponents have made 36.2 percent of their threes. That's the worst three-point percentage defense in the Big 12.
6:50 p.m.
Welcome back to the Newell Post Live, coming to you from Allen Fieldhouse where the Kansas Jayhawks are getting set to take on the Texas A&M; Aggies.
Markieff Morris has fouled a lot during his freshman year. But how does he rank against the nation's top foulers?
It's a question I wondered after discovering a cool new stat on Kenpom.com: fouls committed per 40 minutes.
To get in the rankings, a player has to have played in 40 percent of his team's minutes. Markieff Morris happens to qualify.
Out of 71 players eligible in the Big 12, Markieff Morris, at least statistically, is the most foul-prone.
The KU freshman averages 7.22 fouls per 40 minutes* (meaning that, on average, if KU coach Bill Self let him play continuously, he would foul out in 27.7 minutes). Baylor's Quincy Acy is second-worst in the conference, averaging 7.00 fouls per 40 minutes.
* — Keep in mind also that Markieff only had one personal foul in 18 minutes against Colorado, meaning his foul average was even higher a few days ago.
I explored the statistic further: How does Markieff Morris stack up to players on all 344 Division-I teams?
Turns out pretty well.
After researching all the conferences, Markieff is fifth in the NCAA in fouls per 40 minutes. In fact, only six players average 7 or more fouls per 40 minutes:
NCAA's top foulers
Antwan Carter, Longwood, 8.21 fouls/40 minutes
Mobolaji Ajayi, South Florida, 8.00
Montarrio Haddock, Middle Tennessee State, 7.72
Otis Polk, Bowling Green, 7.25
Markieff Morris, KU, 7.22
Dario Hunt, Nevada, 7.20
Not surprisingly, three of the players on the previous list were freshmen, while another was a junior-college transfer.
What can we take from this? Most players learn with experience how the college game is played, and thus, foul less later in their careers.
Is it any wonder, then, that Self is trying to teach Mario Little some of the four? He needs another body there, and Little could steal some minutes if he is able to defend and get rebounds next to Cole Aldrich.
Before we get off the topic, props go to Brady Morningstar, who leads the Jayhawks by averaging only 2.28 fouls per 40 minutes (that's 10th in the Big 12). Not only is Morningstar arguably KU's best defender, he's also locked down on opponents without sending them to the free-throw line.
Texas A&M; has two of the top three foul-avoiders in the conference: Donald Sloan (1st, 1.22) and Josh Carter (3rd, 1.68). I'm sure that's one of the reasons the Aggies have shot 28 more free throws that their opponents have even attempted.