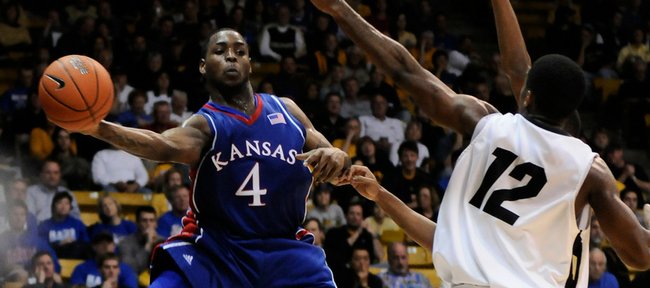 Boulder, Colo. — About 6,000 die-hard Kansas University basketball fans danced in the aisles during the final minutes of the Jayhawks' 73-56 victory over Colorado on Saturday at crimson-and-blue-splattered Coors Events Center.
"This is our house! This is our house!" the spectators bellowed in unison after a loud rendition of the "Rock Chalk Chant."
It did indeed seem like Allen Fieldhouse West, with more than half the crowd of 10,212 rooting for the Jayhawks on a beautiful, unseasonably warm 60-degree day.
"It counts in the Big 12 as a road win, but to us it's more a 'home road' win," KU junior Sherron Collins said, cracking a smile.
His 15-point first-half explosion helped the Jayhawks to a 34-27 lead; Tyrel Reed's 11-point second half sparked the eventual run-away victory.
"I don't think we've ever had as many fans here. It's pretty remarkable," said sixth-year KU coach Bill Self, whose Jayhawks improved to 13-4 overall and 2-0 in the league. CU dropped to 8-8, 0-2.
One KU fan stood out above all the rest.
Former KU power forward Darnell Jackson, a rookie with the NBA's Cleveland Cavaliers, boarded an early-morning flight from Cleveland, got stuck in Chicago for a couple of hours because of a mechanical problem with the plane's engine, but made it to Boulder in time to watch some of the game while standing in the south tunnel.
KU's Collins (18 points, seven assists) and Cole Aldrich (15 points off 6-of-6 shooting, 10 rebounds) raced through the tunnel and bear-hugged Jackson as all the Jayhawks exited for the locker room after the game.
"It was good to see him. I was so happy to see him," Collins said of Jackson, who made a special trip just for the one game. He was to fly back to Cleveland on Saturday night, practice today, then travel to Los Angeles with the team for a Monday game against the Lakers.
"I talk to Darnell a lot. He'll tell you I probably bug him way too much," Aldrich said. "I love talking to him. He's been through so much. He knows how to fight through tough times. Anybody playing with and learning from LeBron (James of the Cavs) ... I'm wide-eyed."
Self gave Jackson a big hug, then said, "D.J., come with me,'' in escorting Jackson into the winner's locker room.
"I listened to coach Self. His speeches haven't changed," Jackson said of the winner's locker-room scene. "He told me to just tell the guys what he told me when I first got to KU, when I was going through all my freshmen stuff and all the tragedy I was going through. He told me if I just stay strong and listen to the coaches and listen to him, everything would be fine."
Jackson challenged KU's freshmen to take similar words to heart. Saturday, freshmen Tyshawn Taylor and Marcus Morris had 14 and 10 points respectively.
"Darnell talked about listening to coach. He said if you listen to coach, good things will happen. He said coach told him if he kept working and listening he could be an NBA player. He's a testament to that," sophomore guard Reed said after hitting four of six shots, including three of five three-pointers.
Self acknowledged "it was great seeing him" and as an added bonus loved the fact he visited with the players before they boarded the team bus.
"The big thing with Darnell ... what we said could occur for him all came true. He bought into it," Self said. "If these guys buy into it, they will have bright futures, too. Right now, it's hard to see the light at the end of the tunnel and not have it be a train."
So what did the NBA player think of KU's performance Saturday?
"Real good," Jackson said, quickly adding, "I heard they turned the ball over 18 times. That's not good. That's when coach gets upset, when they turn the ball over."
Both teams actually suffered 18 turnovers. KU at times struggled against the Buffs' 1-3-1 and 2-3 zone defenses.
Yet a couple of significant runs helped KU overcome the bobbles.
Collins scored 10 points in a 17-5 run to close the first half and give KU the lead at the break.
An 18-4 run, in which Reed and Morris had five points apiece, busted open a 34-32 score early in the second half.
"It was bad," Self said of KU committing five quick turnovers to open the second half. "My talks at halftime aren't that good, obviously, because we come out and go the other way. We actually scored pretty easily when we didn't turn it over. It wasn't pressure, but careless plays. We weren't great defensively. We put Higgins (Cory, 20 points, 12 of 12 free throwing) at the line too much.
"We didn't play great, obviously. (But) last year's team was tied here at halftime. We've had a lot of teams struggle out here. If you told me before the game we'd win by 17, I'd say we'd had to played really well."
KU won its sixth straight and 17th of 18 games at the Coors Center, in part because of the KU fans.
"We appreciate them being here. I wanted to make sure they knew I knew they were here," said Collins, who waved to the fans, imploring them to make noise in the second half.
"I'm just thanking them for coming out. It was great for our team."
KU will meet Texas A&M; at 8 p.m. Monday in Allen Fieldhouse.