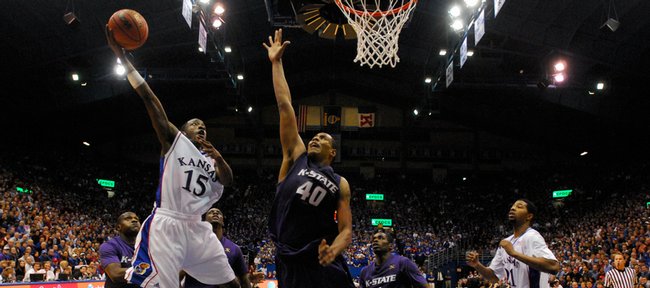 Down in the dumps over his recent slump, Tyshawn Taylor sought the advice of some of his elders this week.
Namely, he visited with veterans Sherron Collins, Brady Morningstar, Tyrel Reed and Cole Aldrich.
"I talked to Sherron about it. He went through it. I talked to Brady, Tyrel, Cole. They all went through it. It's something I had to overcome," Taylor, Kansas University's freshman point guard said, referring to a sudden lack of confidence midway through his rookie season.
"Sherron told me to stop thinking, just play," Taylor added after exploding for 20 points with three assists and two steals in the Jayhawks' 87-71 victory over Kansas State on Tuesday night in Allen Fieldhouse.
"Sherron noticed when coach yells at me I get down on myself," added Taylor, who entered having scored in single digits in five of KU's last seven games after a stretch of six straight double-figure outings. "He said, 'The more you think, the more you mess up. Just play. I know you can do it. I've seen you do it. You are a good player. Just play.'"
Taylor hit a three-pointer during KU's wild game-opening 18-0 run.
Perhaps more importantly, he helped keep the ship afloat during the times foul-plagued Collins (24 points, four assists in just 27 minutes) and Aldrich (15 points, eight boards, 28 minutes) were seated next to coach Bill Self instead of on the court.
"I've been hearing a lot about 'Tyshawn is not playing good. The twins are not playing good.' I felt this is my time. I wanted to come out and play," Taylor said.
"I felt I needed to score, to step up. Cole and Sherron have been playing a lot of minutes, scoring all our points. I felt I needed to play, too."
Taylor scored nine points and had four rebounds in 16 minutes as KU led, 37-24, at halftime. Collins, who picked up his second foul with 11:29 left in the half, had five points and three assists in 14 minutes at the break.
"Tyshawn was fabulous," Self said of Taylor, who hit five of eight shots (one of two threes) and nine of 13 free throws. "He drove the ball hard and got to the free-throw line. That just shows you what he can do and is capable of doing."
K-State, which has a fabulous guard of its own in Jacob Pullen (13 points off 5-of-15 shooting) made it a game, outscoring KU 14-8 to begin the second half and lagged by just three points — 45-42 — with 15 minutes left.
Brady Morningstar responded with a three, Tyrel Reed hit a layup off a fantastic deep outlet pass from Aldrich, and Aldrich cashed a bucket and foul shot, giving KU a comfy 53-42 advantage at 13:45.
KSU never cut it below nine again.
"It was a shock to me how hard we came out. It felt like we were all on the same page," Taylor said of KU's early 18-0 run. "We got rolling. It feels good to do that in the fieldhouse. We knew K-State wouldn't give up. They came back, but we stuck together and wanted it really bad."
Self, of course, wasn't thrilled the lead dipped from 18 to three, but was pleased his Jayhawks (12-4 overall, 1-0 Big 12) responded.
"There are times this year we have looked every bit as great as teams in the past. We just don't sustain it," Self said. "We've had some great runs at home, whether it be Tennessee, 25-9, or Siena, 25-1. Tonight it was 18-0, then we just traded baskets.
"I told our guys we haven't played 40 minutes. The Tennessee lead, they cut it down. The Siena lead, they cut it down. Tonight the big lead, and they cut it to three. I thought we showed toughness."
The coach left the fieldhouse pleased with the entire team, including Taylor, which makes the 6-foot-3 New Jersey freshman mighty happy.
"It's not easy at all, not easy," he said of a point guard playing for the demanding Self. "I like taking the challenge. I like playing point guard. I feel I have the game in my hands, that I'm controlling the game. I like feeling that."
And team leader Collins likes seeing that.
"With me and Cole in foul trouble, he carried us through that," Collins said. "I tell him I know he can do it. I see it at practice and in games. All freshmen go through things. He'll be fine. All our young fellas will be fine."
KU will meet Colorado at 2:30 p.m. Saturday in Boulder, Colo.