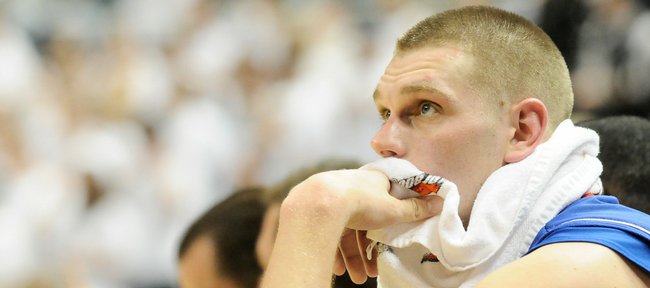 Audio clips
2009 KU-Michigan State
East Lansing, Mich. — Sherron Collins doesn't know where the errant elbow came from.
He definitely knows where it landed.
Straight on his schnoz.
"I was afraid I broke my nose. Good thing I didn't," Kansas University's junior point guard said after he and his Jayhawks were bloodied, 75-62, by No. 8-ranked Michigan State on Saturday afternoon in Breslin Center.
Collins' 20-point second-half effort — one that helped keep the score respectable on a day KU trailed by 19 at halftime — and favorable medical report on his nose proved to be about the only bright spots in KU's final nonconference game of the 2008-09 season.
"It was just one of those days things were not working," Collins said after collecting 25 points, eight assists and eight turnovers. "We took some bad shots the first half. We've got to do a better job with conference play coming up."
The Jayhawks (11-4), who led 7-1 and 11-6 before getting outscored, 31-7, to close the half, talked more about the future than the horrid stretch in which they missed 11 of 14 shots and committed 10 turnovers the final 15 minutes of the first half.
Big 12 Conference play begins at 7 p.m. Tuesday at home versus Kansas State.
"I told our team after the game, 'Certain guys have to step up and play well in conference play,'" KU coach Bill Self said, noting freshman Tyshawn Taylor (two points, no assists, two turnovers, 18 minutes) was one of them.
"He's gone from being maybe a guy you'd think was one of the best freshmen in our league to, he's not been very effective of late," Self said. "Maybe he's hit the wall a bit, maybe not."
Two other rookies — the Morris twins — also were included in that need-to-play-well discussion.
Marcus and Markieff Morris combined for six points, three rebounds and seven fouls in 22 minutes.
"Coach told me that I was the main player who has to step up, to start to do what he recruited me for," said Marcus Morris, who had two points and no boards in eight minutes. "I've got to step it up and perform at the highest level."
Self — he said much of the trouble was simply youth and inexperience — and team leader Collins believe that's possible.
"It's the freshman wall I guess," Collins said of the twins' play of late. "They are going to be good. I'm going to talk to them. It's my job. I'll probably take them out to eat, let them know they'll be all right. We're going to need them. Our second season is starting."
Collins may invite backcourt partner Taylor — who did not start the second half as Travis Releford replaced him — to lunch as well.
"I may take him to tag along. He'll be fine. He knows he can make plays," said Collins, who said he benefited from some lunch and dinner sessions with elder KU players when he was a freshman.
"My freshman year wasn't always smooth. I would get down on myself. Russell (Robinson) and Mario (Chalmers) would take me out to eat and tell me I'd be all right. They helped me a lot. I have to do as the old guys did for me," Collins said.
Collins, who played so well the second half after committing six turnovers the first 20 minutes, was involved in a play that actually might have propelled the Jayhawks to a wild, come-from-behind victory.
After scoring a basket to cut a game-high 21-point deficit to 63-54 (with 3:17 left), Collins misfired on a three that could have closed the gap to six points with under three minutes remaining. Instead, Chris Allen immediately hit a three on the other end, making it 66-54 at 2:19, and that was that.
"Maybe that would have made them (Spartans) sweat," Self said of a Collins three.
Maybe.
"I thought it was good. I had my feet set. It came up short," Collins said.
Obviously, this one was lost in the first half, however.
MSU's 37-18 halftime lead ultimately proved impossible to overcome.
"They were great from the 15-minute mark the rest of the first half. We played as poorly as we can play," Self said. "The first half we stunk, and they made us look bad.
"The second half, we competed hard."
Things were so bad the first half that Self went to a lineup of reserves Tyrone Appleton, Matt Kleinmann and Quintrell Thomas to go with Tyrel Reed and Brady Morningstar.
"I was looking for anything. When you are playing that poorly, why don't you try something?" Self said.
He and the Jayhawks were eager to get out of town on a snowy, miserable day — only having about an hour and a half delay at the airport before landing in Topeka at 6:45 p.m.
Now it's time to think about Kansas State. The non-con season is history.
"I thought we played about to the level I thought we'd play to. I didn't think we'd be great by conference play starting," Self said. "I don't think our record is quite as good. I hoped our record would be 12-3, and we are 11-4. We gave away a couple games we probably shouldn't have. I can't say I expected us to come up here and control the game from start to finish. I expected we'd play well, hang around and hopefully have a chance late. That did not happen."
The Jayhawks are hoping for a better result as league play begins.
"The thing we can take from today is the way we competed the second half," Cole Aldrich said after his 14-point, 11-board outing. "We played well. It's something to build on."