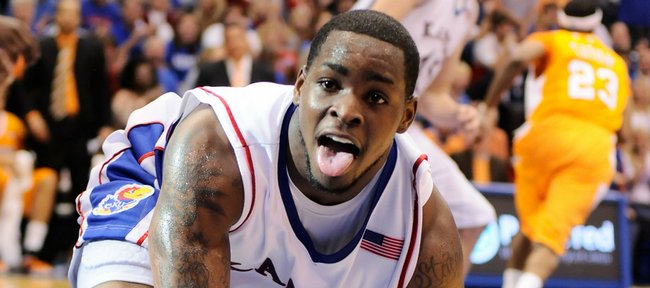 Unable to sleep, Sherron Collins cell-phoned a loved one at 1:15 a.m. Saturday for some soothing words of wisdom: 22-year-old big brother Steve Collins, in Chicago.
"I told him I couldn't stop thinking about the game," Sherron Collins, Kansas University's emotional point guard, said. "He said, 'You will be all right. You'll do good. You live for these games.'
"After that I was able to go to sleep," added Sherron Collins, who, after a 30-minute conversation, dozed off just before 2 a.m.
Collins — who leapt out of the sack at 7:30 a.m. for an 8:30 shootaround — had no problem functioning in Saturday's KU-Tennessee showdown on 51⁄2 hours of rest.
The 5-foot-11 fireplug scored a career-high 26 points off 7-of-14 shooting with nine assists and five rebounds in the unranked Jayhawks' 92-85 victory over the No. 14-rated Volunteers at Allen Fieldhouse.
"I came out more energized than I've probably ever been in a game," Collins said.
He hit 10 of 14 free throws, including two big ones with 3:52 left that boosted a 77-70 lead to nine points. Collins' steadying influence was significant considering the Jayhawks' 17-point lead (72-55 at 7:22) had dipped to seven with 4:33 left.
"I just wanted this game so bad. Coach called it a 'man's game.' He said, 'If you are not a man, you shouldn't be out there. We won't put you out there,''' said Collins, who played all but four minutes.
He and sophomore center Cole Aldrich (22 points, 10 boards, six blocks, 37 minutes) were instrumental in guiding the young Jayhawks (10-3) to their biggest victory this season.
Was it his best game as a Jayhawk?
"I think it was," Collins said. "Coach said the way I controlled the game and the way I got in there and got my teammates shots ... he said I didn't try to do too much. I let the game come to me."
Collins hit a three-pointer in an 11-0 run that provided an early 25-9 lead.
He scored seven points and had an assist in a 10-4 surge that stretched a 25-16 lead to 35-20 with 6:01 left before halftime.
Collins scored 14 points and Aldrich 11 on combined 11-of-18 shooting as KU led, 40-31, after 20 minutes.
"The first half … that's about as good a guard can play offensively," coach Bill Self said of Collins, who made six of 10 shots with five assists against no turnovers in the first 20 minutes. "He was fabulous offensively."
Collins said he's most pleased the Jayhawks responded after their sizeable lead had dwindled to seven. Remember, KU led Arizona by nine points early in the second half of a 17-point loss in Tucson, Ariz.
"I called the guys together in the huddle and told them, 'You know, we lost a game like this the last time by losing our poise. We're fine. We're still up by seven,''' Collins said.
"We still ran our sets and got the lead back up and closed the game out. This shows we can play with the big teams out there."
And athletic teams.
Tennessee (9-3) forced 17 KU turnovers — not that many considering the Volunteers pressed much of the game.
"Oh my gosh. You've got to give it to them. They pressured our butt off," Collins said. "It was so hard to get the ball in bounds."
Brady Morningstar, who had 12 points and six assists, suffered just three turnovers in 33 minutes. Not bad considering he was the man assigned to inbound the ball time and again against the Vols' press.
"Brady was sick a couple days ago, probably not full of energy today. He's one of those guys that will sacrifice for the team," Collins said of his roommate, who made three threes in five tries and also had four boards. "He did a great job not getting rattled getting the ball in bounds."
Tyshawn Taylor, who scored 12 points off 6-of-11 shooting with three assists in 23 foul-plagued minutes, was equally impressed.
"I said to Brady, 'How did you feel talking the ball out all the time?' He said, 'Man, it's tough every time,''' Taylor said. "He did a good job beating the pressure."
Self assessed: "We got six points on out of bounds throwing long. Brady passed all those. We attacked their pressure very well after the ball was in bounds. (But) we certainly had too many errors trying to get the ball in bounds in a late-game situation."
Regardless, KU's coach was thrilled with the victory.
"I thought it's the best we've played, no question," Self said. "Every team needs signature wins, résumé builders. This was a good one for us.
"I never told the team it was a must win. I told the team if in fact things did not go well — and I expected them to go well — your margin for error gets much less as the season goes along. Any time you can knock off a team with a bunch of young kids out there … it reminded me of the Kentucky game three years ago."
That's the game in which a young KU team drilled UK, 73-46, in an early-January affair that helped propel the Jayhawks into league play, where they went 13-3.
KU will meet Siena at 7 p.m. Tuesday in Allen Fieldhouse, then travel to Michigan State for a noon contest next Saturday before the start of Big 12 action against Kansas State on Jan. 13.
"It's satisfying, maybe a little relief," said Collins, who insisted he'd sleep well Saturday night.