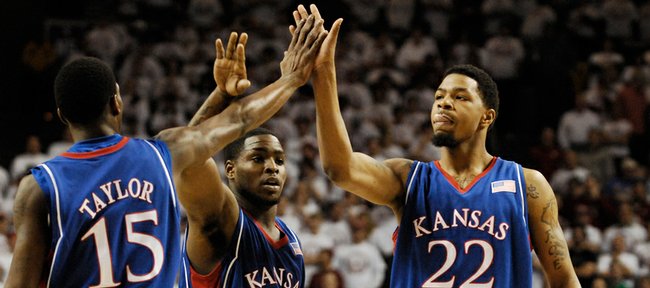 Norman, Okla. — Kansas University center Cole Aldrich walked off the Noble Center court with Oklahoma big man Blake Griffin, Aldrich's long right arm draped around the shoulders of college basketball's leading player-of-the-year candidate.
"Just get well. Get better. Take your time getting better," Aldrich told Griffin, who watched helplessly from the bench as his good buddy grabbed a career-high 20 rebounds in the Jayhawks' 87-78 ESPN Big Monday victory over the Sooners.
"I love Blake," Aldrich added of the preseason All-American who missed Monday's showdown because of the concussion he sustained in Saturday's loss at Texas.
"We text three or four times a week, saying, 'Hey, what's the scouting report on this team's big guy or that team's big guy?' He's a great player. He's all class. I just want him to get well."
And what did Griffin — who cheered wildly as OU built a 14-point lead (22-8), grew sullen as the Jayhawks forged a 20-point lead of their own (58-38) and again was out of his chair as the Sooners' crept within three points late — tell Aldrich in return?
"Just win the league," Aldrich said. "And keep getting better every day."
The Jayhawks, who lost all five starters off last year's NCAA champion and Big 12 championship team, improved to 23-5 overall and an amazing 12-1 in the league in grabbing a one-game lead over a team that KU coach Bill Self referred to Monday as "Blake-less OU (25-3, 11-2)."
Freshman Tyshawn Taylor was huge with a career-high 26 points.
He shared game-high scoring honors with junior guard Sherron Collins, who kept the ship afloat late by hitting three consecutive threes in crunch time — two after OU sliced the gap from 20 points to three.
Collins' three at 5:07 upped a 66-62 lead to seven points.
His three at 3:12 increased a 71-68 margin to six points.
His three at 2:31 upped a 74-71 advantage again to six points.
Following the third three, Taylor hit one of two free throws and a bucket off a Tyrel Reed steal to give KU a commanding 80-71 lead at 1:10.
Here's what made Collins' threes even more impressive: They were improvised.
Collins waved off Self's planned plays "three or four times" in taking command of the ballgame.
"I called a set. He goes, 'No, No,''' Self said in shaking his head side to side. "He wanted to be the guy to finish the play whether shooting it or driving it. He backed up what he said he could do. Those were big-time plays.
"I had no choice," Self added of letting Collins do as he wished with KU's lead dwindling. "He's the one with the ball in his hands."
Collins, who was a standout pitcher in high school, laughed when asked if his actions reminded him of shaking off his catcher on the diamond.
"No. I had a good fastball. Most calls were fastballs. I didn't have to shake my catcher off too much," said Collins, who hit six of 14 shots, including five of eight threes with nine of 12 free throws.
"I felt like I couldn't miss. The basket was as big as the ocean," Collins added of the reason he wanted to be the one shooting late.
Standout OU guard Willie Warren scored 23 points off 8-of-16 shooting (3-of-6 threes) and vied with Collins for star-of-the-game honors down the stretch.
"Willie Warren had a great game. That young fella is really good," Collins said.
As is veteran Collins.
"Sherron, the great leader he is, said, 'We will not let this slip through our fingers. We will not get blown out on the road,''' Aldrich said of Collins' words with KU down, 22-8, with 9:47 left in the first half. Taylor soon after erupted for 14 points in a 28-7 run that closed the half and gave the Jayhawks a 36-29 lead at the break.
"The coaches kept our heads in the game and the huddle positive," Collins said, deflecting the credit.
A 22-9 run upped KU's 36-29 lead to 58-38 with 10:38 to play.
It took OU just four minutes to slice 14 points off the lead and make it a game down the stretch. The closest OU crept was three points before Collins took over.
"We knew they had a run in them. OU is a great team even without Blake," Aldrich said.
Self acknowledged the fact that "we caught an unbelievable break tonight with Blake being out. He impacts the game in such a way it certainly would have changed a lot of things. We wish he would have played, but this was a great win.
"I thought they'd be good early, rally around him not playing. I think that's what happened. We wanted him to play. He's a great kid, and you don't get too many opportunities to play against the player of the year and No. 1 draft pick in the NBA. Hopefully we'll get a chance to play again in the Big 12 tournament because it'd probably mean each of us won a game or two."
Aldrich seconds the notion.
"Oh yeah. I wanted to play against him," Aldrich said. "We've known each other so long, been great friends since the McDonald's game. I wish him the best. I really really just want him to get well."
Chances are Aldrich will be one of the first to know when Griffin is ready to return to action — via text.
KU will meet Missouri in a rare Sunday game. Tipoff is 1 p.m., in Allen Fieldhouse.