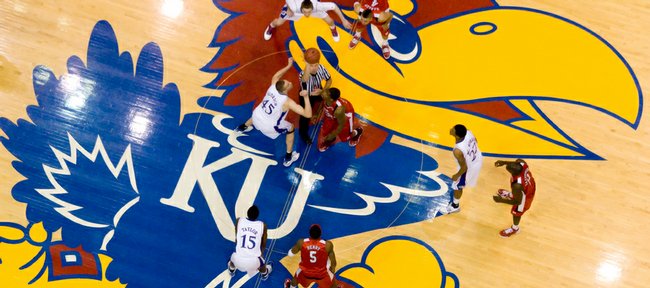 The coach emerged from the visitors' locker room much like the other coaches before him — sullen, exhausted, a bit disheveled.
On Saturday, minutes after his Nebraska Cornhuskers had suffered a 70-53 loss to Big 12 foe Kansas University, Doc Sadler, his tie loosened and forehead still sweat-soaked, made what has become a regular and undesirable pilgrimage for opposing coaches at Allen Fieldhouse — the walk from the locker room to a waiting media area, where they are charged with explaining why the Jayhawks can't seem to be beaten at home.
"You're always going to have that problem here," said Sadler, standing in a blocked-off stairwell at Allen Fieldhouse. "These guys won 38, 39 games in a row. ... You've just got to hang in there and hang in there, and I think we did.
"But Kansas is Kansas, and this is a tough place to play."
When the clock struck zero Saturday at Allen Fieldhouse, it marked the 39th straight time that a team had arrived in Lawrence with an inclination to top vaunted Kansas at home — and the 39th straight time that team departed town having failed in its mission.
Since falling, 69-66, to Texas A&M; on Feb. 3, 2007, the Jayhawks have unleashed the nation's longest home winning streak, a two-plus year barrage in which they've have disposed of opponents in a number of ways. Some have fallen in exciting fashion, like Missouri did, 80-77, back on Jan. 15, 2007. And some have fallen in ugly, over-as-soon-as-it-started fashion, like the 109-51 embarrassment Texas Tech suffered on March 3, 2008.
But on each occasion, they've fallen, and Saturday it was Sadler and his undersized Cornhuskers, who, despite their best efforts to keep things close, came far short of giving Kansas any kind of real challenge.
In the days leading up to the game, Sadler — perhaps bolstered by the Huskers' previous performance against Kansas, a close 68-62 loss in Lincoln, or the idea the Jayhawks might be focused prematurely on their upcoming Big Monday meeting with No. 2 Oklahoma — felt his team had a decent chance to end Kansas' streak at 38.
"We knew it was going to be a difficult game and a tough place to come here and win, but at the same time, I felt like — for the first time since I've been here — we were confident that we could do that," Sadler said.
They didn't. They lost the rebound battle, 46-24. They gave up 23 second-chance points. They shot just 28 percent from three-point range.
By the end, Kansas' bench had been cleared, Collins and center Cole Aldrich had combined for 40 points on 15-for-23 shooting, and the sell-out crowd long had begun its mass exodus — a long, cheerful trail of crimson and blue.
Afterward, Nebraska's coach and players met the media one-by-one, each staying for just a couple of minutes, each attempting to pinpoint the reason the game ended the way it did.
"It was mental mistakes," insisted guard Steve Harley.
"When we're in a drought, somebody's got to make plays, and it's gotta be our seniors in particular," offered guard Ade Dagunduro. "And we didn't make plays."
Said the coach, Sadler, "On the road, you're not going to give up 70 points at Kansas and beat them. It had to be in the 50s, and we let it get out of hand."
Not long after, they were gone, aboard a bus headed north — the latest casualty in a steadily growing group of them.