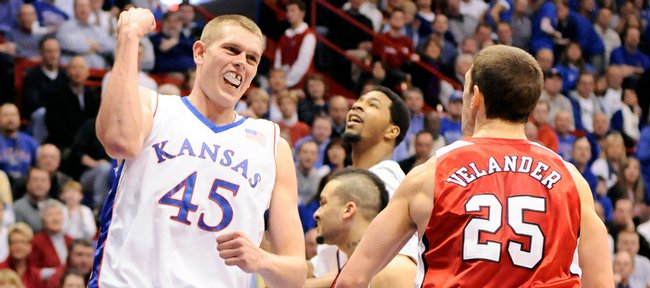 Kansas University team leaders Sherron Collins and Cole Aldrich weren't going to let the Jayhawks stumble at home Wednesday against Iowa State and Saturday versus Nebraska — not with a monster matchup against Oklahoma looming on Big Monday.
"I think we handled the week great," Collins said after his game-high 22 points off 8-of-12 shooting helped the Jayhawks down the pesky Cornhuskers, 70-53, in Allen Fieldhouse.
He and Aldrich — who had 18 points Saturday — led the way with 22 points apiece in Wednesday's 72-55 victory over Iowa State.
"We knew we couldn't think about Oklahoma because both teams that came in here played us close at their house," Collins added.
KU beat NU by six and ISU by 15 in road contests in January.
"You've got to take every game seriously. I think we did that. Those two games are over with. I'm happy to get them over with so we can go see what we can do against Oklahoma," Collins said.
Monday's game, which is for the top spot in the Big 12 Conference, will tip off at 8 p.m. in Norman, Okla.
Aldrich, who played without a mask for the first time in seven games, hit seven of 11 shots and four of nine free throws and grabbed 12 rebounds against the Huskers Saturday.
Aldrich was thrilled the Jayhawks (22-5, 11-1) survived a week in which they were heavily favored to stretch their home winning streak to 39 games heading into their Norman invasion.
"I guess everybody's biggest fear was overlooking the games. We didn't do that as a team at all. We said, 'Hey, you know what? We've got to take every game as it is. Get ready for each game. When we play OU, then we'll worry about it,''' Aldrich added.
Aldrich scored a basket off a bank shot and Travis Releford a layup off a feed from Brady Morningstar, then Collins followed with eight straight points in a 12-4 run that upped a 15-12 lead to 27-16 with 3:41 left in the first half.
Collins — his first points of the half came with 6:21 remaining — finished with 10 points off 4-of-5 shooting (Aldrich had 10 as well) the first 20 minutes as KU took a 34-23 lead into the break.
"For a guard to get 22 points on 12 shots is pretty hard to do when they don't shoot a lot of free throws. I don't think he took his first shot until after the 10-minute mark. Then he made four in a row," KU coach Bill Self said of his junior floor leader.
"He bailed us out at the end of the clock when we ran bad offense. He was really good," Self added, also lauding Aldrich and Markieff Morris (nine rebounds, six points) for exceptional games.
Collins drilled a three-pointer to beat the shot clock to give KU a 48-35 lead. He went without a turnover for the second straight game. He had four assists against no turnovers after totaling six assists and no give-aways against Iowa State.
"I was feeling it. It was one of those days. I guess I'm out of my funk, right?" Collins said with a smile.
His two straight stellar offensive performances put to rest any talk of his being in a slump.
Collins had made 22 of 65 shots (33.8 percent) including seven of 29 threes (24.1 percent) in a five-game span prior to Wednesday's 9-of-17 effort versus ISU. He made four of six threes versus the Cyclones, two of four against Nebraska.
"I don't believe in slumps. I really don't," Collins said. "When we're winning, I don't think it's a slump."
Sophomore center Aldrich, who has scored at least 18 points three games in a row, played well upon shedding his facemask Saturday.
Like Collins, he started slowly, scoring his first hoop on a jumper halfway through the first half.
"I thought it was the time to try to get away from it (the mask). It's been 3 1/2 weeks now (since he broke nose at Nebraska)," Aldrich said. "The doctor has been saying the last week, 'It's totally up to you.' I just went out and said, 'You know what, I think it's time. Let's try to play without it.' It felt fine. I didn't get any whacks or anything. It was successful."
Now the Jayhawks can concentrate fully on Monday's game at OU, when the Jayhawks can position themselves for a fifth straight Big 12 regular-season championship.
"I'm proud of our kids that 13 games into the conference season we can say we're playing for first place," Self said.
"We'll be fired up. I'll have the guys ready. It's my job," Collins said.
Just as it was his job to make sure KU didn't stumble against its Big North brethren Wednesday and Saturday.