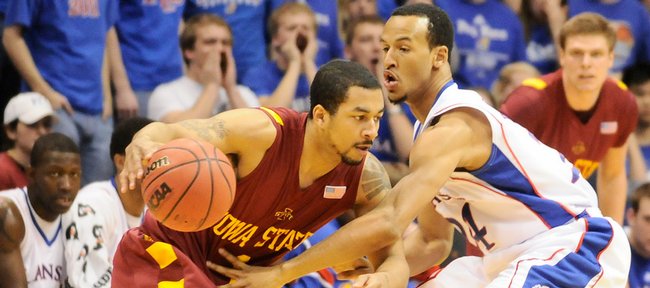 Sherron Collins had no turnovers, but Kansas University's men's basketball team still had 18 giveaways Wednesday against Iowa State.
Though the Jayhawks came away with a 72-55 victory at Allen Fieldhouse, they didn't exactly improve upon what has been their biggest weakness lately.
"Maybe it's because of inexperience, but teams are speeding us up, and that's what they feel like they can do," KU guard Brady Morningstar said. "And right now, we're showing them that's what they should do."
KU had 18 turnovers, marking the fifth straight game the team has committed 15 giveaways or more.
The Jayhawks are averaging 18.6 turnovers in their last five games and have given it away 16.3 times per game in 11 conference games. That's second-worst in the Big 12 next to Texas Tech.
"The one reason why we turn it over so much is because we're not great passers. Let's call it like it is," KU coach Bill Self said. "We've got to improve in that. I think the ball moves well, but I think our post-entry passes and our passes to finish plays aren't near as good as what they should be."
The most troubling part for KU might be the fact it turned it over often against a team not known for its ball-swiping skills.
ISU came into the game last in the Big 12 in steals (3.6 per conference game) and also turnovers forced (9.3 per conference game). The Cyclones had nine steals against KU.
KU's inside players had problems passing out of double-teams all night. Cole Aldrich had five turnovers, while Marcus and Markieff Morris had three apiece.
"I think it was mostly that the bigs got a little rattled in the traps and had a few turnovers," Collins said. "We've all got to take care of the ball. We can't have 18 turnovers. We've just got to value the ball more."
KU built a 30-13 first-half lead, but had trouble sustaining the advantage because of miscues.
The Jayhawks had two turnovers in the final 2:13 of the first half and three turnovers in the first 3:03 of the second half.
"To me, our biggest problem as far as allowing teams to get back in, is that we don't get a shot a lot of possessions," Self said. "When we go dry, it's usually because we're careless."
The good news for KU is that its primarily ball-handlers had a relatively clean game. Collins had no turnovers for only the second time this year (Kent State was the other game), while Tyshawn Taylor had just two turnovers.
Those two led the Jayhawks in giveaways coming into the game.
KU, though, still has turned the ball over more times than its opponent in each of the last four games and also in seven of its last eight contests.
"Coach, in practice, just tells us all the time, 'You've got to be smart with the ball and make the right pass and don't try to make any hard plays,'" Morningstar said. "That's what we've got to get better at."