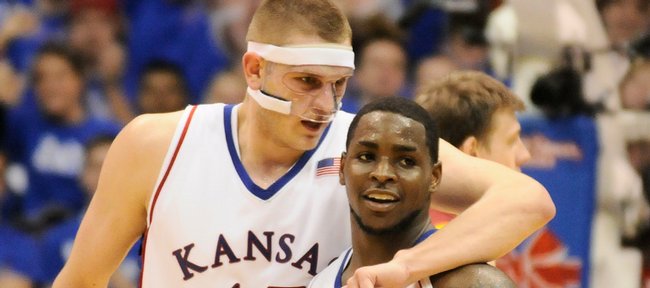 To Cole Aldrich, it seemed like an eternity since Kansas University had played a game in much-beloved Allen Fieldhouse.
"We had what they call in the NBA a West Coast swing, where we were gone for a week and a half. It's great to finally get back. Like they say, 'There's no place like home,''' sophomore center Aldrich said after scoring 22 points off 9-of-12 shooting and grabbing 11 rebounds in Wednesday's 72-55 victory over Iowa State.
It marked KU's first action in the tradition-rich building in 11 days. KU split games at Missouri and Kansas State following a Feb. 7 home victory over Oklahoma State.
"We get back here and have smiles on our faces. This is where we've got to win. We can't let anybody come in our house and win," said Aldrich, who has yet to lose a game in the fieldhouse.
Funny, but the Jayhawks (21-5 overall, 10-1 Big 12) didn't act as if they were enthused to be home again Wednesday.
Bothered by the team's lack of energy, an irate coach Bill Self made the team run penalty sprints at the day-of-the game shootaround session, normally reserved for leisurely shooting drills.
"That doesn't happen very often," Self said. "You can tell at shootaround if the guys are juiced because on game day you always fly higher than a non-game day. There was nobody flying around today. We tried to condition, to at least get something out of it today."
Sherron Collins — he also scored 22 points off 9-of-17 shooting including four of six threes — wasn't surprised KU's coach disciplined the team at afternoon practice.
"I think we needed it. It was a wake-up call. It was kind of embarrassing," Collins said of the Jayhawks' effort.
"I don't remember (him ever doing it before). There's a first time for everything. But he did it with teams past. We took it and moved on. We were able to come out with energy."
Indeed, the Jayhawks cruised to a 24-7 lead midway through the first half.
But lethargic play set in.
Iowa State (13-13, 2-9) outscored KU, 24-12, and trailed by just five, 36-31, with 17:45 to play. Failing to put away the Cyclones bothered Self.
"That was a really dead atmosphere tonight," he said. "The crowd was dead. The team was dead. It (lack of energy) didn't surprise me, but we could have easily cracked this game open earlier if we would have finished some easy plays."
The Jayhawks did respond when it mattered most.
Aldrich scored 10 of KU's 12 points in a 12-3 surge that upped a 43-38 lead (with 12:29 left) to 55-41 at 6:21. Aldrich scored 14 of KU's last 29 points; Collins had nine of KU's final 13 points.
"Sherron was great," Aldrich said. "I think I had his five turnovers tonight."
Aldrich suffered five turnovers against no assists, while point guard Collins had no turnovers, six assists.
"I thought it was Sherron's game tonight," Self said. "Even though he scored a lot of points late, he had six assists and no turnovers. He had a few steals. He played extremely well. He has been a guy that has shot well early at home and then not as well down the stretch. Tonight I think it was very good from a conditioning standpoint that he shot the ball better late than he did early."
On the other side of the ball, the Morris twins led the charge defensively in guarding ISU standout Craig Brackins, who scored 20 points off 7-of-21 shooting. Brackins had 42 against KU earlier this season in Ames.
"He's good," Aldrich said of Brackins. Aldrich guarded the sophomore power forward down the stretch, just as he did in KU's 15-point victory in Ames, Iowa. "All the guys that guard him will tell you he hits tough shots. We tried to limit his touches, but he's so good offensively he's going to get points."
KU will meet Nebraska at 3 p.m. Saturday, in Allen Fieldhouse.
Self expects more energy from his team even with a huge game against Oklahoma coming up Monday in Norman, Okla.
"I don't think our guys were as focused tonight. I think we'll get 'em where they are excited to play," Self said.
If that means extra running, well …
"We'll be ready," Aldrich said. "We know anybody in this league is capable of beating us."