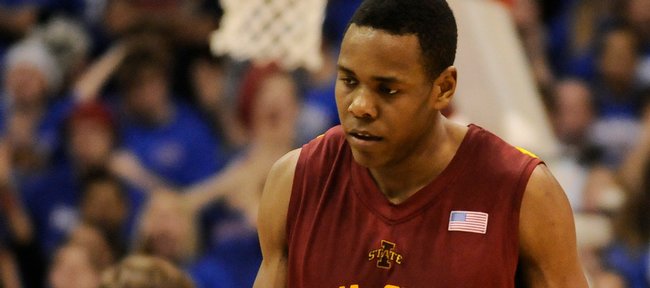 If Craig Brackins' dazzling 42-point home performance against Kansas University three weeks ago was part of Iowa State University's famed Hilton Magic, call Wednesday evening's encore presentation against the Jayhawks a slice of Allen Fieldhouse Tragic.
"I just played terrible," a vexed Brackins said Wednesday after Iowa State's 72-55 men's basketball defeat against Kansas.
Last time out, Brackins — a 6-foot-10, 230-pound matchup nightmare for the Jayhawks — poured in points from all angles of the court against KU, hitting 11 of 19 field goals and 17 of 21 free throws in an 82-67 loss.
Wednesday, Brackins still managed 20 points — right on his season average — to go with 11 rebounds, but the sophomore hit just seven of 21 field goals and struggled to find his rhythm, hitting the side of the backboard twice and airballing two more attempts.
The difference?
Kansas was ready for him this time.
"They were definitely more physical than last game," said Brackins, who faced particularly tough defense from KU forward Marcus Morris in the post. "They were bumping me on screens and on shots. I tried to fight through, and it got me frustrated, and I just couldn't hit a shot today."
ISU coach Greg McDermott wasn't surprised to see the Jayhawks' revamped game plan, which included waves of double teams sent Brackins' way when he touched the ball in the post. On one occasion, Brackins airballed a fadeaway jumper while facing a triple-team.
"I assumed that's what they were going to do," McDermott said. "They ran at him with a couple different guys in different positions on the floor. Early in the game, Craig handled it, and we missed shots from the perimeter. They have to make a decision if those shots go down early as to whether they're going to stay committed to that, and we didn't make enough shots early to make them do anything different."
Brackins might have struggled, but his teammates didn't do him any favors early on, either.
Iowa State (13-13, 2-9 Big 12) trailed, 24-7, when Brackins made his first visit to the bench with 9:01 left in the first half. To that point, he had all seven Cyclones points on just 2-for-6 shooting from the field. The rest of the Cyclones were even worse, however, going a combined 0-for-10.
In the second half, the Cyclones made a run at the Jayhawks thanks in part to ISU forward Jamie Vanderbeken's three-point barrage. As the beneficiary of Brackins' double-teams, Vanderbeken slithered loose on the perimeter to bury five three-pointers off the bench and score a career-high 15 points.
Vanderbeken said he couldn't find fault with Brackins' shot selection.
"We want Craig to take those shots," Vanderbeken said. "He's our player. We want our offense to go through him. He didn't shoot as well as he normally has, but it's still Craig. He's still one of the best there is, so we're going to support him on off-shooting days."
Brackins hit a critical jumper to cut the score to 43-38 with 12:33 left and force Kansas to take a timeout.
But minutes later, the deficit had slipped back into double digits.
"I felt we were trying to get as aggressive as them, and every now and then there was a touch foul," Brackins said. "You get a little frustrated when they're down and aggressive crazy bulldogs coming at us. We try to fight back with them and it's little touch fouls. That's frustrating."